Last Updated on February 4, 2012
I saw my first runway show at Milan Fashion Week last weekend. Emporio Armani Fall/Winter 2011/2012 was a dark hodgepodge of Armani's signature no-nonsense aesthetic and pure magic. Like I said in my previous post, it was also one of the most beautiful experiences in my life.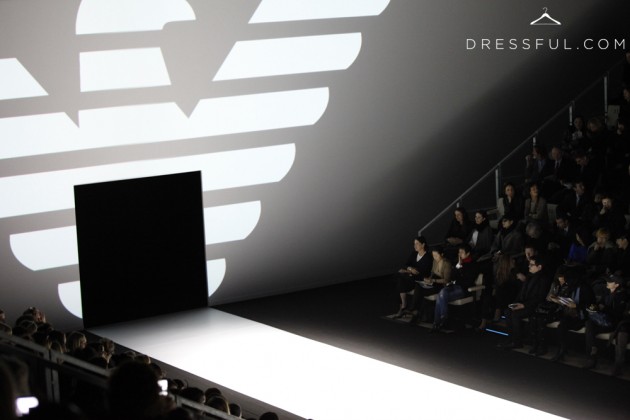 I arrived to Milan by train from Trieste on Friday afternoon. Being exorbitantly excited probably had everything to do with me not remembering anything before the show, save for the last minute glitch with my invite. On Friday morning I received an email from the Emporio Armani international office asking me for my Milan address so they could send me the (physical) invite. I replied, but when I checked with the reception desk in my hotel late in the evening, the invite still hadn't arrived.
I was more than a bit worried because being a fashion show neophyte, I didn't know if the physical invite was absolutely mandatory to go in or your name on the list was enough. Thankfully, it turned out to be the second.
The show took place at Teatro Armani, a wonderfully minimalist and spacious Tadao Ando building in Via Bergognone. I got there with my friend 10 minutes before the show (I was attending the first show at 10:30 and she the second one hour later), carrying a bag full of extra heavy photo equipment plus my Galaxy Tab with the email I'd received the day before.
Although someone had told me security was a lot more strict now compared to previous years, the number of security guards at the entrance still came as a surprise. I had to show my email to different security personnel 3 times until I reached the girls in charge of the guest list inside. I explained that I was invited but didn't receive the invitation. They checked the list, found my name and gave me a show pass.
I was in!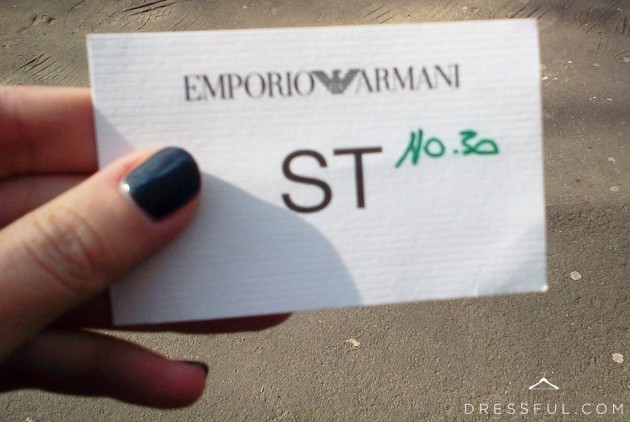 I passed through a long hallway and found myself in a large room where people were already waiting in line for standing spots. I left my coat in the wardrobe and joined the queue (how British!). Some people had the pretty white invites, but some had been given the same passes as I (I later found out we hadn't received our invites because there simply wasn't enough time to send all of them).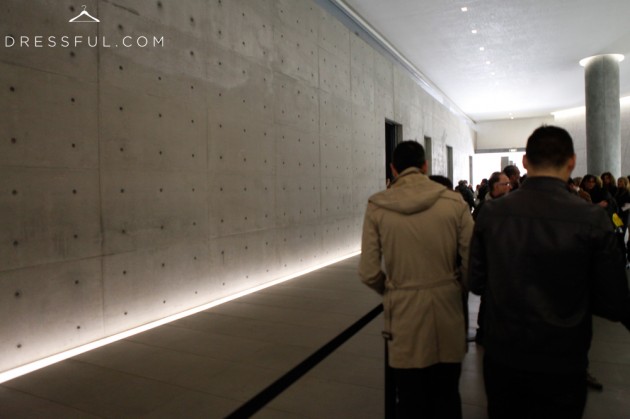 In the above photo, the space on the left is where I saw Anna Wintour for the first time. She (and her bodyguard) was among the first to arrive to the show when most people were still outside. I think I started shaking when I saw her, it was just so unbelivable. Although I don't always like or agree with what she does, the amount of respect I have for this woman is tremendous.
The show was late, but I didn't care because I was so happy to be there. After the VIPs had arrived, they let us in as well. The venue was dark with just a little bit of light, some chilling music and a lot of chatter.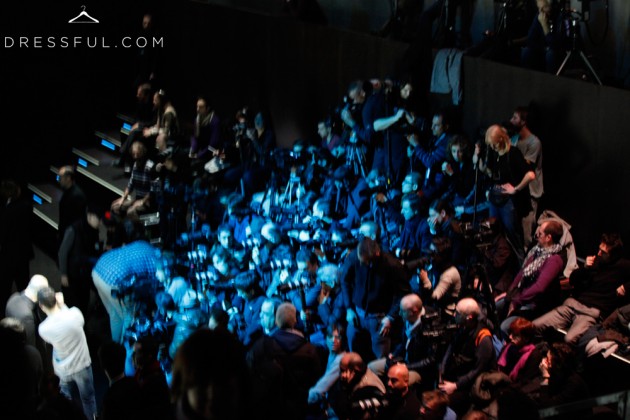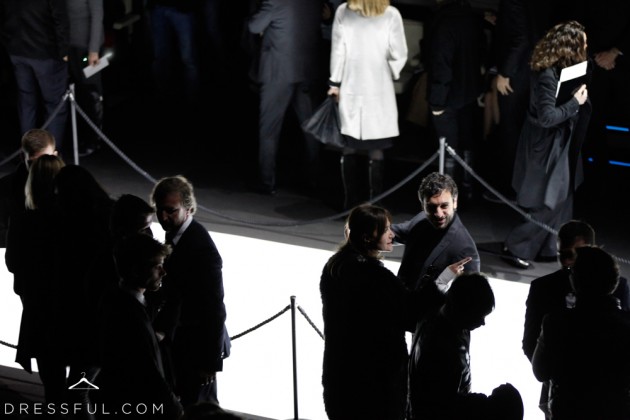 Then the show began. It was an amazing sensory experience: music blasted to the max, unbearable heat, super strong lights, everything I'd usually run away from, but it fit the occasion like a glove. When I saw Anna Dello Russo standing on the opposite side of the venue, I realized how damn perfect everything was and how I'd been wishing and waiting for this for so long. A few discreet tears rolled down my cheeks (they didn't even mess up my non-waterproof mascara), accompanied by a huge smile.
The best thing about the show was that I loved the collection. Imagine the horror of seeing your first runway show and not liking the very reason it was organized for? The collection is more serious than the usual Emporio Armani, which was brilliantly executed. All the clothes were black and accessories mostly colorful. I could relate to it well because I've been dressing this way (all black + one colorful accessory) for years.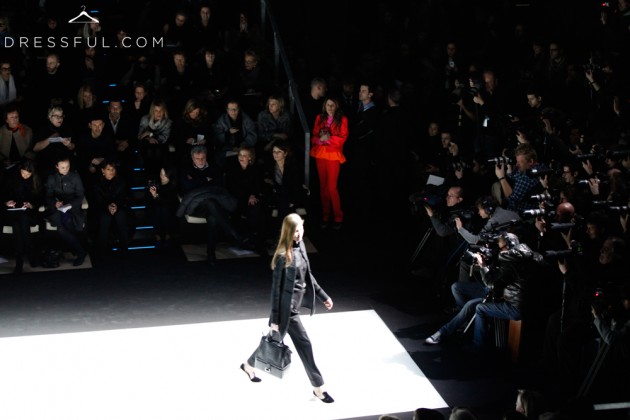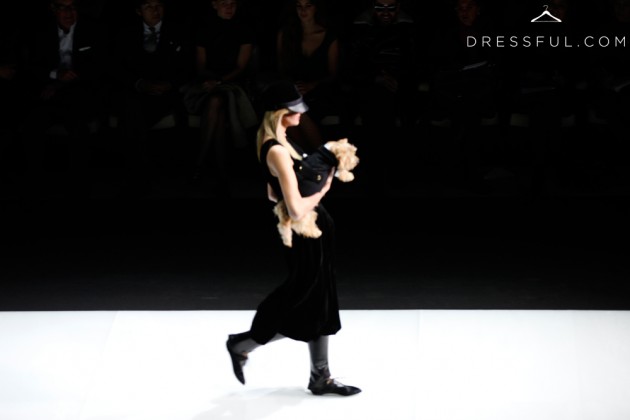 As soon as the show was over, Anna Wintour was the very first to stand up and leave. The exit was on the opposite side from where she sat, so by the time she got there, a group of people had already amassed. Her bodyguard paved her way through the crowd and poof!, she was gone, just like Cinderella.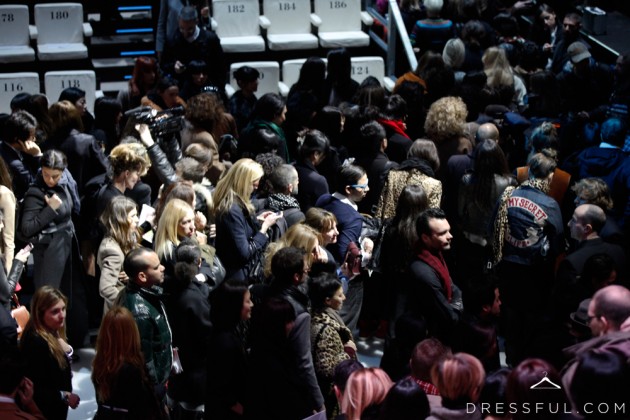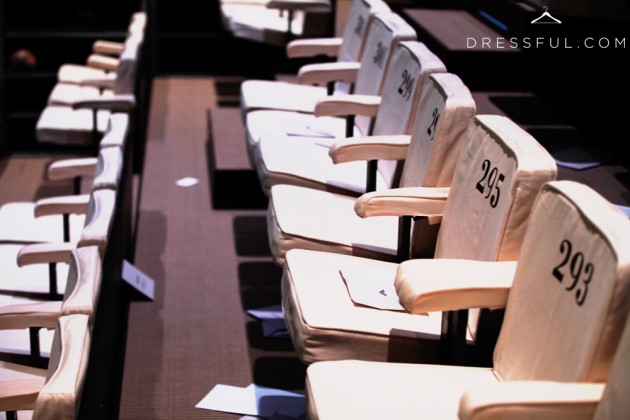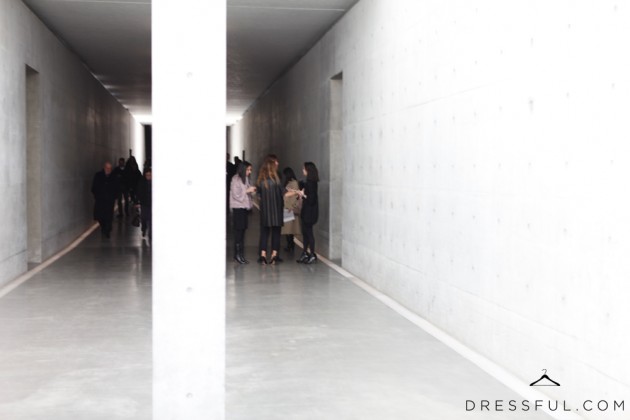 On my way out I bumped into Anna Dello Russo giving a quick interview. I love her vibrant fashion week outfits, she truly takes the art of standing out to the next level.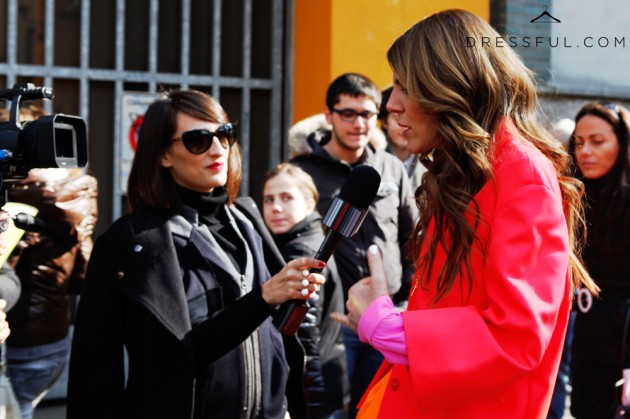 In the meantime, a ton of people had gathered outside - those waiting for the second show as well as photographers wanting to catch people leaving the first show.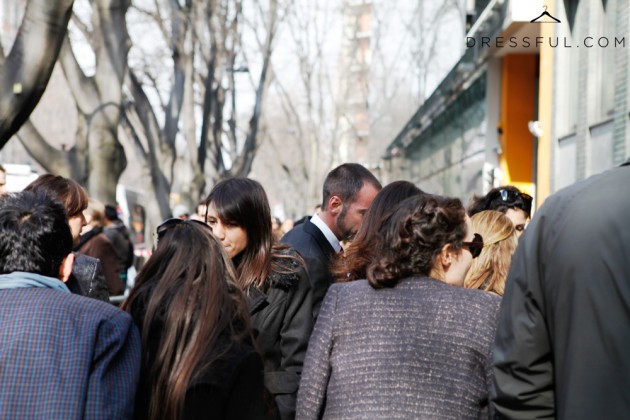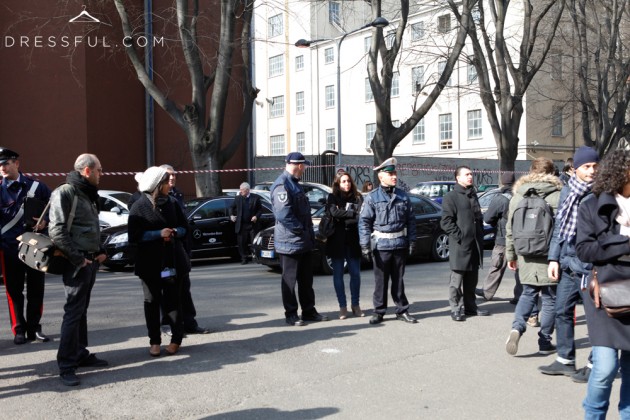 I stayed outside until the end of the second show (I was waiting for my friend). It was mostly uneventful, except for a fascinating flash mob - about 15 people showed up on their bicycles and started ringing the bells. They did this for about 5 minutes and I thought we'd all go deaf. Then a boy came up to me and randomly asked me how to get into the show.
When I heard the loud music signaling the start of the second show, it hit me that "my" show was already over. I wasn't in an "I can't believe I was there!" mood because I knew I belonged there, it was just that the show had been my number one thought for so long and now that it was over I didn't have a clear idea what to do next.
On our way back to the center, my friend and I saw the super nice girls who had given me the show pass earlier at the metro station. They asked me how I liked the show and the only thing I could say was "amazing" because it was impossible to put all my feelings into one or two cultured sentences.
I hope I managed to say more with this post.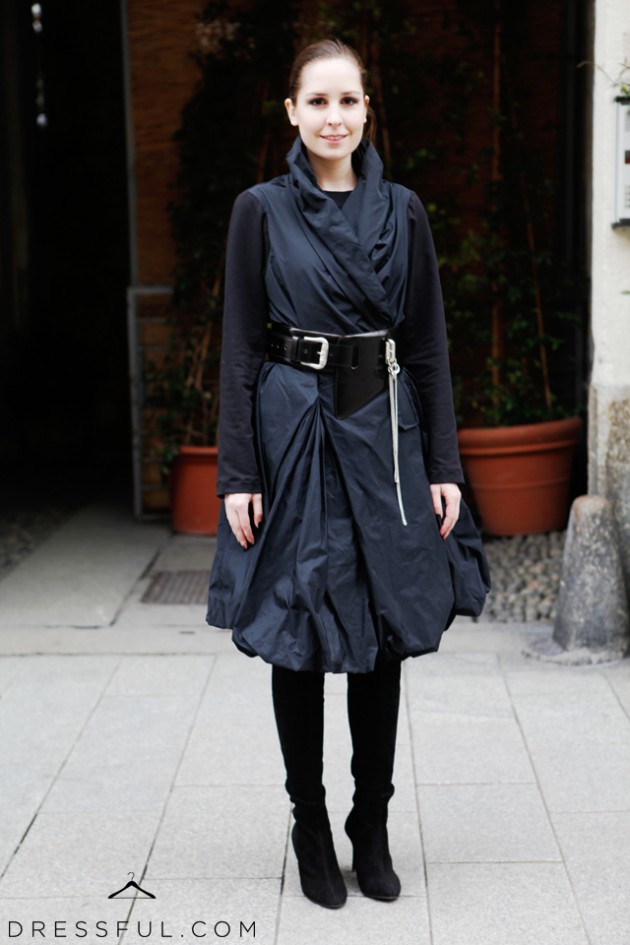 This was my outfit. I wore a Tadashi dress (bought on a very cold December evening in Gorizia), Marjeta Grošelj belt and Zara over-the-knee boots.
---
Big thanks to:
- Everyone I've been in touch with at Armani in the past month (Ms P, Ms S, the girls at the show ...) - for being incredibly nice and professional.
- My mom - for going to Milan with me, and everything else.
- My brother - for lending me his photo equipment.
- My dad - for nothing in particular this time (I probably just can't remember), but it'd be wrong to leave you out.
- Most of all, Rosa.
I'm also very happy to say this is not the end of the fashion month for me. I'm flying to Paris on Friday for another event. I haven't been to Paris since I was 9, but for the past 6 months my sixth sense was telling me I'd end up there soon. As always, it was one hundred percent right.