Last Updated on February 4, 2012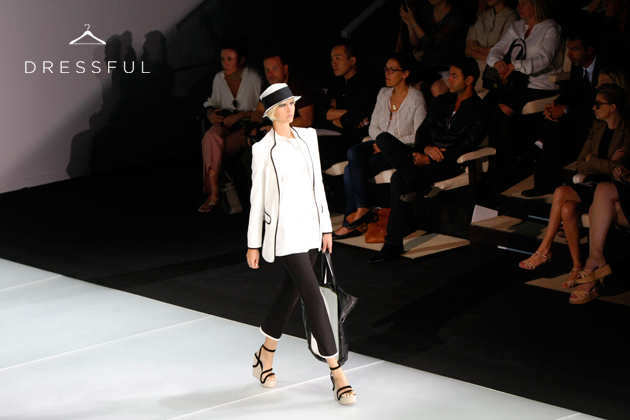 This morning I attended the Emporio Armani Spring/Summer 2012 show in Milan. It was my second time at Emporio Armani (the first show I saw was Fall/Winter 2011/2012), but it will take quite a while before I get immune to the thrill and excitement of major shows. The best part of fashion week is the goosebumps you get when you realize the designers' efforts and inspirations in the past 6 months have united in a perfect, seamless whole. I am incredibly happy and honored to have attended Emporio Armani this season, especially because the collection is the loveliest I've seen in a long time.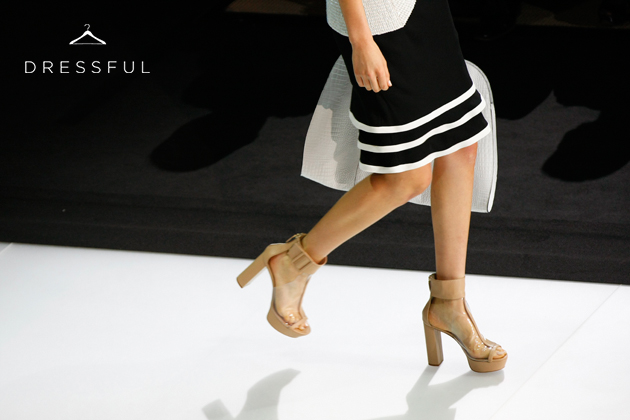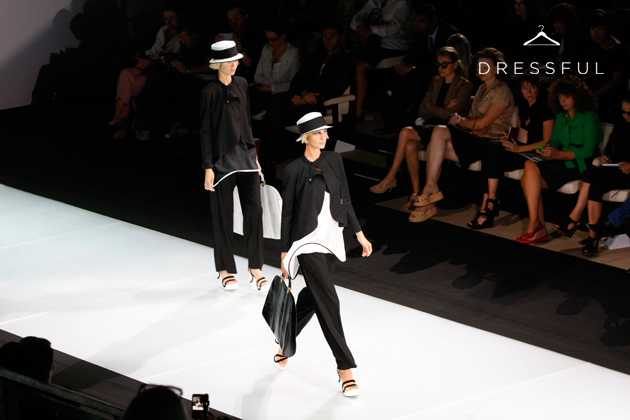 The Emporio Armani Spring/Summer 2012 collection by Giorgio Armani is bringing back the plastic trend. We saw clear plastic handbags, bracelets, wedges, sandals, as well as striking big black or white flower-like accessories worn as headpieces, on the shoulder or around the neck. The color palette is mostly black and white with some flower prints. Models wore short blonde wigs and boaters. There were peplum dresses, sequin vests, snakeskin bags and wedges. Of course, the collection would not be complete without Armani's signature tailored blazers and pants.
For me, the highlight of the show were the shoes (I would wear every pair, not to mention this is the only instance in my life when I've admired plastic shoes! They are effortlessly fashionable.) and white dresses with hooped hemlines. Beautifully delicate, they reminded me of morning dew and the uneven shape of petals. It's interesting that a collection brimming with references to flowers was executed in black and white (we usually buy flowers in more lively colors). I also loved the use of boaters, a men's hat, with elegant, feminine pieces.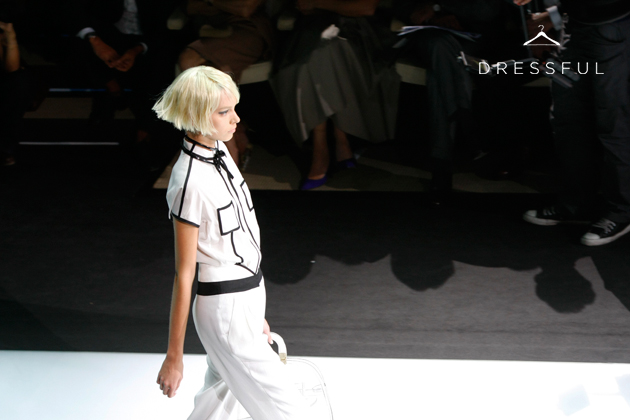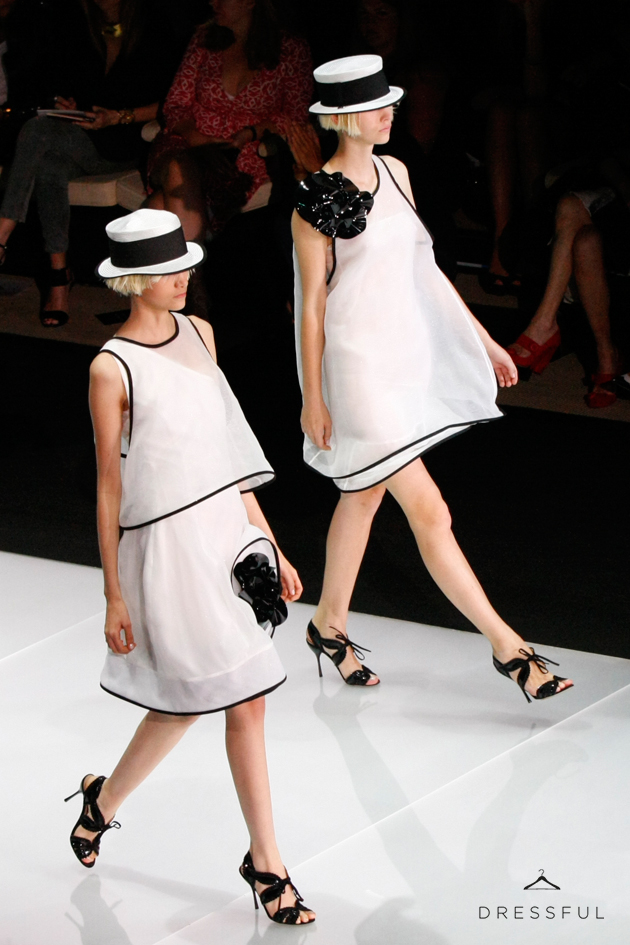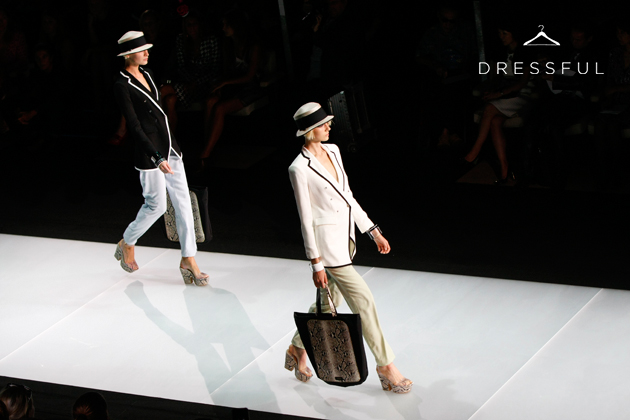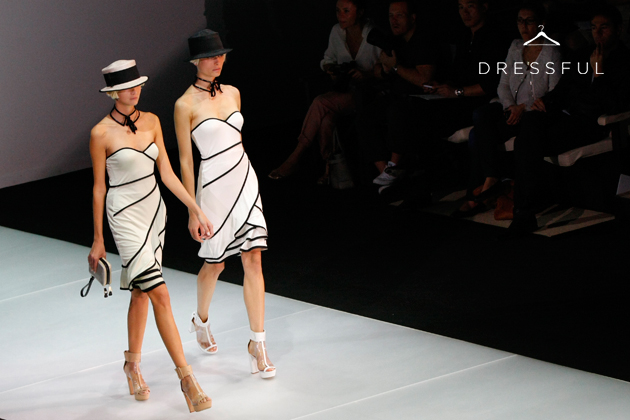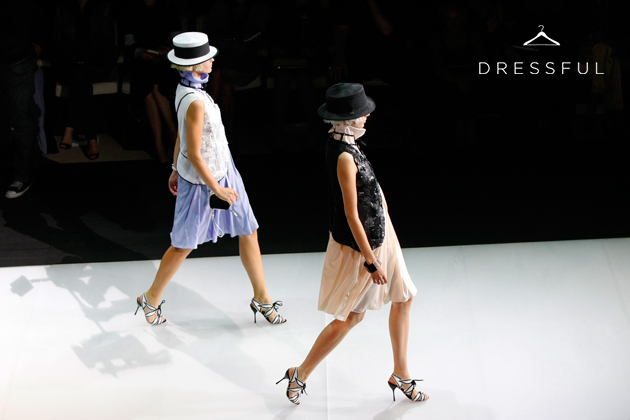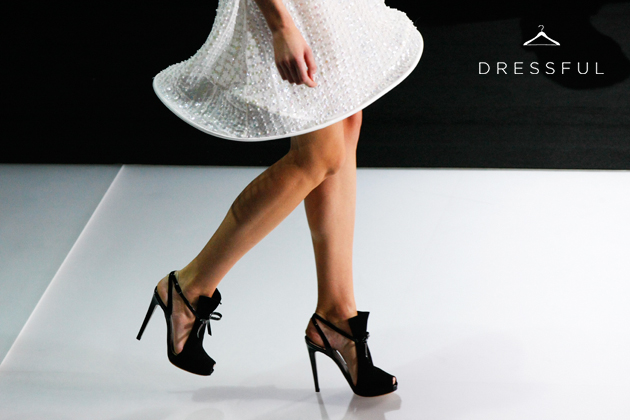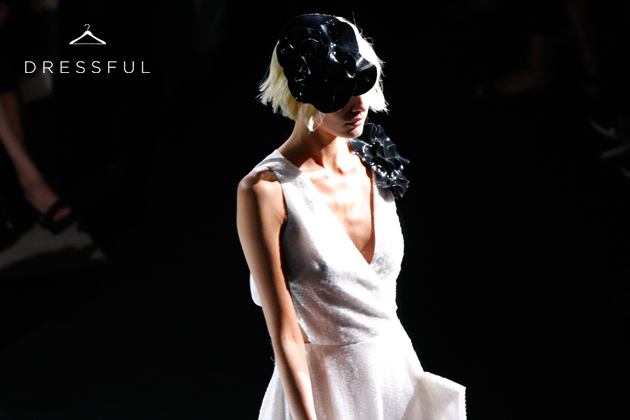 When I got back to my hotel after the show, I turned on the computer and caught the last few minutes of the second Emporio Armani show livestream (Emporio Armani schedules two consecutive shows: one for press, one for other guests). This should give you a good idea of how late shows start in Milan (the hotel I'm staying at is quite far from Teatro Armani where the Armani events take place). It also speaks volumes about how much I loved the collection and the show. A sentimental wish to relive the experience through a computer screen. I cannot wait for spring to see these beautiful pieces alive in the streets. Please, can we skip fall and winter?