Last Updated on February 4, 2012
Last weekend I took a quick trip to Paris because I was invited to the Hogan by Karl Lagerfeld Fall/Winter 2011/12 presentation and party. The event took place at Hôtel Salomon de Rothschild, a beautiful old building in Paris' 8th district. I arrived there at 6, armed with almost all of my brother's photo equipment (... my shoulders) and wearing high heels.
It was as if Milan Fashion Week hadn't taught me anything, but hey, can't go against a special occasion!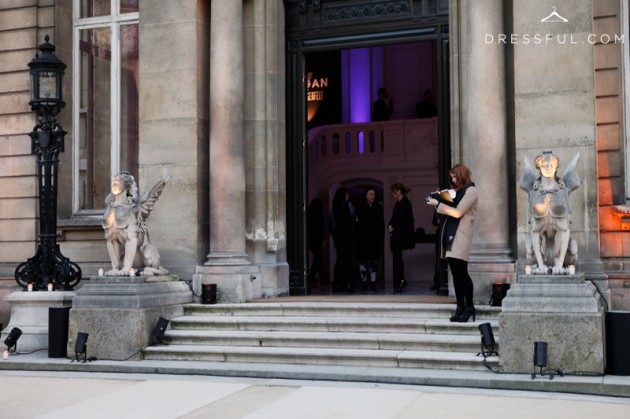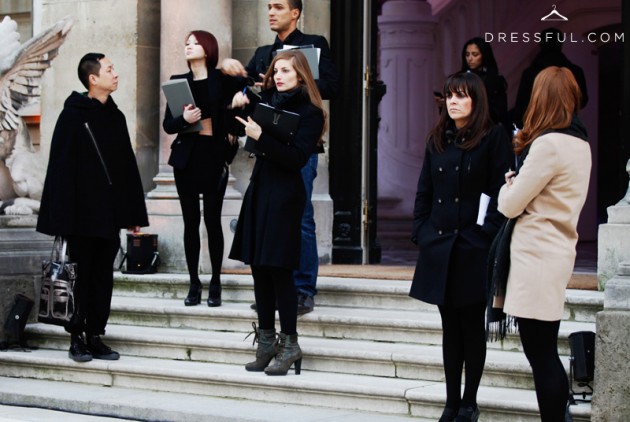 Before entering the dark, spacious room where the collection was exhibited, you had to go through a labyrinth of black walls and photos. Lagerfeld took black-and-white portraits of his 13 favorite people from the world fashion and art wearing pieces from the new collection. A little sneak peek to get us excited seconds before seeing the pieces in life.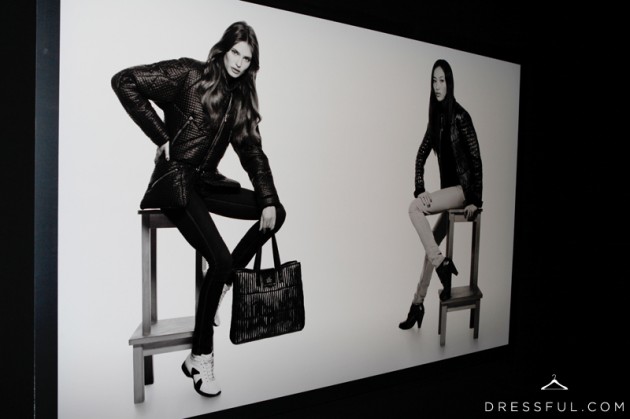 The presentation room was full of stylish display cases and racks: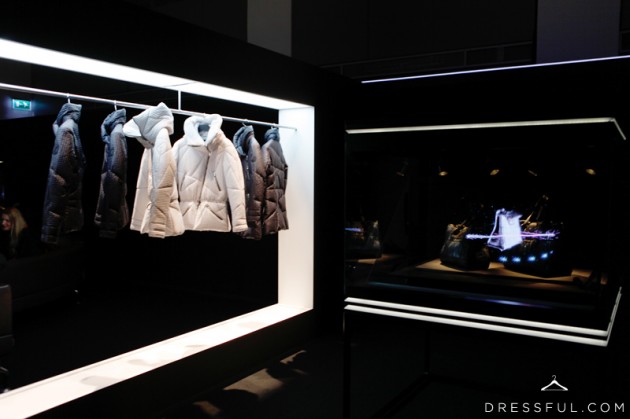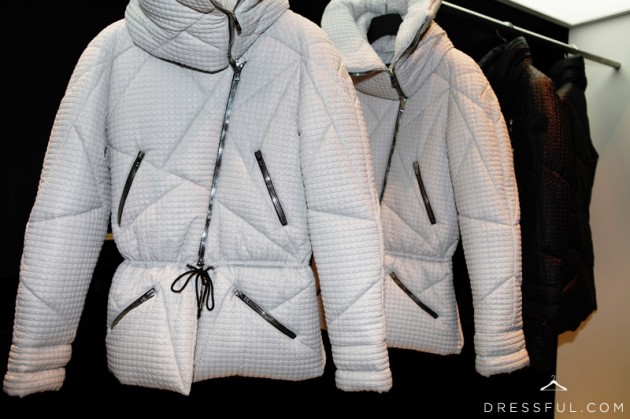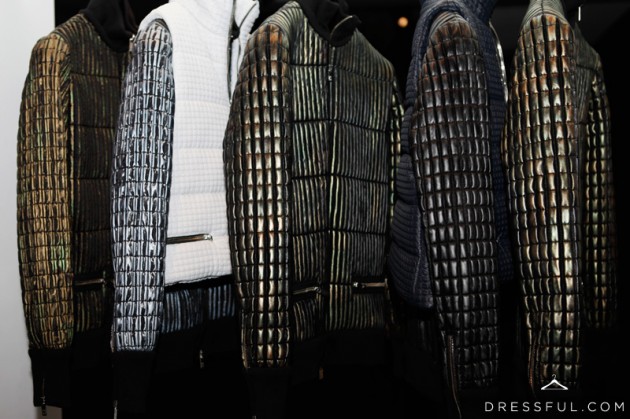 These jackets are going to be huge. They're ultra-light and very warm, which makes them appropriate even for the more severe winter weather. I love the asymmetrical diagonals on the white bomber jacket and all the different textures - undoubtedly the best thing about the presentation was that you could touch everything!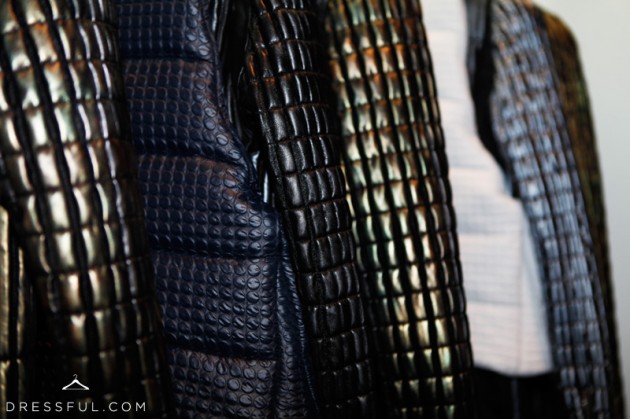 Many jackets are hand painted with ink to achieve an embossed effect. They used high-tech materials and leather for the collection. Its main idea is comfort; the pieces are practical and straightforward. I really appreciate that the collection is so full of details and unusual techniques. Jackets and sneakers, i.e. everyday wear, are often not very creative in order to stay practical, but the ideas and work behind this collection took these pieces to a new level.
Oversized detachable collar and mittens. Inspiration? Kitchen gloves. The collar is my favorite piece in the collection. You can see it with the white jacket above, but I like that you can wear it with practically everything, it's great for mixing and matching.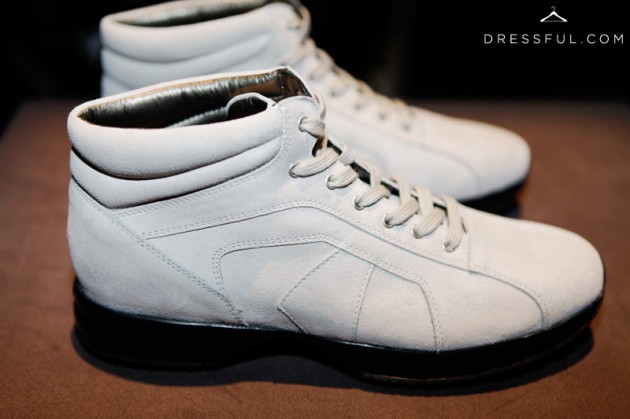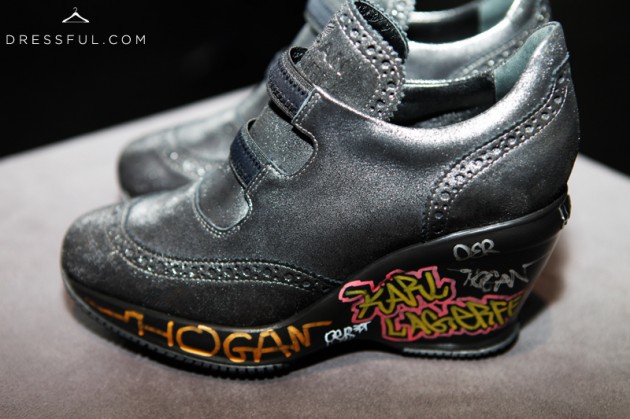 I giggled when I saw these platform shoes. Graffiti are often still understood as marginal in our culture. Considering this, the Hogan by Karl Lagerfeld graffiti logo can be interpreted as somewhat devalued. The genius idea behind this is that even a devalued logo is still a logo, so those wishing to let the world know they bought Hogan by Lagerfeld shoes will be able to do so nevertheless (it would be crazy not to give people this option in this day and age).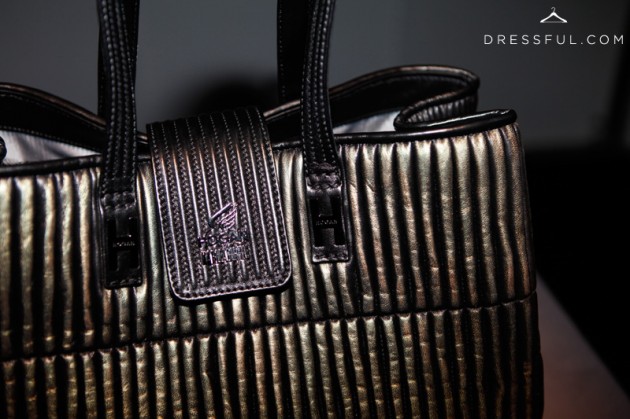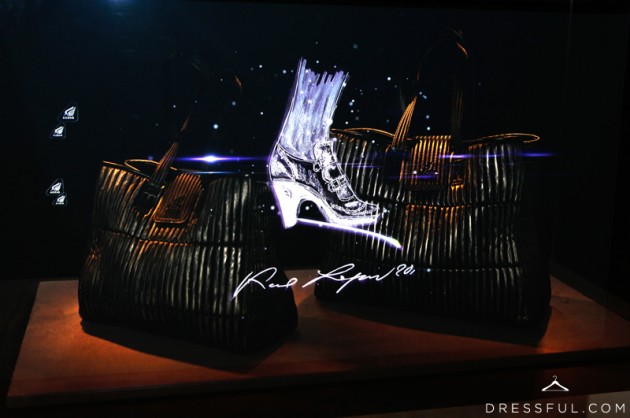 There were constantly changing holograms based on Lagerfeld's sketches for the collection in every display case.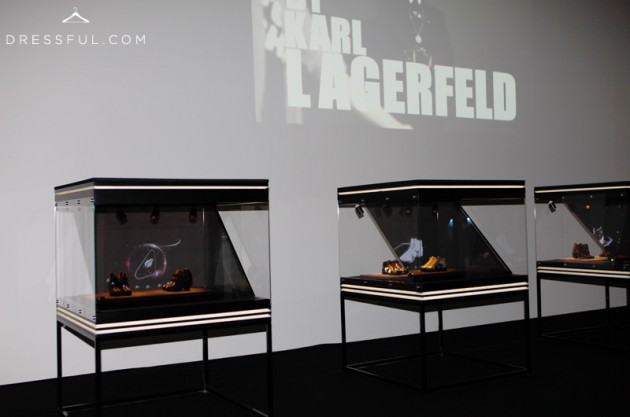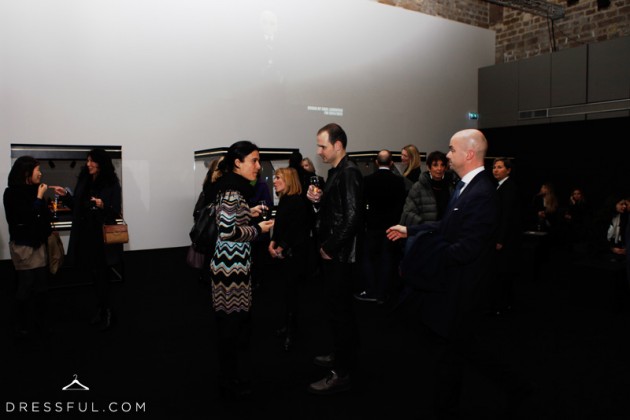 The presentation was over at 8 when VIP guests started arriving to the party. I went upstairs for the photocall and the first celebrity who showed up was Karl Lagerfeld. I thought he'd be about as intimidating as Anna Wintour (who I'd seen the week before at Emporio Armani in Milan), but he seemed to enjoy the photographers' attention quite a bit, which was not intimidating at all.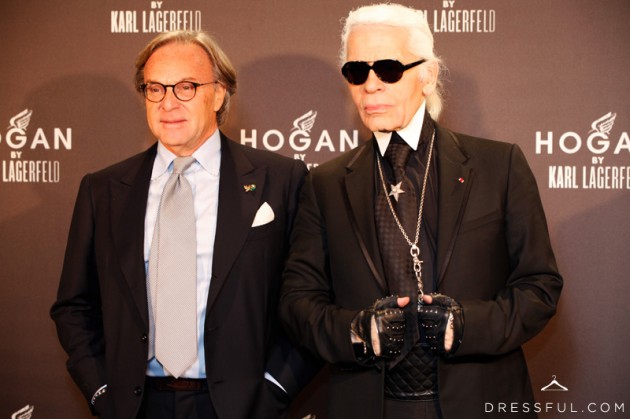 Of course, Karl wasn't the only celebrity at the party: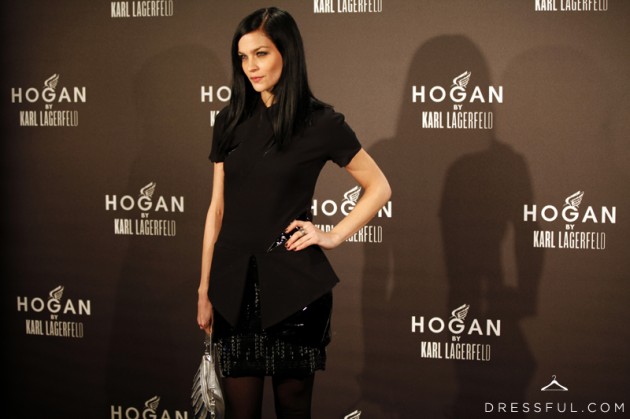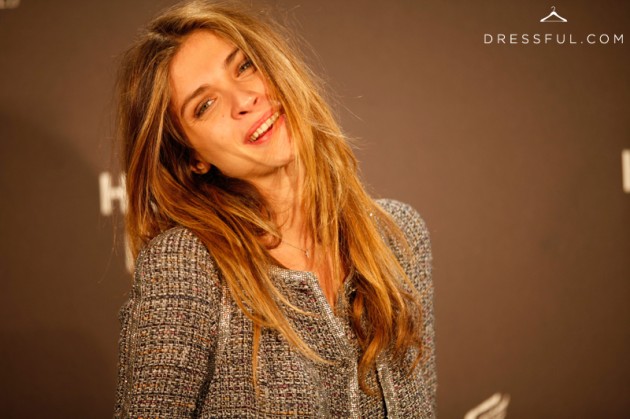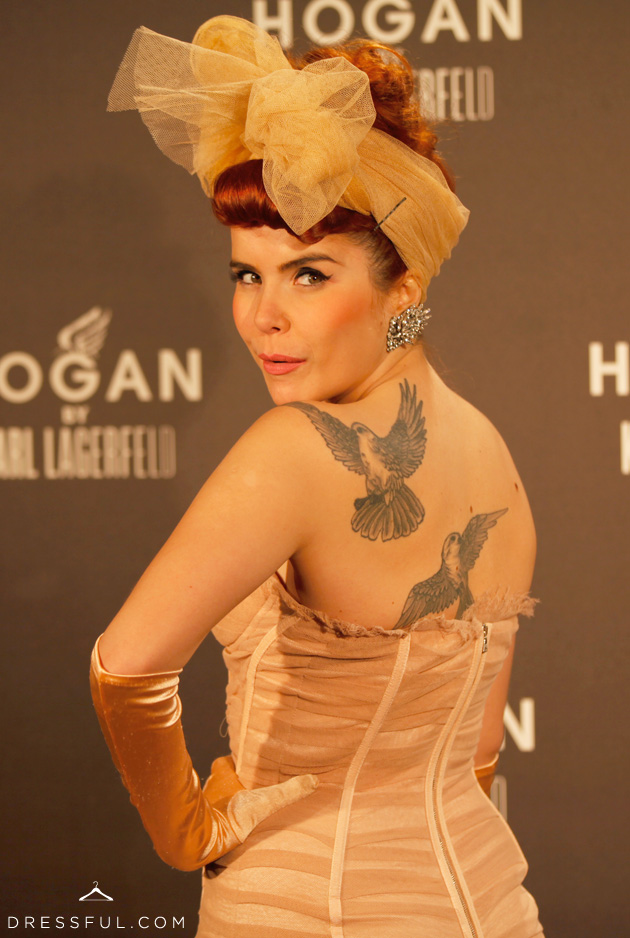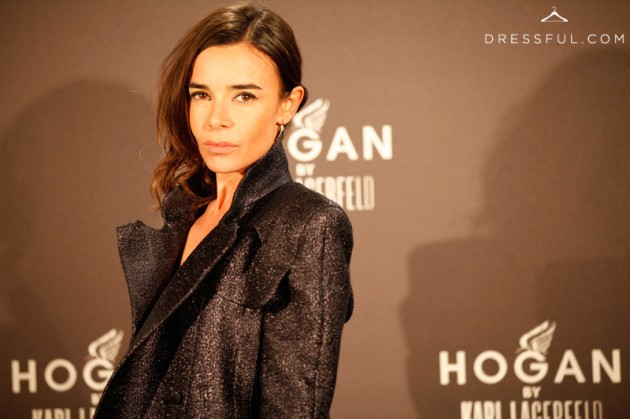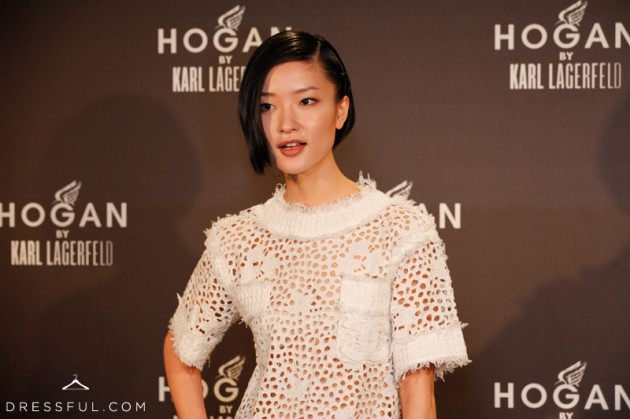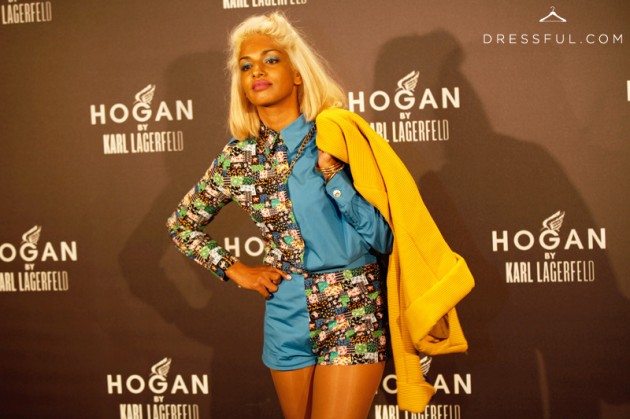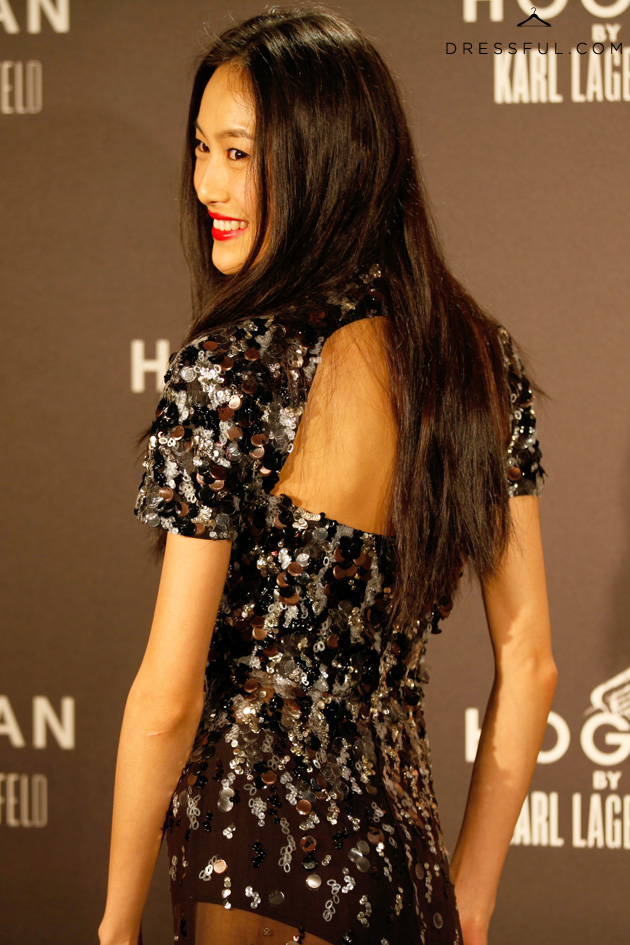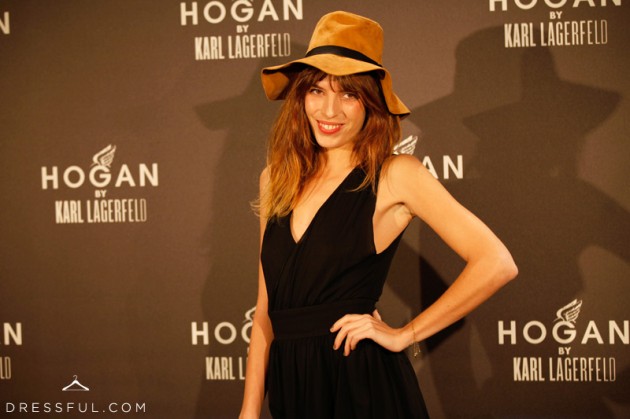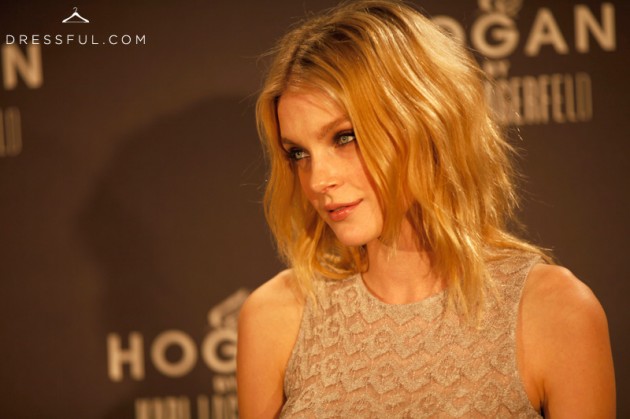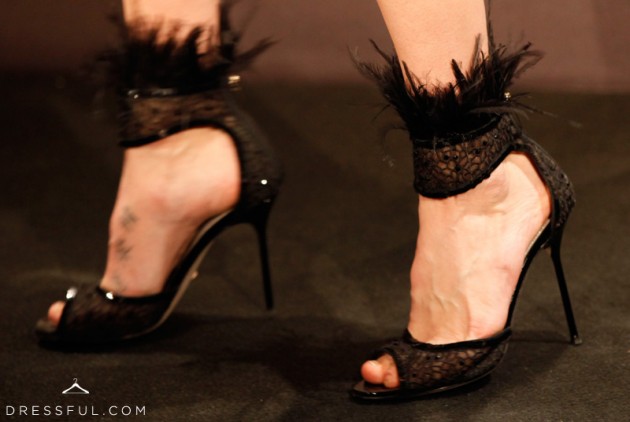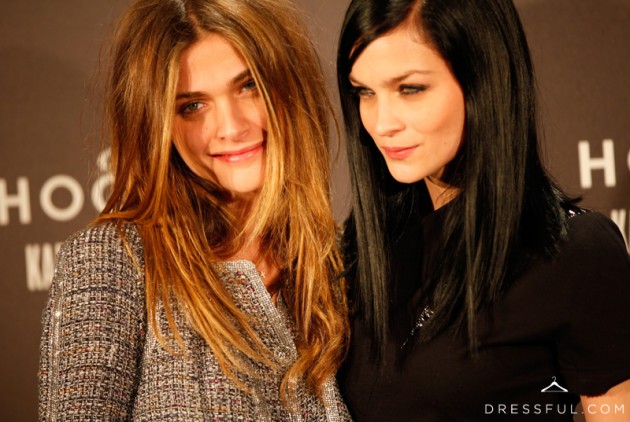 When I was leaving, I almost bumped into Leigh Lezark on the stairs. I've never seen more celebrities in one place - pretty much everyone who was in Paris for fashion week came to the party. It was exciting and glamorous and Paris at night was the perfect backdrop for the occasion.
I'm very honored to have been invited to this event. After Hogan and Emporio Armani, once the fashion week adrenaline has calmed down, I'll have many stories and photos to return to until the next season.