Last Updated on December 15, 2021
If Anna Dello Russo were in her early twenties today, she would be a fashion blogger, covering only the freshest trends from Paris, Milan and New York runways for as soon as an item has hit boutiques worldwide to be sold to the masses, it becomes a has-been (she enjoys applying this philosophy to her outfits, except for shoes that occasionally predate her clothes by a few seasons). Having been born decades before anyone could predict the rise of fashion blogging, she started working for Condé Nast Italy with a university degree in Art History. Although hers seems to be a classic tale of spending months working odd hours and fetching coffee to your superiors before they finally give you a real job - a world miles away from fashion bloggers scoring designer gigs with major brands - Anna Dello Russo sits in the front row of those who have benefited from the fashion blogging revolution in spades.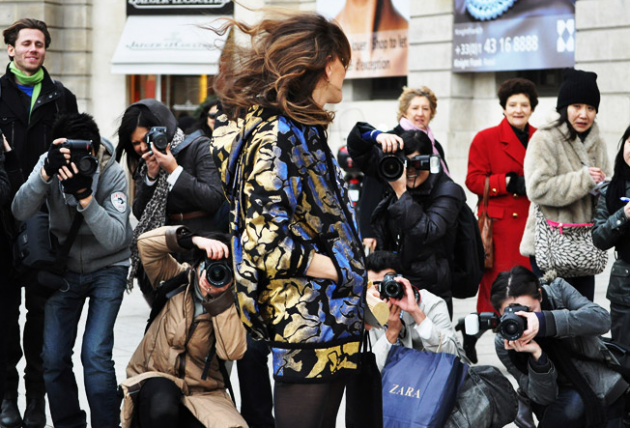 One of the most significant consequences of fashion blogging becoming popular and relevant was that it started putting faces to people working in fashion industry - editors, journalists, stylists etc. - who usually sheered away from the limelight for various reasons (their work was more important, exposure was reserved for celebrities, they had no time to give interviews and attend events unrelated to business ...) However, when photographers behind street style blogs began operating around tents at fashion weeks, they were actually taking photos of insiders in their natural habitat, being closer than ever without anyhow disrupting them. The audience was suddenly presented with visual abundance shedding light on the individuals it had previously only known by their names and positions. As a lot of editors, journalists and stylists have both great personal style and access to clothes and accessories that help them cultivate it, it has since become a custom for the initiated to display the same level of interest for fashion week outfits and new collections, although pieces of the former were already seen half a year ago.
Carine Roitfeld, Emmanuelle Alt and Kate Lanphear - textbook cases of fashionistas' blossoming interest for "behind the scenes" - accept the hype without much commentary; they have acknowledged it and they sometimes pose for photos, but that's all. Anna Dello Russo takes the game one step further by choosing to be a much more active player than others (she has reportedly admitted that she no longer dresses only for herself, but also for bloggers and photographers);  the interesting thing about her modus operandi is that while she is undeniably in for the attention, the reason she remains the only insider who has actually built relationships with young people marking the new era of fashion is also that she genuinely sympathizes with them. Anna differs from the generic, black-clad army of "fashion people" in her childlike candor and seemingly endless supplies of enthusiasm, traits that you would have no trouble attributing to fashion bloggers biting their nails in anticipation of reports from fashion weeks, September issues of Vogue and red carpet events.
Building relationships certainly pays off for Anna; she has invited a couple of bloggers to visit one of her two Milan apartments - first Garance Doré and Scott Schuman, then Tommy Ton of Jak & Jil (the above photo belongs to a series that he shot in the home of more than 4000 pairs of shoes, not to mention the rest of the inventory) - and continues to be heavily featured in their work in return. It is really a win-win situation: the fact that she is a fixture on the most popular fashion blogs in the world keeps her style icon status strong and people flock to said blogs to stay updated on her eccentric outfits.
Anna is so street smart that she even uses the same tools as bloggers. She connects to her friends and fans via Twitter,  updating it several times a day with snapshots from her life, and keeps her own blog, although it is probably her assistants who put together the posts. She has made herself very accessible - everyone can comment on her blog or send her a message on Twitter - leaving the age-old role of an impeccably aloof fashion persona to bright sparks who don't know better and building bridges between those in the know and those wanting to be in the know. If you are a fashion blogger, chances are you are going to like the idea that the Fashion Director-at-Large at Vogue Nippon spends at least a fraction of her time doing the same things as you. Many feathers are ruffled by the fact that Anna Dello Russo has been elevated to stardom because of bloggers and not her styling or editorial work. However, it is only normal that those who understand the spirit of our time always remain one step ahead.