Last Updated on December 26, 2011
2011 was an exciting and fruitful year for me as a fashion blogger.
In February I attended my first major runway show, Emporio Armani F/W 11/12 at Milan Fashion Week. Envisioning myself working in fashion before I started blogging, I thought I would have to spend years interning and assisting at magazines before my boss granted me a privilege to attend shows and write about them. I am my own boss at Dressful so nobody showers me with benefits, but thanks to the "democratization of fashion" we bloggers have become regulars at fashion weeks, be it catching street style photographers' attention with eccentric outfits or reporting from shows.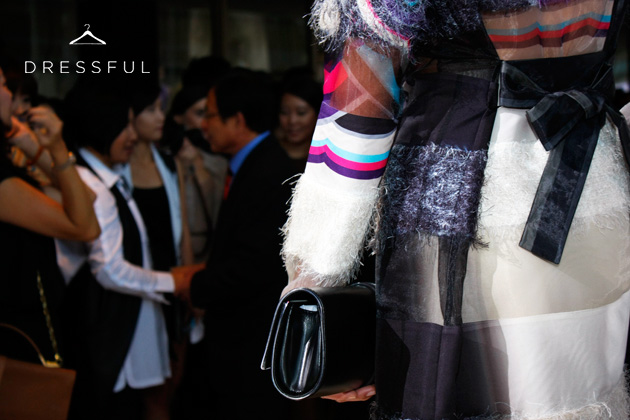 Concept Korea Spring 2012 presentation at New York Fashion Week.
In September I attended New York Fashion Week, which turned out to be a much bigger deal than I had expected. It's the collections shown in Paris and Milan that get the most international attention, but New York is the most blogger-friendly fashion week (Reuters claims that 40% of the press at NYFW are bloggers) and a great place for networking. As opposed to Milan and Paris, all shows take place under one roof in New York, which means you can hang out with people in-between events instead of wasting your time getting stuck in insane traffic jams.
When I started going to fashion weeks, I quickly realized there would be no way back, i.e. if I attend, I have to return next season to see more shows, meet more people and do better work. Due to unexpected health problems I didn't create as much content as I wanted to at NYFW in September. I will be attending NYFW again in February and I'm tickled pink to have a chance to improve. I haven't seen wintry New York in three years.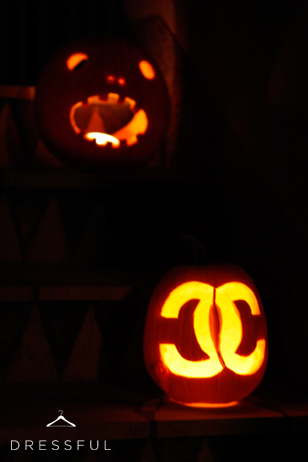 Invitation to the Emporio Armani Spring/Summer 2012 show
Celebrating Halloween with a Chanel pumpkin carved by my dad

Dressful has gained many new readers in 2011. I receive charming, encouraging emails from those of you who find it inspiring and I wish such perceptive and intelligent readers will accompany me in 2012 too. Constantly working on ways to reach more fashion enthusiasts, I'm satisfied with the direction Dressful is developing in. I've discovered that in my case, sharing original and quality content is the way to go. People like words and images they won't find elsewhere and I feel good expressing myself in different creative ways.
In 2011 I rejected various proposals that would have brought me money but didn't align with Dressful. I've been hesitant with monetization because I find some methods largely inefficient and because this blog is my personal space where I only recommend what I absolutely love and know well.
I have seen bloggers rush into monetization without thinking it through; in the end, they were not compensated fairly, the brand or product they promoted didn't fit their blog, the banner ads looked out of place … If done wrong, such deals can do more harm than good to the blogger, despite the money they earned. That being said, there are several types of collaborations I am interested in; I will soon create a separate page to outline them more precisely.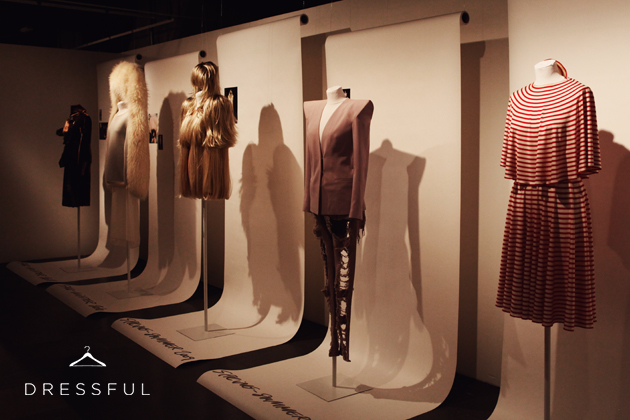 Sens(n)ation Maison Martin Margiela exhibition in Ljubljana.
I would like to thank everyone who takes time to comment on my posts; your comments are not of the "nice shoes check out my blog" variety; rather, they contribute valuably to the post and discussion. I truly appreciate it when you share my posts on Facebook, Twitter and other platforms – this is the easiest way to help me reach more people. Next to providing quality content, expanding my audience is my number one goal for 2012.
Though the world is far from perfect, the opportunities I've had in 2011 make me grateful to live here and now. Five years ago it would have been impossible to jumpstart my fashion career with a blog.
The blog is just the beginning.
I wish you happy holidays and lots of health, love, creativity and success in 2012.