Last Updated on January 31, 2012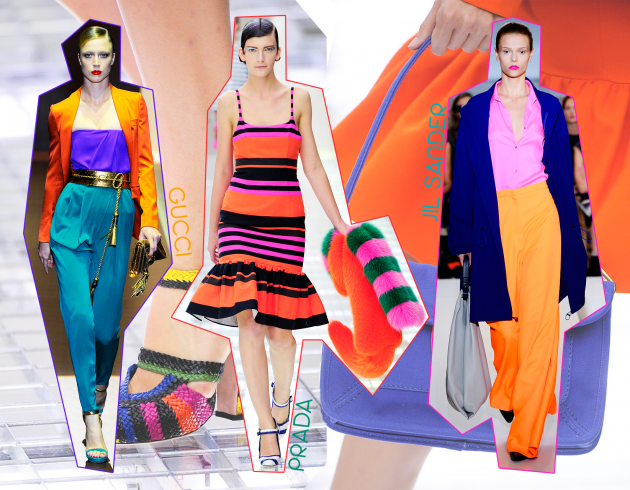 I'm completely and utterly stoked about the bright and bold colors trend for spring and summer 2011 going mainstream because I love it when city streets are infused with colors.
When I was in Zara stores in Milan and Paris during fashion week, checking how they'd styled the mannequins, I saw looks consisting solely of bright pieces for the first time ever (I was born too late to have witnessed the events of the 1980s and geniously revolting aerobic outfits firsthand). Grass-green pants, fuchsia shirt, ultramarine blue blazer.
I never imagined an insane ensemble like this could look so awesome.
I paused in deep thought amidst ardent shoppers rushing from one end of the store to the fitting rooms and back (at Zara there's always that one more thing you have to try on): "This is a revolution!"
Paris didn't quite catch up on the trend, but Milan streets were full of Prada, full of Jil Sander. It was as if someone had declared a "Dress like Anna Dello Russo" week and the participants cultivated the most colorful eccentricity. They looked like Zara mannequins, only a bajillion times more expensive.
(Of course, as you can see in my report from the Emporio Armani F/W 11/12 show, Anna Dello Russo was the uncrowned queen of bright and bold fashion week outfits. Someone really should give her that crown though. Why else do you think she's wearing fruits on her head if not to compensate?)
×××
Imagine my disappointment when days later I went to Zara in Ljubljana and discovered it's having only a fraction of Milan's exploding colors party? The mannequins are shyly clad in one, maximum two bright pieces at once. The rest of the look is neutrals.
It's nothing compared to the vibrant, brilliantly bold clothes that had me so excited in Milan and Paris, so excited I'm still thinking about them two weeks later.
The looks also entirely lack energy, as if there isn't a single person in this city who could wake up one morning fashion-starved and scream at the top of her lungs, "I want to be Anna Dello Russo today!"
Anna Dello Russo would probably cry at the sight of it. Remembering Milan, I almost did too.
It was then that I realized I'm sick of Ljubljana having the reputation of not being really fashion-forward when this impression is often a result of what someone else has selected for us.