Last Updated on December 29, 2011
I've put together a list of my 10 best posts of 2011. Some of them were chosen by popularity, others by personal preference. Excluded are fashion week posts (photos and reviews of shows and presentations), which you can find in the show directory. Enjoy the wrap-up!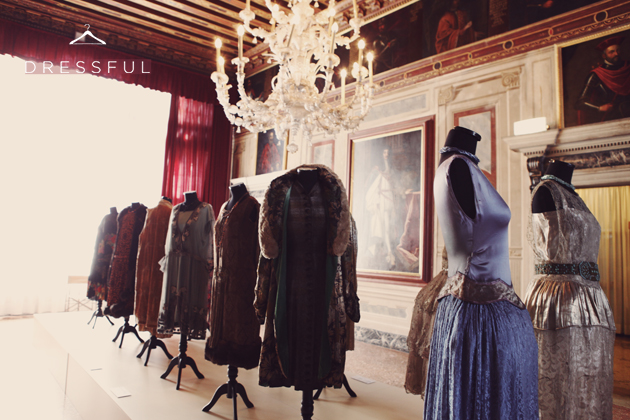 Elegance in Exile exhibition in Venice, Italy
It's not what you wear, it's how you wear it
I like it when clothes from H&M, Asos or Zara look like Dior. It pokes fun at high fashion's exorbitant cost and proves that the impression given by clothes depends entirely on the wearer.
Prada Men's Spring 2012 collection: Golf parody
Leave it to me to fall in love with Prada Men's Spring/Summer 2012, a collection decidedly out of touch with masculinity in favor of parody.
The battle of ultra-thin models and our sanity
The problem with skinny models/women/anyone lies in the subjectiveness of "thin". What is thin? Where do you draw the line?
Elegance in Exile exhibition: Russian expat fashion
The exhibition portrays the influence of Russian émigrés on fashion, displaying costumes of Ballets Russes (The Russian Ballets) as well as dresses worn by aristocrat Russian women who fled to Europe after the October Revolution in 1917.
See the exhibition at Palazzo Mocenigo, Venice, Italy, until February 29, 2012.
Do fashion bloggers care about anything else but clothes?
Bloggers often face prejudices because there are still many fashion people who believe we, mostly lacking formal fashion education and industry experience, don't know enough about fashion to comment on it, that we get too much attention for the "fluff" and narcissism we share with the world.
Hats off to summer!
Heat is the only thing Ljubljana and seaside have in common in summer, and in heat what a girl needs is a good dress and a good hat.
20 sarcastic tips to become a popular fashion blogger
1. Wear Jeffrey Campbell Lita boots (this is a MUST).
The most popular post of 2011 according to the number of views and your Facebook likes!
Notes before New York Fashion Week
I'm not sure I could live in one city all my life, but I would like to spend at least a few years in NYC, preferably before I am very old. Interestingly enough, one of my many "visions of future" is a very old black-clad myself, going to the Met (the opera, not the museum) and Carnegie Hall every evening.
Sens(n)ation Maison Martin Margiela exhibition
The Sens(n)ation exhibition at Ljubljana's Galerija Jakopič showed a retrospective of Maison Martin Margiela's first line (défilé) collection from 1989 to 2011, as well as garments and accessories by renowned Slovenian designers.
Vogue India racism: Only light skin is beautiful!
I was shocked to discover that like the Western media, Vogue India too promotes an extremely narrow standard of female beauty.
Read my 2011 fashion blogging recap here.