Last Updated on March 28, 2014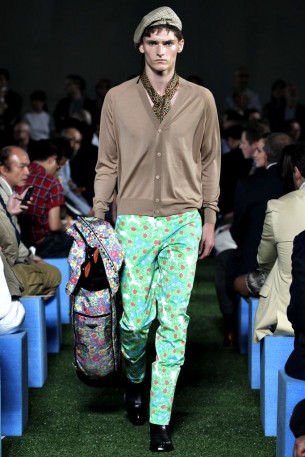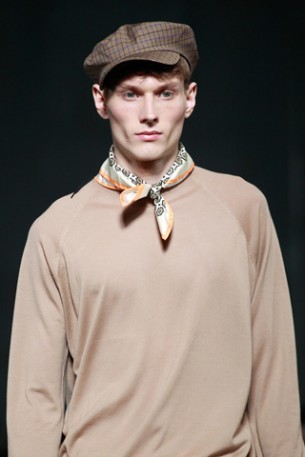 I've written about how I don't talk much about menswear on this blog, mostly because I want to learn about menswear properly before commenting on it, and maybe also because I find womenswear to be a liiiittle more exciting ... so leave it to me to fall in love with Prada Men's Spring/Summer 2012, a collection that's decidedly out of touch with masculinity in favor of parody. Miuccia Prada says she's inspired by what she hates - in this case golf, which she doesn't play. I am obsessed with cleverness and humor in fashion, and recently Prada has been spewing out strong collections that deliver both in spades - though the side effect of Women's S/S11 reaching iconic status in a milisecond was that those pieces, especially fur stoles and flatforms, will forever be regarded as exclusively "seasonal", meaning nobody will wear them next year because they will be "out" as they've literally been everywhere ... perhaps that was the point though? to sell everything (YAY, PROFIT!) and not care about how long it lasts because surely we're in for a bunch of new surprises in September.
I heard you have to be young if you want to work at Prada, and I suppose it explains the influx of these quirky concepts you either love or hate or love to hate or hate to love.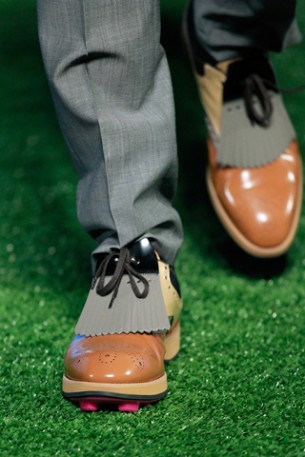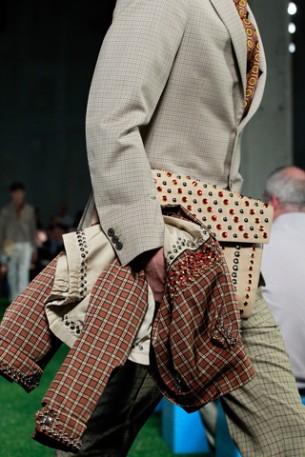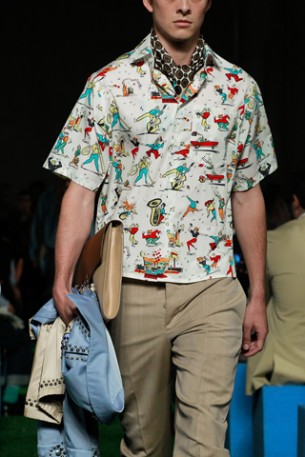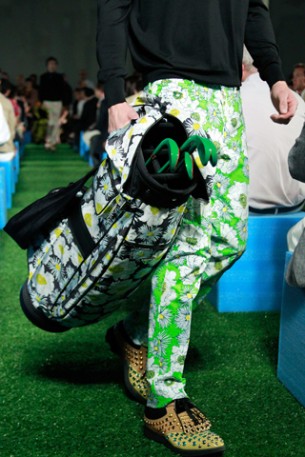 My favorite piece from the collection is the golf bag in ridiculous daisy print. Nobody wouldn't even think of taking this thing to the golf course back in the day, and now it's become the only bag you want to take to the course. An "it" bag for golf. ♥♥♥ Miuccia Prada pokes fun at golf's rigid dress code (when I still played golf more often, what saddened me the most about the dress code was that there's basically no distinction between golf womenswear and menswear, especially regarding atrocious shoes); the most genius thing about it is that you're going to see people actually playing golf wearing these parodical pieces and some of them won't even be aware of it! I say "people" instead of "men" because if these bags will be available to customers, I think there will be many, many women calling their SAs to be put on the waiting list.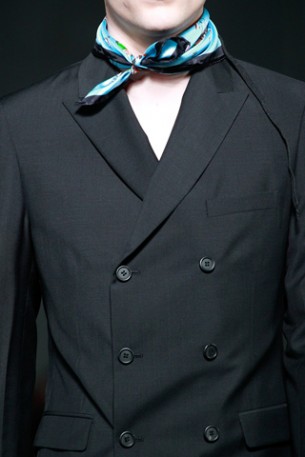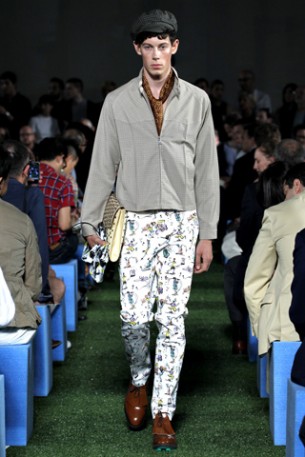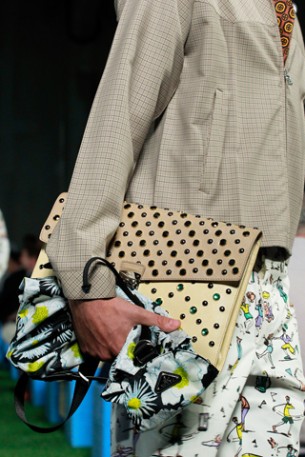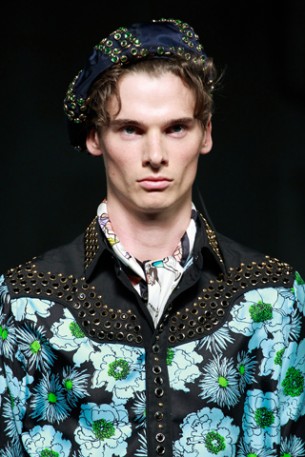 To me, Prada Men's S/S12 speaks of a contemporary comic book hero. It's funny and campy and what else are comic books anyway? This is 2011 and gender boundaries aren't as strict as golf dress code any more, so the Prada hero doesn't have to be brave and mysterious like Spider-Man or Diabolik. He's a "boy of leisure", perhaps relying on a vast inheritance, who has read all the Greek classics and never gets his clothes dirty - not even when he's playing golf.
Photos from gq.com.