Last Updated on December 15, 2021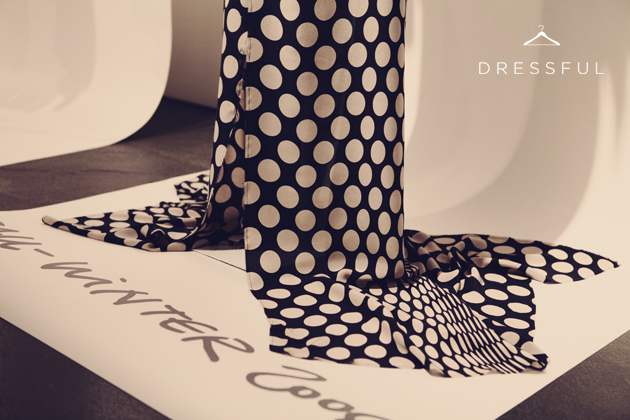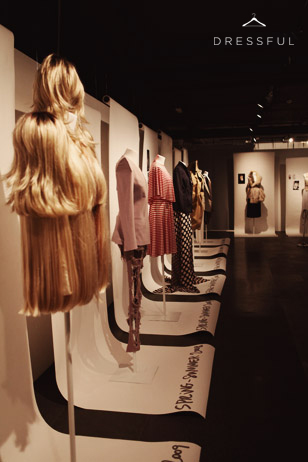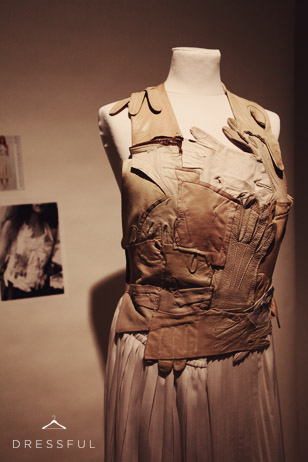 This morning I had the honor to be among the first guests of the Sens(n)ation exhibition showcasing a historic overview of Maison Martin Margiela's first line (défilé) collection from 1989 to 2011 (23 looks), as well as garments and accessories by renowned Slovenian designers. The exhibition, a joint effort of multibrand designer store Wolfova 5 and Projekt27, is curated absolutely comme il faut; fashion-wise, this is the event that finally put Ljubljana on a global scale.
There's quite a Margiela cult in Slovenian fashion circles, making Sens(n)ation even more sens(n)ational. In a way – though if you asked people in the street who Margiela was, I don't think you'd get many sensible replies – this exhibition will cater to the widest of tastes. Fashion people will love it (or at least appreciate it as usually you'd have to go to another country to see an exhibition on this level), passers-by (i.e. the uninitiated into the Noble Art of Conceptual Fashion) will be provoked by what fashion can be – fashion that is not stripped to strict functionality, fashion beyond trends.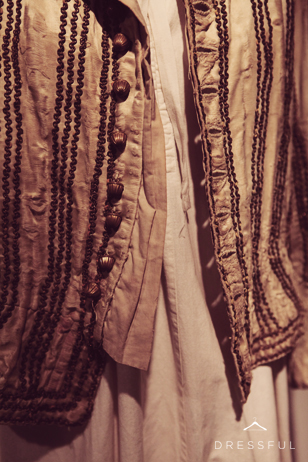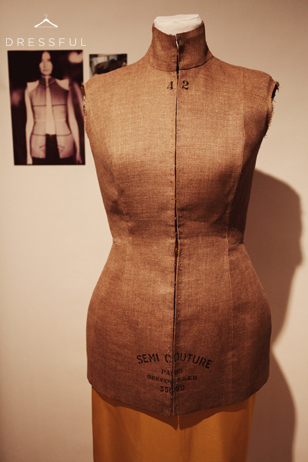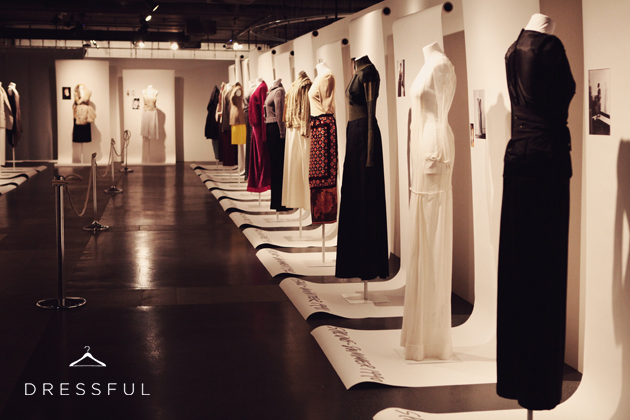 I should note that the historic overview is actually very general public-friendly. There are no covered faces and other more or less bizarre facets that often alienate people from the complex world of Margiela; it's more about playing with sizes, materials, inspirations and humor. When you see the exhibition, I suggest you pick up the little booklet with details about each look so you won't miss out on Margiela's clever tricks.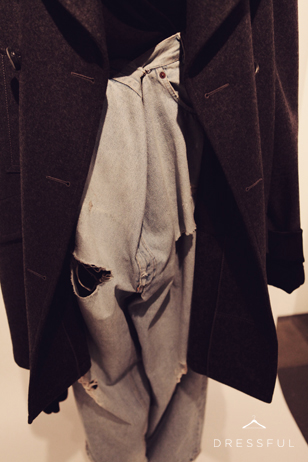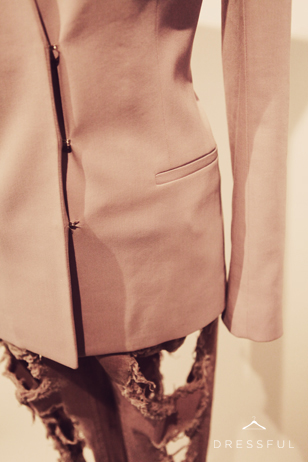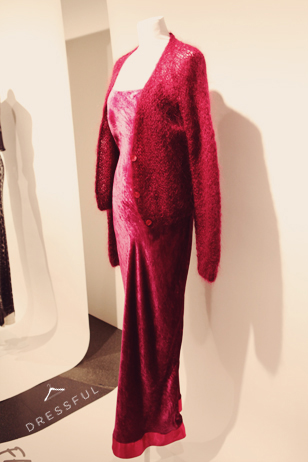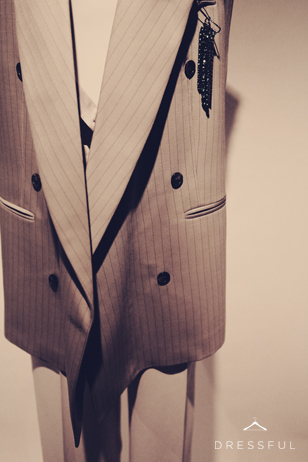 1. Polka dot print dress, S/S 2006
2. Setup
3. Shirt with front made out of leather gloves, S/S 2001
4. Theater costume-inspired jacket, S/S 1993
5. Sleeveless "tailor dummy" jacket, S/S 1997
6. Setup
7. Size 78 coat and jeans, F/W 2000
8. Pink shouldered jacket, "destroyed" jeans, S/S 2008
9. Velvet dress, mohair cardigan, F/W 1995
10. Double-breasted sleeveless jacket, S/S 2004
+++
Regarding the second part of the exhibition, I cannot help but wonder how (Slovenian) designers feel about their work being displayed in the same space as Margiela's; it's an enormous challenge, yet the selection is careful enough that the Slovenian designers' part feels like a logical continuation of the Margiela part. Each designer has contributed two looks, the dominant color being black. Three accessories collections have been designed especially for Sens(n)ation: bags-sculptures by Marjeta Grošelj, jewelry by Srečko Molk and glass hats by Ana Lazovski.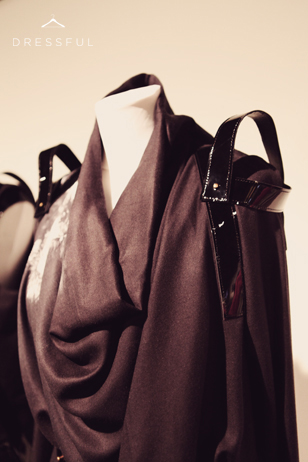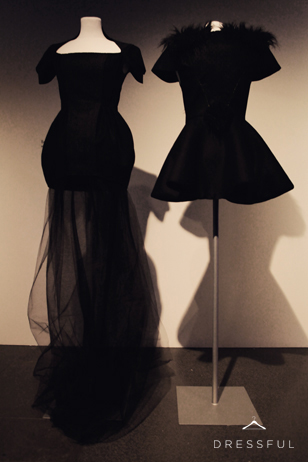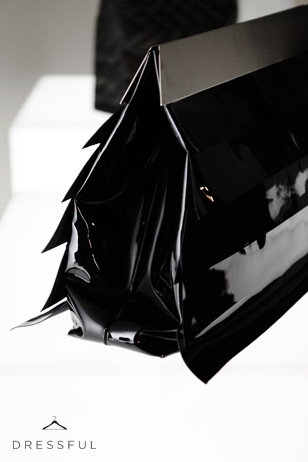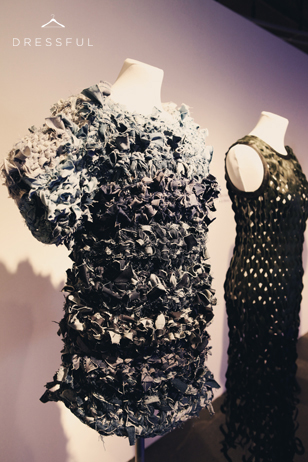 1. Dress by JSP Jelena and Svetlana Proković
2. Dresses by Sanija Reja
3. Bag by Marjeta Grošelj
4. Sweater and dress by Dajana Ljubičić
Most of the designers are part of the younger generation; I miss humor in their otherwise beautiful, well-constructed garments, the same humor Margiela has in his little finger. On the other hand, I understand that creative insouciance can only be achieved after you have fallen and risen again a thousand times. A quality of the masters.
The exhibition will be open from November 25 to December 4. Free admission.
Galerija Jakopič, Slovenska 9, Ljubljana.