Last Updated on February 25, 2014
Last weekend I took a quick trip to Venice with my family to see the Elegance in Exile: Between fashion and costume, the time of Sergei Diaghilev (L'eleganza in esilio. Tra moda e costume, il tempo di Diaghilev) exhibition at Palazzo Mocenigo.
The exhibition portrays the influence of Russian émigrés on fashion, displaying costumes of Ballets Russes (The Russian Ballets) designed by Leon Bakst, Natalia Gončarova and Alexander Benois, as well as dresses worn by aristocrat Russian women who fled to Europe after the October Revolution in 1917. Most of the dresses are part of fashion historian Alexandre Vassiliev's personal collection, dating back to the 1920s and 1930s.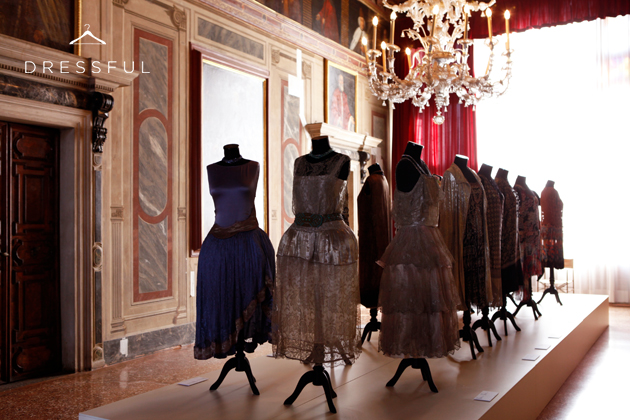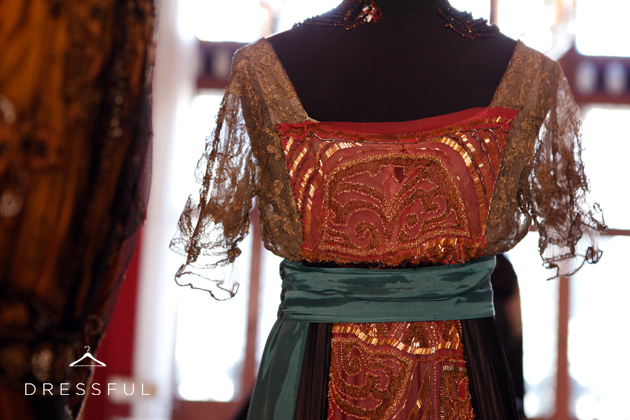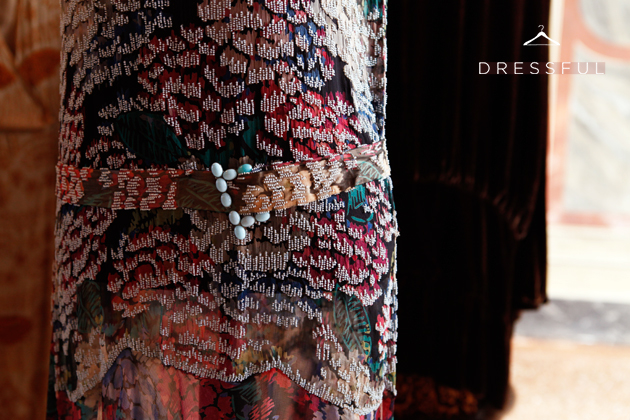 +++
We visit Venice approximately 4 times a year out of a fascination with its narrow street and magic atmosphere that only grows stronger with time. Thanks to my dad's internal GPS system we know our way around quite well, but we had never walked around the part of the city where the Palazzo Mocenigo is located before. Whenever you think you're almost there in Venice, you find out your destination is actually not where you thought it was, even if you followed the map closely. You have to go back a bit, cross another bridge, turn left and maybe you'll find it there … but not always.
Venice is alluring and deceiving. In her case, the second is a quality.
+++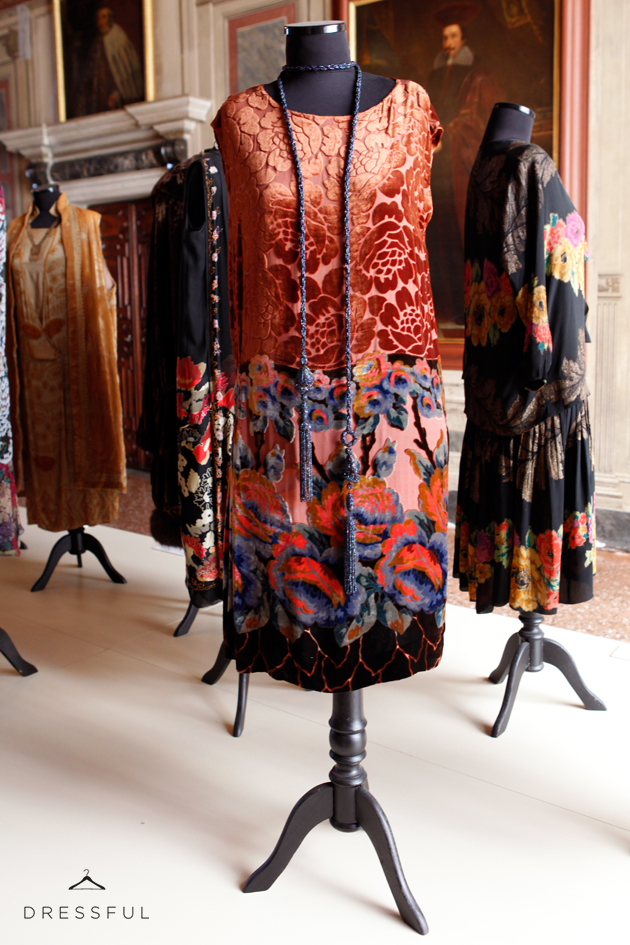 Cocktail dress
USA, circa 1926
Floral chiffon and velvet
+++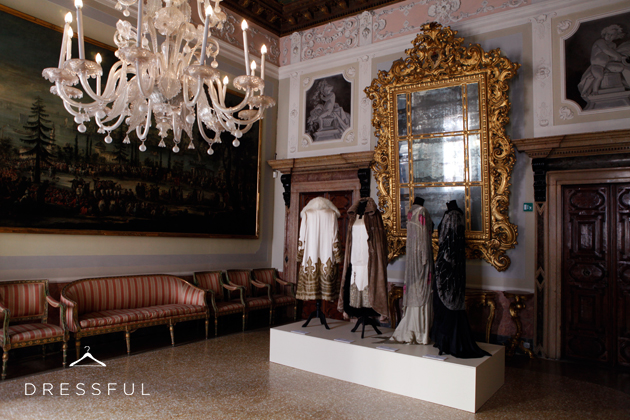 Second to left: Evening dress
Worth Haute Couture house
Paris, 1922
Ivory satin with Russian folk style silver and gem embroidery
Evening cloak from Great Britain
+++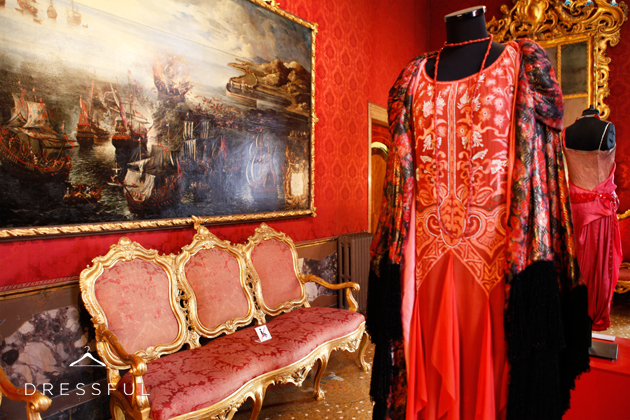 Cocktail dress by Soeurs Carrott (that was written on the plate – could it be the Callot sisters?)
Paris, 1923
Red chiffon with Chinese style silk thread and bead embroidery
Cloak in art deco style
USA, 1925
Black brocade silk with floral pattern, metallic thread and fringes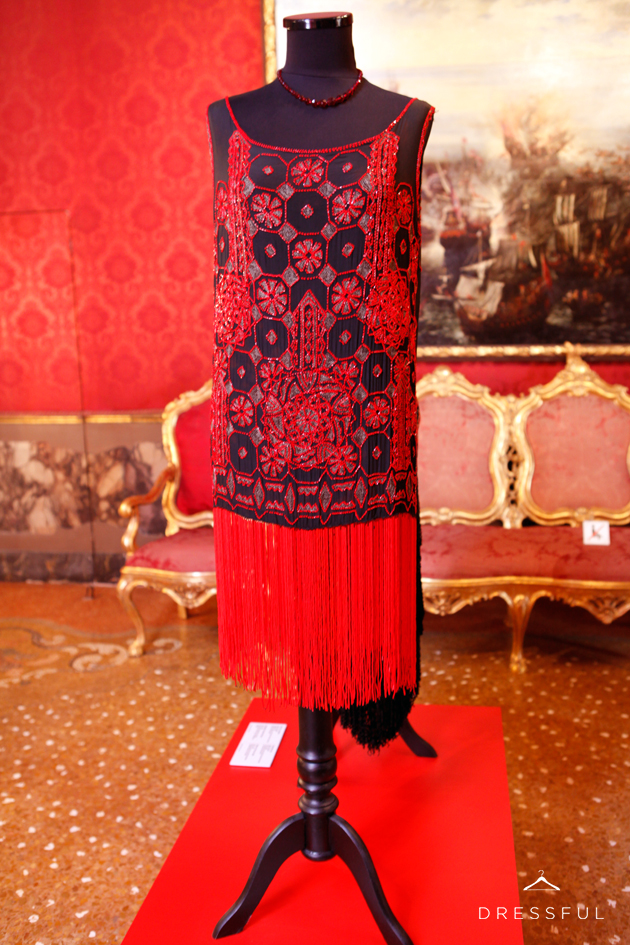 Evening tunic by Anely
Istanbul, 1923
Black silk, embroidery with silver thread and red beads
Evening dress
London, 1919
Red lamé with bead trimming
+++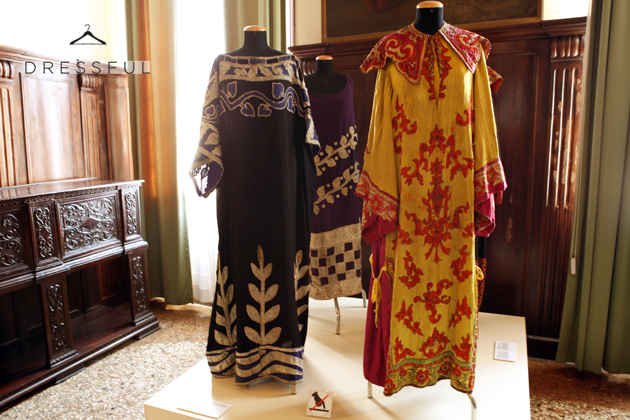 Left: Ballets Russes dark purple wool crêpe costume by Leon Bakst in 1923. Created for Ida Rubinstein in Phaedra by D'Annunzio and Racine.
Right: Ballets Russes costume in embroidered and hand-painted yellow ochre and fuchsia silk by Alexander Benois, created for the ballet The Nightingale (Le Rossignol). 1914.
The Russian Ballets, probably the greatest ballet company of the 20th century, took Paris (who had never seen anything like it before) by storm in 1908. They staged operas and ballets choreographed by Mikhail Fokine in the first season, but focused mainly on ballets later on.
Impresario Sergei Diaghilev was the driving force behind the Ballets. Because of his passion for art and ambition to work with the most talented costume designers, composers and dancers of his time, the Ballets became an international influence on fashion and culture. They introduced the oriental style, which went on to become a huge trend in Paris, and opulent, colorful costumes with Russian folkloric elements and fur embellishments, a far cry from Western fashion.
The famous Paris premiere of Stravinsky's Rite of Spring caused a riot in the audience partly because of the animalistic costumes by Nicholas Roerich. This scene was brilliantly recreated at the beginning of Jan Kounen's 2009 film Coco Chanel & Igor Stravinsky. In the same film Coco Chanel gives a custom-made rubashka blouse to Stravinsky's daughter. Chanel really did experiment with rubashkas and liked to use fur in dressmaking as many of her clients were Russian.
+++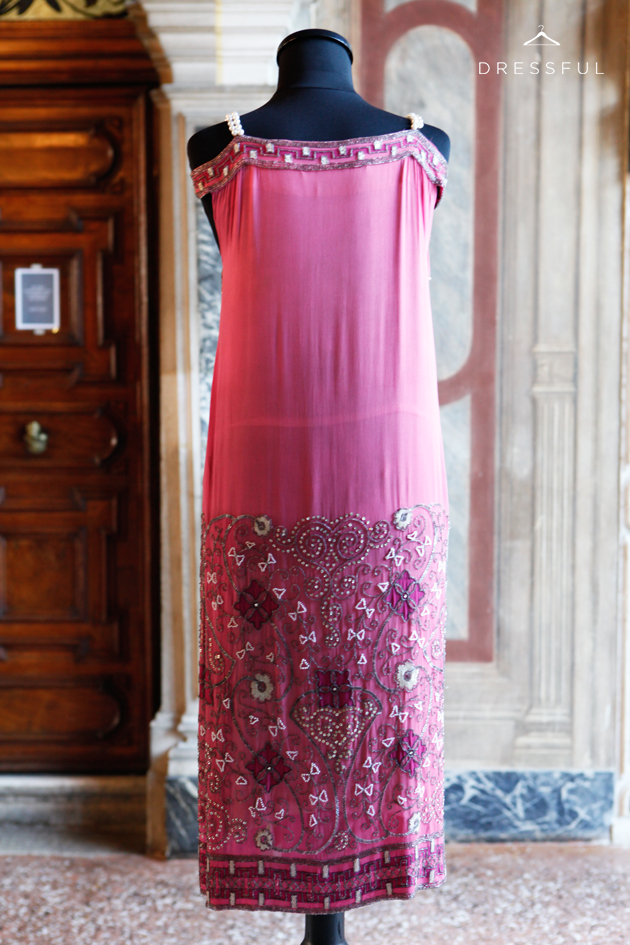 Evening dress (back)
Belgrade, 1920
Magenta silk, bead embroidery
+++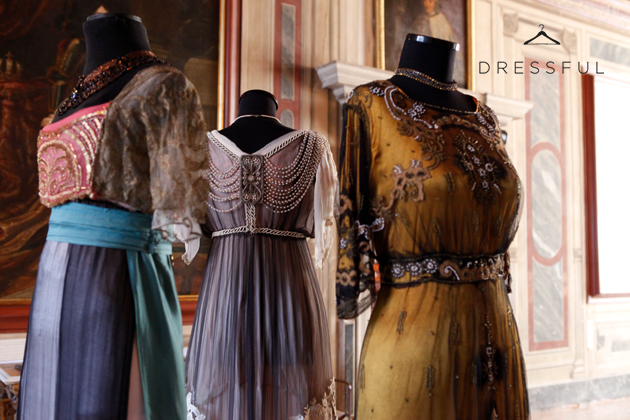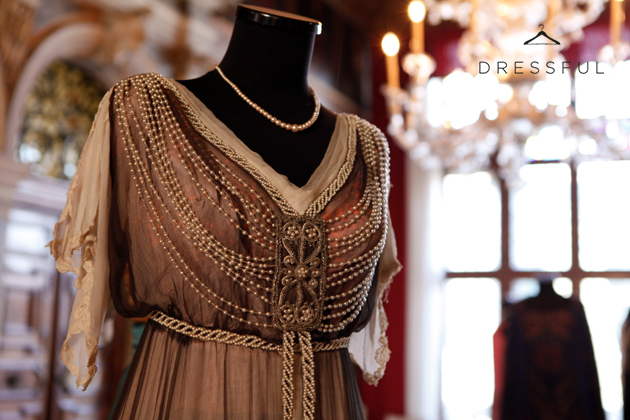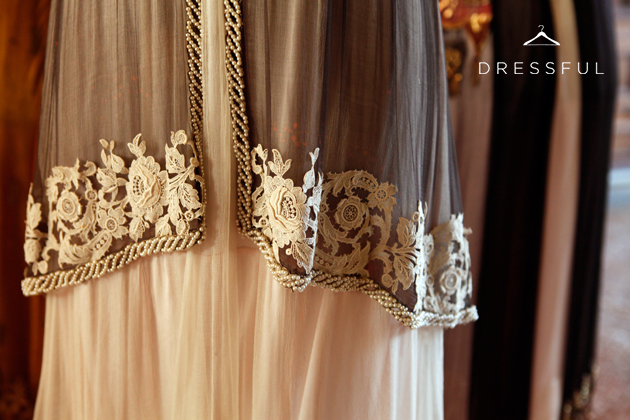 +++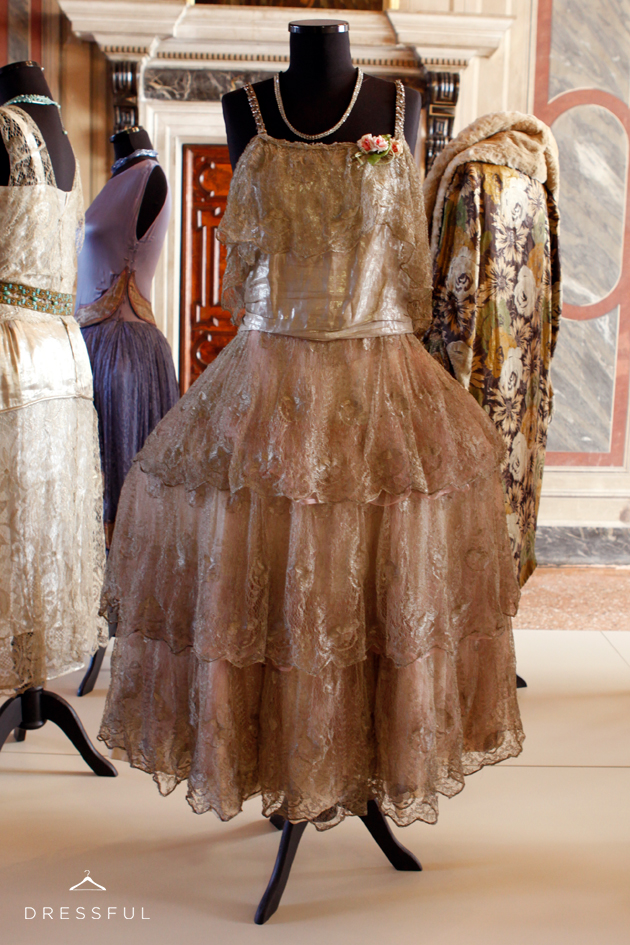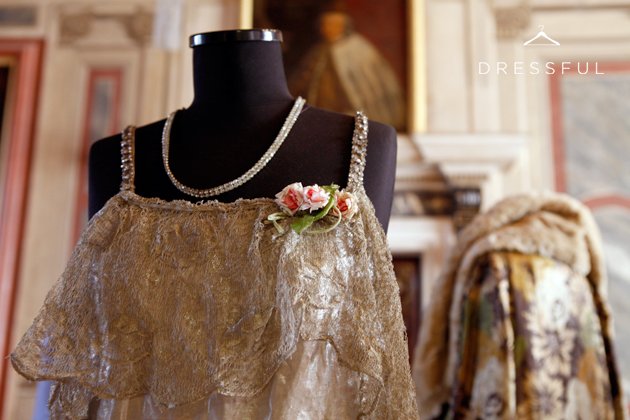 +++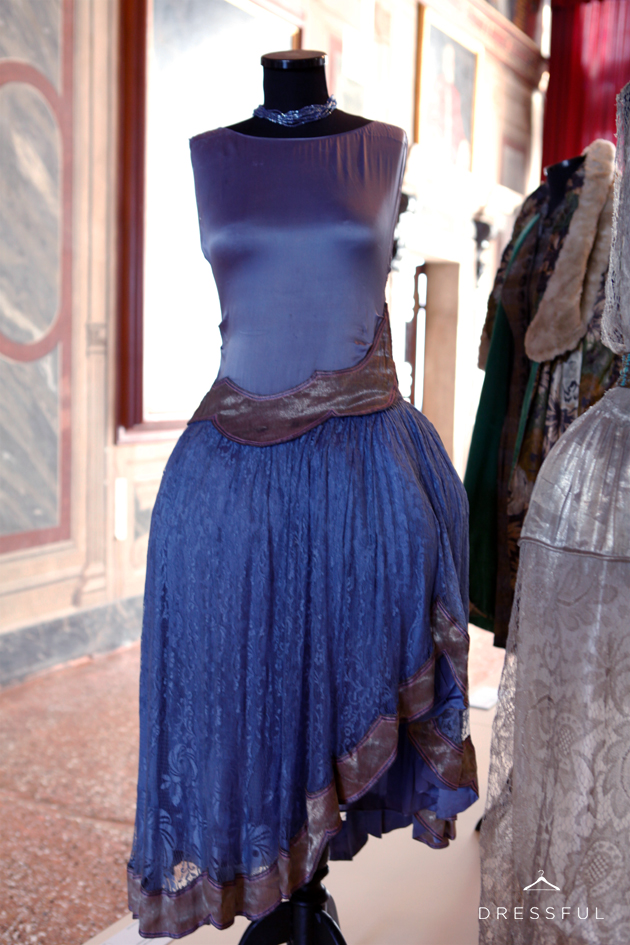 Dress by Lanvin
Paris, 1923
Silk with lamé brocade and lace trimming
+++
A note accompanying the exhibition tells me the Russian women who had fled the country lived in poverty and often had to find work as seamstresses or create embroideries in order to make a living. The exhibition, situated in a lavish Venetian palace, evokes images of impossibly glamorous world of aristo-expats lamenting their homeland in faraway cities, fancy dresses and evenings in opera houses being the only remnants of their glorious past. It is as if the exhibited dresses are competing in quality and quantity of beading and embroidery. They don't make such dresses any more, do they? The closest to them today would be haute couture, another world that will always stay alien to those not privileged enough to be a part of it, no matter how many documentaries on the subject they shoot and how many articles they write in attempt to uncover the mystery.
I particularly enjoyed seeing a dress by Charles Frederick Worth (considered to be the first couturier), though they had obstructed it with a giant unidentified cloak from Great Britain, and a lovely cobalt blue Lanvin number from 1923 – i.e. Lanvin by Jeanne Lanvin. The heaviness of the Russian Ballets costumes surprised me; they were probably difficult to dance in, especially as the dancers also wore large headgear (kolpak, ushanka).
Elegance in Exile makes a fashion history lover's heart flutter, offering a glimpse into the time when glamour was slower and more meticulous than we can afford today – figuratively and literally.
The exhibition is open until January 6 February 29, 2012.
Palazzo Mocenigo, Santa Croce 1992, Venice, Italy.