Last Updated on December 15, 2021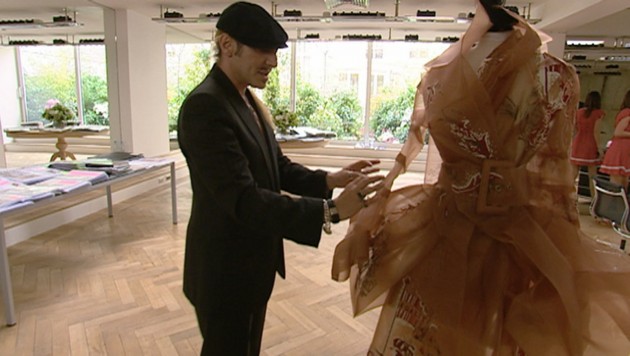 John Galliano & Dior haute couture dress
Haute couture is one of the most misused terms in fashion. Some of the uninitiated toss it around relentlessly in an ungainly belief that peppering your language with "exotic" French expressions will make you sound smarter while others (ab)use it because haute couture collections are way fancier than ready-to-wear, so everything that's at least a bit fancy in the eye of the beholder automatically becomes "couture":
My boyfriend bought me a Hysteric Glamour shirt
They're hard to find in the States, got me feeling couture

Gwen Stefani, Harajuku Girls
The main misconception people have about the term haute couture is that it applies to all handmade and/or made-to-order garments, whether manufactured by seamstresses at Dior or aspiring fashion design students. This isn't entirely incorrect, but it is a very loose interpretation of the term. Some fashion houses add to the confusion by falsely describing their special collections as "haute couture"; you'd think they should be the first ones making sure the term is used properly, but fashion industry probably fuels the mystery behind these two words on purpose as to create more buzz.
So, then, what is haute couture in its narrowest sense?
According to Wikipedia, the term haute couture is protected by law in France and is defined by the Paris Chamber of Commerce (Chambre de commerce et d'industrie de Paris). To earn the right to call itself a couture house and to use the term haute couture in its advertising and any other way, a fashion house must follow these rules:
Design made-to-order for private clients, with one or more fittings.
Have a workshop (atelier) in Paris that employs at least fifteen people full-time.
Each season (i.e. twice a year) present a collection to the Paris press, comprising at least thirty-five runs/exits with outfits for both daytime wear and evening wear.
Fashion houses meeting these rather challenging criteria (the second is particularly fantastic, I have an unflagging desire to visit an haute couture atelier and observe the dressmakers' meticulous work because I often feel like it is more interesting than the preceding design process) are selected each year by the Paris Chamber of Commerce and then become members of the Syndical Chamber for Haute Couture (Chambre syndicale de la haute couture). However, even this most elite selection has its hierarchy - members are divided into "official" (French houses such as Chanel and Dior), "correspondent" (foreigners, most notably Armani and Valentino), "guest" (new talents), "jewelry" and "accessories".
The official ongoing list of fashion houses who make the cut is published here.