Last Updated on January 30, 2013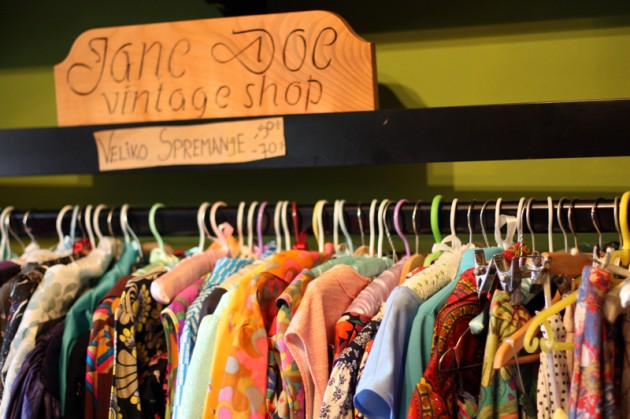 A couple of months ago I found out about Jane Doe vintage shop browsing Serbian fashion forums and immediately made a mental note to check it out the next time I'm in Belgrade. A real vintage shop (stocking only items from before the 90s) in one of my favorite cities sounded incredibly promising; I believe every city with an identity has its share of highly specific clothes - you'll come across a piece and it'll hit you how very much it's reminiscent of a particular time and place (the insane "Lepa Brena at the culmination of her 80s kitsch" black and gold blazer with extremely puffy shoulders, glittery dots and bows that I bought at Jane Doe, perfectly conscious of the fact that I'm probably never going to wear it, is the very embodiment of this concept). I went to other Belgrade vintage and second-hand stores prior to my venture to Jane Doe, but the latter was the only one that really lived up to my wishes and expectations in terms of both selection of items and atmosphere.
Many stores, regardless of what they sell, aim for that "make yourself comfortable" and "feel like at home" character, but very few of them actually succeed because it's rather difficult to maintain cozy mood if your employees aren't genuinely interested in making it work it too. What I liked best about Jane Doe was that it made me feel like I could stay there all day just browsing racks and trying on clothes. Its owner, Bojana, is super nice and puts a lot of energy into interacting with vintage/fashion enthusiasts visiting the shop. Bojana is in her 20s and runs Jane Doe completely by herself. She was the first one to take the plunge into opening a vintage shop in Belgrade, a gesture that has definitely paid off as she's established a steady base of regular customers.
Jane Doe (located on Bulevar kralja Aleksandra 161a) sells clothes, shoes, bags, hats and jewelry; the entire place (including the little front yard) is lavishly decorated with trinkets such as old magazines, illustrations and toys. The philosophy behind the name of the shop is that without an owner, every piece loses its identity and gets the label "Jane Doe". When you buy the piece, you give it a new identity and remove the label. Although I think the "Jane Doe" label suggests quite a bit of identity due to the shop being an all-around inspiring abode, I was happy to remove it from two blazers. Needless to say, Jane Doe is now one of my favorite places in Belgrade.
P.S. It's official: Dressful's first giveaway will be announced next Monday, September 20!