Last Updated on February 25, 2014
A freezing winter morning is the best time to have an exhibition to yourself. Crossing the strangely quiet and empty Somerset House courtyard (how lost it looks without the frenzy of fashion week …), I entered a maze leading to the river side of the building where they had hid the Valentino: Master of Couture exhibition as the first visitor of the day.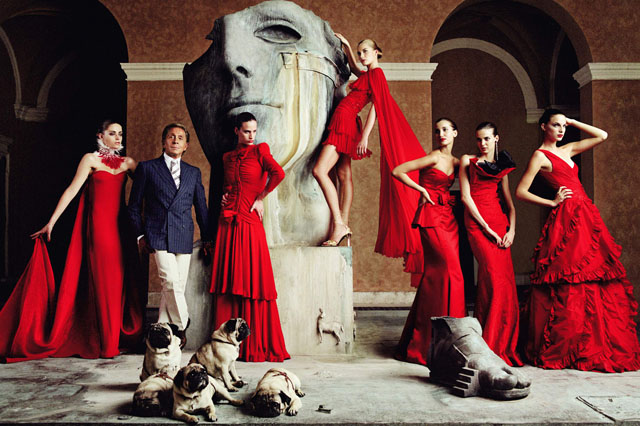 The exhibition displays 130 of Valentino's haute couture looks worn by the likes of Audrey Hepburn and Jacqueline Kennedy, celebrating his 50 years in fashion. The first room introduces you to the glamorous world of the capital V with a collection of photos, invitations to haute couture shows, correspondences between Valentino and other notable fashion people (a rare chance to see Anna Wintour's handwriting), and his sketches.
Design duo Kinmonth Monfreda transformed the second room with the haute couture looks into a fashion show. Valentino-clad mannequins are dispersed among three rows of seats on each side while you walk up and down the catwalk. In a brilliant role reversal, you become a "model" looking at couture worn by the "audience".

Princess Marie Chantal of Greece's wedding gown, 1995
Although I recognised the catwalk in the second room immediately, the sheer quantity of dresses made me feel like I crashed a Hollywood awards ceremony. Everything sparkled: rhinestones, embroideries, beadings and sequins, the absence of which usually makes people wonder if the garment can still be considered haute couture (it can). Of course, my association is perfectly justified: Valentino has been a red carpet favourite longer than I've been alive.
In the third room you'll find Princess Marie Chantal of Greece's spectacular pearl-encrusted ivory silk wedding gown with a four and a half metre train and 12 kinds of lace, made in 1995 by 25 of Valentino's seamstresses.

Valentino's "Pagine" technique, Autumn/Winter 2007/08
At the very end of the exhibition is a display of haute couture techniques, some of which are unique to Italian couture or even the Valentino atelier (e.g. the "Pagine" technique, where disks of organza silk are piled to create an effect of pages, like in a book). Haute couture is (deliberately) kept a myth, too beautiful and expensive for commoners, but the exhibition gives insight into the process with videos of Valentino seamstresses doing their magic. Needle, thread, scissors, pins, and fabric – it can't be that simple, can it? Recalling the second room's intricate, lavishly extravagant dresses, Valentino's haute couture seems almost like sorcery.
Valentino: Master of Couture is open until March 3, 2013.
Somerset House, The Strand, London WC2R 1LA
Photos from the exhibition's press material.