Last Updated on December 15, 2021
I've written bits and pieces of this post in my notebook, on my laptop, home computer, on post-it notes; I worked on planes, in cabs, hotels, on the subway and in my room. If it weren't for utter lack of time – the most inevitable fashion week constant – I would have taken a few more days to process New York Fashion Week, but I will soon be off to Milan to attend another set of shows, and there's much to do before Thursday.
If you followed my NYFW posts last week, you've likely noticed that I didn't write about the shows nearly as much as I had planned (in fact, I still have to write at least about Emerson and Joanna Mastroianni). This season, about one half of the shows and presentations I attended took place at Lincoln Center and the other half at different venues all across Manhattan (Milk Studios, art galleries, penthouses, lofts). This meant I took the subway about 8 times per day, going from Midtown to Soho to Lincoln Center, carrying heavy photo equipment along the way, which ate away huge chunks of time and left me exhausted in the evenings dedicated to editing photos and writing.
New York: You're a blogger? Can I have your email so I can send you the invitation to my event?
Slovenia: You're a blogger? We'll pretend you don't exist.
I was invited to 30 shows and presentations and attended about 20 in total, soon realizing not every collection will make it on the blog for two reasons. One was that sometimes the collection didn't speak to me, so I didn't have anything to go off of when it came to writing (that doesn't necessarily mean the collection was bad). The other reason was that some presentations were impossible to photograph due to low light, models standing too close and/or a large volume of people filling up the space. I felt bitter about going to those presentations only to realize that I wasted 2-3 hours I could have spent attending another event where photo opportunities might have been decent.
Photography-wise, I discovered that once you've gained the privilege to be seated at shows (3 times at NYFW with second row at Emerson), you can kiss your camera goodbye. It's practically impossible to take good runway photos, heads of people sitting in the row below you obligatorily filling most of the frame. On the other hand, being seated allows you to see clothes better and focus on the collection instead of taking photos. After the show, the PR department will have official photos ready to send to press anyway. Towards the end of fashion week I started going to shows with a notepad and pen in my bag instead of camera.
I enjoyed taking photos at presentations, which can be divided into two categories: the first is presentations where models are happy to pose for everyone that stops in front of them with a camera or smartphone. However, there are also presentations with models just standing there expressionlessly. I find that clothes come to life the most when models get into the act, and photos come out much better that way too.
Fashion week is weird too: A friend that I met standing in the elevator line for Katie Gallagher's presentation (later, at another event, we concluded that elevator lines are probably the best place to meet people during NYFW) told me she had attended a presentation earlier that day that was actually a video presentation. "You could've just put the video on YouTube!" Of course, the invitation somehow slipped to mention there wouldn't be models. Norisol Ferrari's presentation at Lincoln Center was one of the events I was looking forward to the most, but when I got to The Box, the clothes were shown on mannequins. I left after 5 minutes. I loved the collection, but it wasn't happening without models. Admittedly some of Ferrari's pieces were costumey and sculptural, but the rest of the collection was wearable enough for models. Mannequins belong in museums.
The most bizarre event I attended at NYFW was a jewelry presentation. We were at a hotel and had to wait in elevator line for half an hour to get to the penthouse where they had set up the presentation. Only when we got upstairs and after already having waited for an eternity, the girl at the door told us we shouldn't enter if we're easily disturbed by blood and gore. Eyebrows were raised, but we went in nevertheless. The presentation was designed like a crime scene slash butcher shop. Jewelry lay on pieces of raw meat while a model wearing a gold beak mask pretended to be suffocating in the bathtub. The room was lit like fancy forensic labs you see on C.S.I., only here it looked ridiculous. We left the room in a matter of seconds, laughing like maniacs in the elevator on the way down. The worst thing was that due to all the murderous distractions you couldn't even see the jewelry.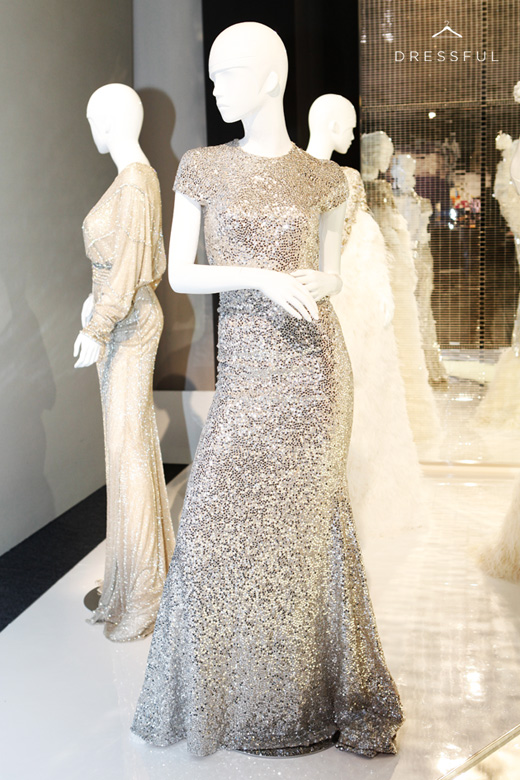 Talking about fashion, I often say I wish it were accessible to more people, that it could be easier for those not working in the industry to have an experience on a similar level as those who regularly attend fashion weeks, just like everyone can go to a gallery to see paintings and installations. New York Fashion Week seemed to adopt a similar approach this season as I recall the number of attendees not being nearly as large last September, but I felt that this modus operandi made the overall experience more complicated. The Fall 2012 fashion week was overcrowded. It was normal to wait 30 minutes to get into presentations (not just at Lincoln Center, everywhere) whereas last year I went into all of them on time. I understand shows start late because it takes a while to get everyone seated and people are late because the previous show was late, but at presentations this just signifies they're overbooked. Lines for standing rooms at shows too were bulkier than I remember.
That being said, I'd like to thank the volunteers at Lincoln Center, who (unlike the security inside that had a disappointing penchant for treating most fashion week goers as potential delinquents) were always super nice and ready to help, despite working longer days than anyone else. This really impressed me and hopefully I wasn't the only one who noticed it.
If anything, fashion week is excellent for developing your taste. You see so many collections and outfits in a short time that you quickly learn to discern between what are just pretty dresses and what has substance. You have to let the not-so-good stuff go on the spot because you run out of time otherwise, which is good. The bad is that eventually you get tired of just pretty dresses. I found answers to my questions from this post, and my mind wraps itself around a collection much quicker now. I'm not so obsessed with finding out meanings behind collections any more; if the clothes are not able to communicate it to me in a timely manner, I just let it go.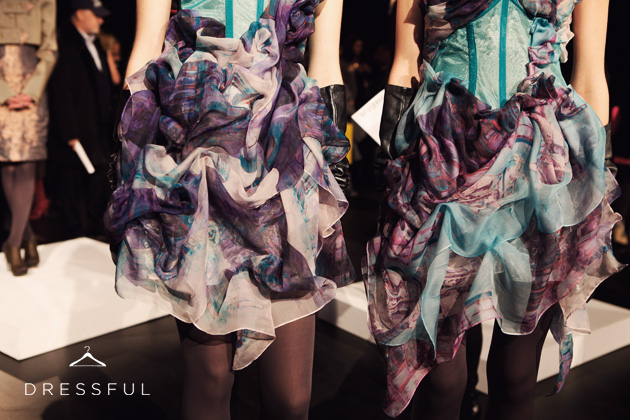 Katya Leonovich Fall 2012 presentation
Though I enjoyed fashion week, it doesn't mean that it wasn't exhausting and that I'm not happy not to go anywhere near Lincoln Center soon. Instead of some big party with open bar and endless supplies of coke, I celebrated the end of fashion week just across the venue, at the Metropolitan Opera. My friend Iska from Vienna, who happened to be in town at the same time, got great seats for Il barbiere di Siviglia. Marco Armiliato conducted, and it was flawless conducting if ever I heard one. When the performance was over, heading to the subway I caught the last glance of the fashion week venue. At night, without security and impeccably dressed fashionistas at the entrance, it looked empty and quiet. I feel strange just thinking about it, but in that moment New York was vulnerable and very much like the rest of us.
I love New York Fashion Week because it gives emerging designers and brands an amazing opportunity to present themselves to a worldwide audience. Imagine my surprise when I realized that some people only looked at the big shows and declared NYFW "a repetitive bore". I'm also a bit upset that some beautiful collections were not featured more prominently in the media just because they don't have a famous name attached to them. I hope designers like Katya Leonovich and Mathieu Mirano will be showing on the runway in a few seasons and conquer this system that distributes attention and recognition so unevenly. Fashion is not in a crisis. You just have to know there's more to it than the front page of Style.com.