Last Updated on February 29, 2012
Note: I couldn't live update from Milan fashion week because it was impossible to take photos at the shows I attended, and it doesn't make sense to publish posts without visuals. I'm still waiting for some press departments to send me official photos – reviews will follow accordingly.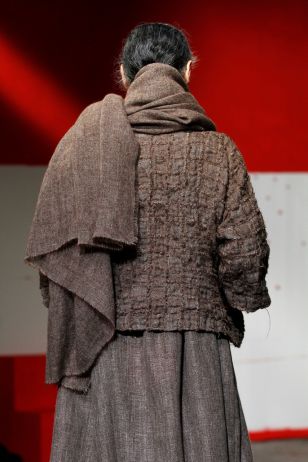 Daniela Gregis staged her Fall/Winter 2012/2013 show in a small oratory at Piazza Sant'Ambrogio. It resembled a performance more than a regular show with glossy runway, VIP front row and music so loud it poses a danger for people with heart conditions. Here, a man played the xylophone throughout the show, and other than that there was total silence (after all, we were in a sacred space), except the sound of models pulling red wool threads out of a wall.
It seemed that this unusual approach to staging the show followed the intimacy of the collection. Every look was voluminous and baggy (think early Yamamoto and Rei Kawakubo), not accentuating the shape of the body at all. Models were wrapped in huge knit shawls and wore thick socks. I appreciated the collection as a mix of rough and fine fabrics and shapes, but I felt that went in too many directions color-wise. While the combination of red and natural beige, straw and grey looks worked, the more playful looks with vibrant splashes of colors recalling contemporary paintings felt out of place, perhaps also because the show itself was so quietly solemn you didn't really think of frolic.
Daniela Gregis presented an uncommercial collection removed from the conventions and intrigues of Milan fashion week; the unconventional show further ensured we'll keep Gregis in mind (and not at the back of it!). I think her strong identity will be her most important asset in the upcoming seasons.
Photos: Daniela Gregis official.