Last Updated on July 19, 2022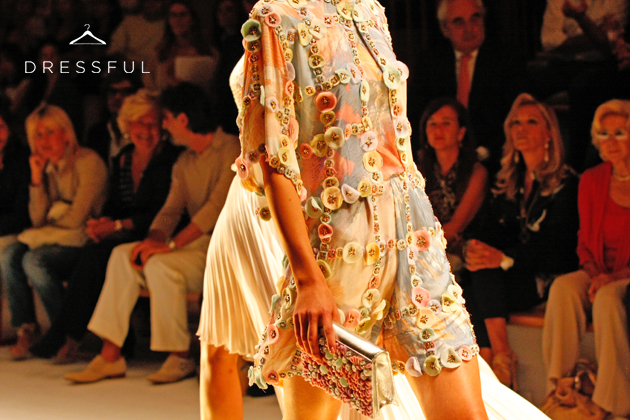 Laura Biagiotti's Spring/Summer 2012 collection is a romantic tribute to Venice, a city she adores. A luxurious harmony of colors, materials and decorations evokes the grandeur of Venice as an independent state, the "Most Serene Republic". Biagiotti translated the myth of the city to delicate lace dresses and lightweight knitwear in white, peach, lilac, pink and nude hues. Models strutted down the runway wearing shoes and accessories in gold, reflecting domes of St. Mark's Basilica. Beading and ornaments were reminiscent of colorful Venetian souvenirs made from Murano glass.
The collection was made for women attending decadent dinner parties in old palaces along Venice's Grand Canal. This is a fantasy of mine, I don't know if the parties still take place today, but I like to imagine exciting and extraordinary events going on in those stately buildings lit with crystal chandeliers.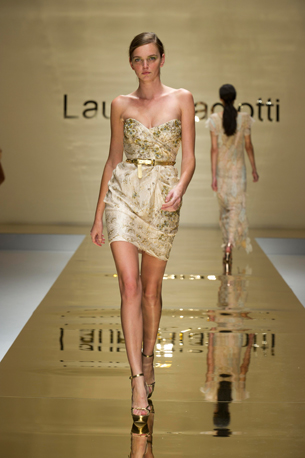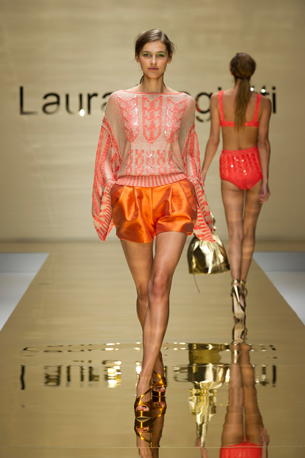 This is not the first time Laura Biagiotti has explored the theme of Venice - the city inspired her iconic fragrance Venezia, released in 1992. Venezia, i.e. a modern orchestration of the original, was relaunched earlier this month after years of having been discontinued. Every guest received a 25 ml bottle of the fragrance after the show (I've never smelled the original Venezia so I can't compare them, but the new fragrance is so delicious I've decided to adopt it for the season).
I like how Biagiotti united different divisions of her brand in one event; it's impossible to say whether the perfume relaunch complements the collection or vice versa.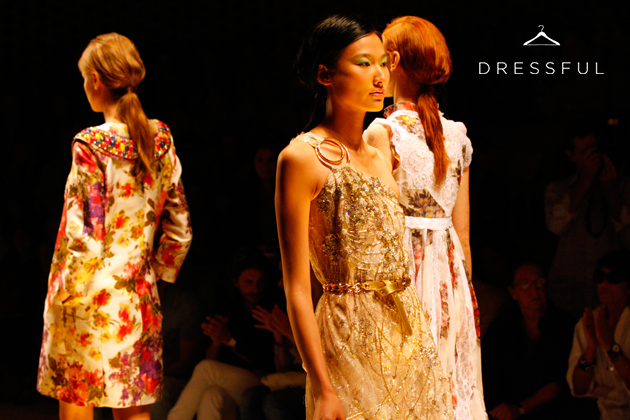 Another reason why this show meant a lot to me is that it was the first one where I had a seat. It was an amazing seat in the third row so close to the runway I was overcome with giddiness when I realized where I was sitting and couldn't stop smiling. I had a chance to absorb every detail, so it's far from surprising the collection left such a memorable impression. When Venice wakes up in spring, these are the clothes she's going to wear.