Last Updated on December 15, 2021
Online retailers have long been looking to bridge the gap between editorial content and e-commerce to increase sales. The latest to jump on the bandwagon is everyone's online fashion (window)shopping destination Net-a-porter, having launched a highly anticipated shoppable magazine titled Porter last week.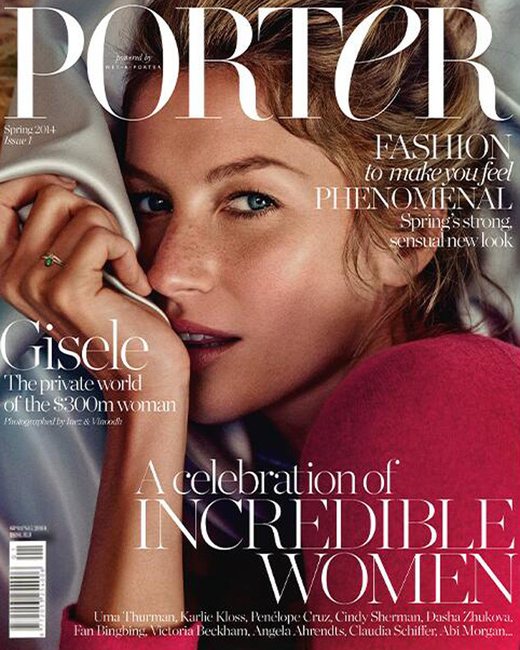 What does shoppable mean? First, you scan the magazine pages with Net-a-porter's mobile app. Several stylish round icons pop up (see image below), prompting you to view and buy products within the app, leading you to videos or third-party websites (Porter features numerous brands that are unavailable on Net-a-porter), or offering a 24-hour concierge service that will find the item for you in brick-and-mortar boutiques.
In other words, this is the future of print magazines.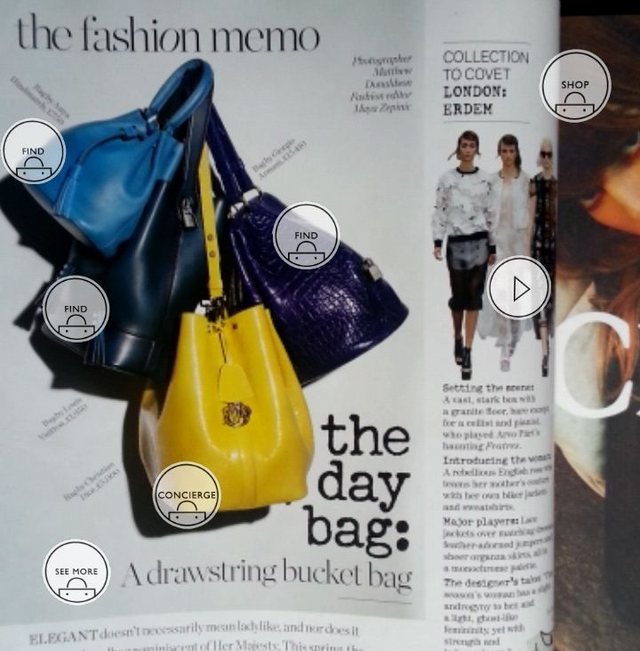 You can shop looks in Porter instantly with the Net-a-porter app
Porter, priced at 5£, will be published every two months with 400,000 copies distributed in 60 countries. It's aimed at affluent women with a fast-paced life who travel abroad approximately 11 times a year — and, one would suppose, shop at Net-a-porter.
Upon picking up my copy at South Kensington underground station, I noticed that Porter held a prime spot on the newsstand next to major fashion/women's titles such as Vogue, Harper's Bazaar and Elle. This "go big or go home" approach to positioning itself as a serious contender to other fashion magazines won't make Porter many friends, but is the only way to win over readers.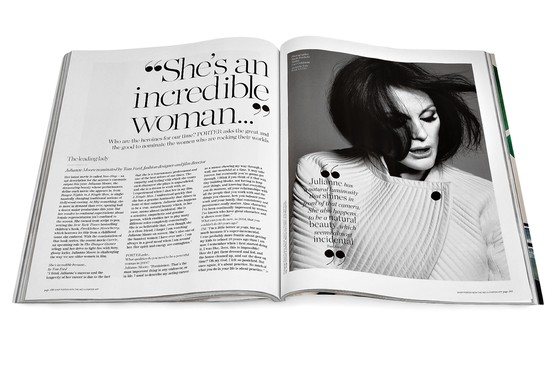 The inaugural issue features more famous names from fashion and entertainment than I can list. There's Gisele Bündchen shot by Inez and Vinoodh on the cover, then Claudia Schiffer, Victoria Beckham, Angela Ahrendts, Manolo Blahnik, Uma Thurman, Harvey Weinstein, Dasha Zhukova, Julianne Moore … It'll be interesting to see whether the upcoming issues can keep up with this celebrity roster.
You'd half expect a publication with the main purpose of boosting sales to read like a catalogue — a luxurious one, but a catalogue nevertheless. Porter makes no apologies for pushing you to buy on every page, but the rest of editorial content balances it out.
My favourite features in issue one are Queen of the Desert about power-broker Amanda Staveley and designer Alber Elbaz's Rules of Dressing Up (in which he is erroneously described as Iranian-born — if you need a meticulous fact-checker, I'll gladly step in). For those on Net-a-porter budget, there are enough style tips (Spring trends, putting outfits together etc.) to last you until winter.
I grow more skeptical with every new fashion/lifestyle/women's title launch because these magazines have been done to death and no one can reinvent the wheel. Porter isn't radically different from its competitors, save for its interactivity and the fact that behind it is a digital business. It does, though, have a distinct identity that is crucial for building brand awareness and long-term success.
Feathers are being ruffled in fashion media because Porter is expected to take out a large chunk of advertising money. I'm looking forward to everyone involved stepping up their game — Porter to solidify its position in the market, other fashion magazines to keep it.