If fashion critic Cathy Horyn accused designers of fewer and fewer attempts on the catwalks to evoke emotion, Ashish's Autumn/Winter 2014 show was an exception to the new rule. As we left Tate Modern, my friend and I commented how happy the show had made us feel. "That's how fashion should be," she said.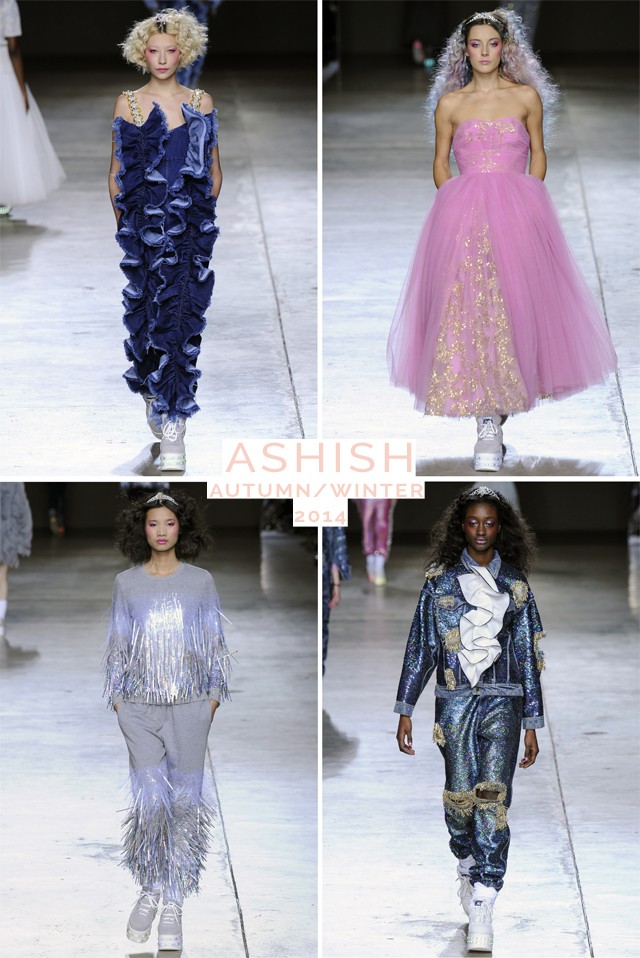 Romantic pinks, whites and grays, voluminous tulle skirts, and tiaras topping models' puffy hair streaked with neon colours announced the return of the princess. Instead of discreet high-heeled pumps, she rocked light-up Buffalo shoes, harking back to the super cool fashion horror of the nineties (the shoes come from Ashish's latest collaboration with Topshop, out in May). The designer's signature sequins were joined by oversized shiny pearls and round glass appliqués; together, they resembled costume jewellery full of bling.
It wasn't all prom queen dresses and sweetness, though. Ashish used gym wear (hoodies, tracksuits) and denim as a base for looks that were anything but casual, covered in dramatic ruffles, sequined shoulder straps, beautiful layers of organza reminiscent of Valentino's Pagine technique, and sparkly fringe.
The show closed with a rainbow-sequined shirt bearing the slogan LOVE WILL WIN — an allusion to LGBT discrimination in Russia and elsewhere, but maybe also a sprinkle of magic dust for the increasingly unromantic world. Ashish knows that fashion's best function is escapist.