Last Updated on October 17, 2010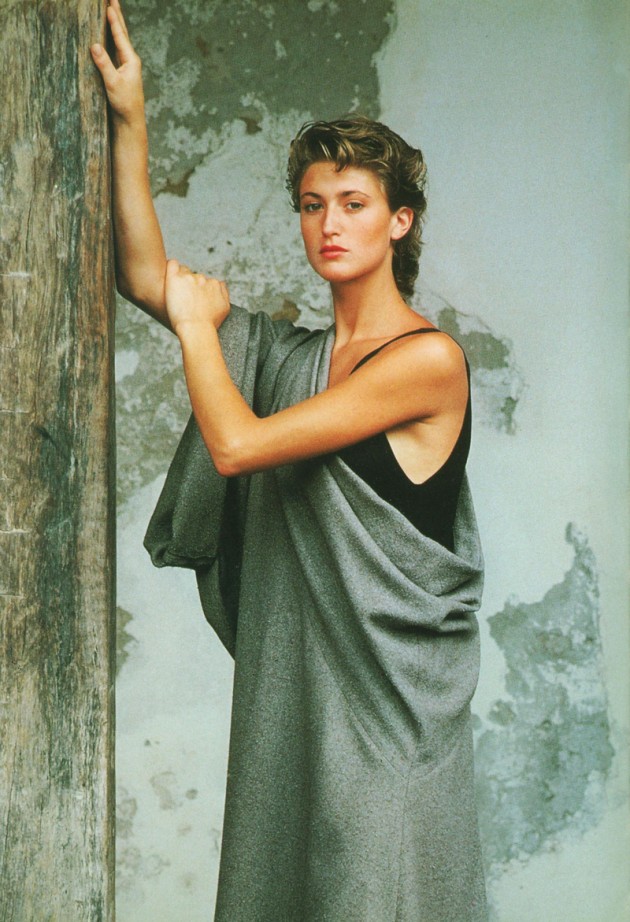 Kenzo toga dress of bourette silk: supple drapes, restrained colors and simple lines, of Ancient Roman inspiration, Spring/Summer 1983

Travel has been the biggest source of inspiration for Kenzo Takada since the very get-go of his career. After he had read in a scholarly text that traditional costumes from all over the world are essentially similar to Japanese kimono (which he had of course known rather well) in their technique of patchwork and flat, simple cuts, he set out on an interminable search for the richness of motives, colors, patterns and fabrics of foreign cultures, immersing himself in their customs and picking out the elements he would later adapt to his own vision with meticulous attention to amusing details (a great example of his humor was shoes decorated with rabbit ears that he showed in his first collection). His quest started with a month and a half long voyage around the world after he had graduated from Tokyo's Bunka Fashion College (one of the first boys to have accomplished that as the school had only opened its doors to male students a few months before he enrolled). Looking back, it is safe to say that without this experience Kenzo might have never become Kenzo.
In the beginning of the 1960s, Kenzo received a large sum of money as compensation when the building he lived in was demolished for the Olympic Games. He was frustrated with working in Japan because all his clients wanted were copies of Parisian designs (Yohji Yamamoto coped with the same problem) and he felt that Paris was the place to be for a young, emerging designer, so instead of finding a new apartment he embarked on a boat headed to Europe's capital cities with stop-overs in Hong Kong, Saigon, Singapore, Colombo, Djibouti and Alexandria, intending not to return but to stay in Paris for 6 months. Youth and positive naivety make you even more perceptive of the beautiful and unknown, far from old age convincing you that you have seen everything and nothing can surprise you; Kenzo was so taken with exotic landscapes and the myriad of impressions that when he finally came to Europe, he liked it far less than he had expected (in Europe's defense, he did arrive in the middle of winter).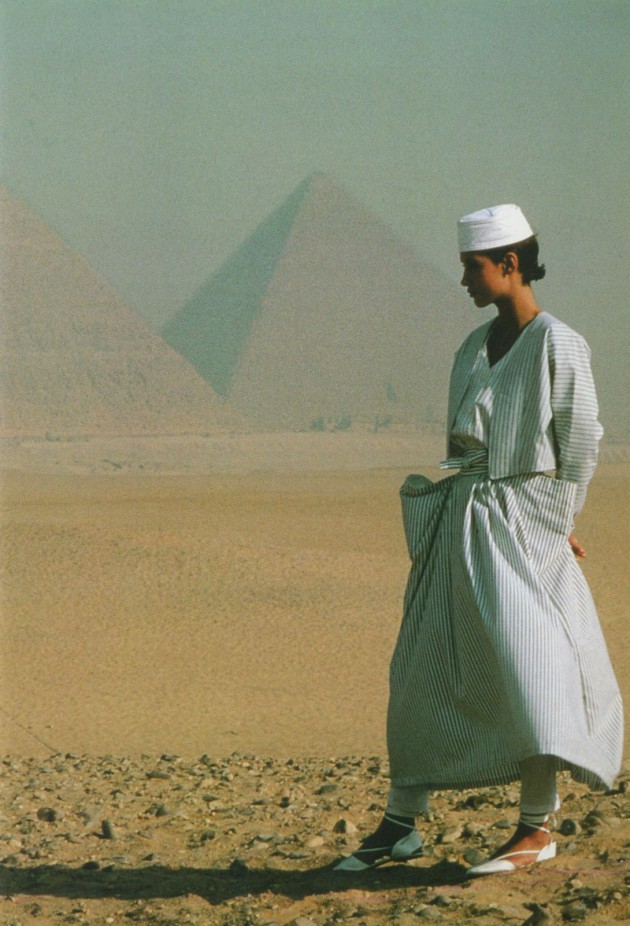 Kenzo striped cotton dress and small fellah cap, of Egyptian inspiration, Spring/Summer 1984
Once you have taken the plunge into traveling, it is hard to quit (but who would want that anyway), especially if it has become an integral part of your work like it did for Kenzo. When he presented his first collection on April 14, 1970 in his boutique in Paris, he learned from the raving reviews that the French public loved his mixtures of color and exotic elements. The logical next step was to look out for more ethnic cultures and over the years Kenzo traveled to places such as Peru, Greece, Egypt, India, Brazil and Bangkok, creating his own sartorial melting pot and reinterpreting other times, places and lives through garments ("garments as a universal language"). What I find particularly interesting about his use of foreign cultures' elements is that like the two designs above, they sometimes appear a bit toned-down compared to his signature vivacious and bold clothes in patchwork, probably out of Kenzo's fear to misappropriate the origins of his inspiration (only the Japanese can pull off this kind of respect). Although little is known about Kenzo's life and projects since his retirement in 1999, I cannot escape the feeling that his famous collection of souvenirs is still growing with the same intensity as when he was at the pinnacle of his creativity.