Last Updated on July 19, 2022
In 1774, a young Viennese aristocrat by the name of Marie Antoinette became queen consort of France. A foreigner trying to cope with her new role, she embraced French fashions to show appreciation for her new country. She wore ostentatious gowns with long trains, decorated with ribbons, flounces and rich embroidery. Her hair was sculpted with powder and pomade into "poufs", the signature hairstyle of the rococo period. When women tried to follow in her footsteps, she was already immersed in her next breathtaking fashion exaggeration.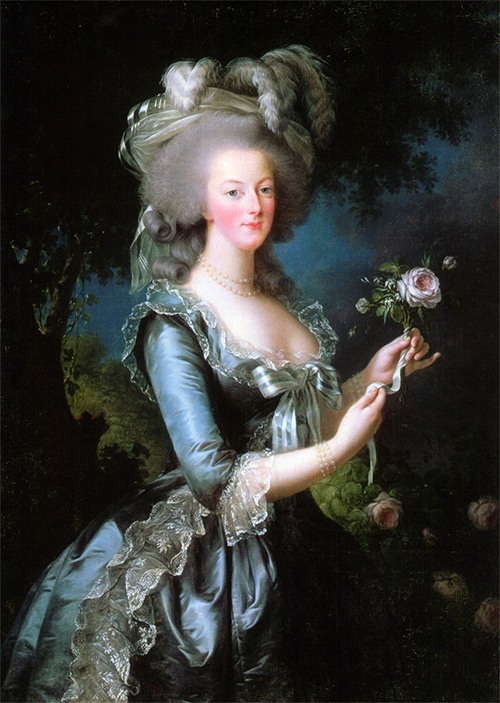 Marie Antoinette was the fashion icon of her time. But she didn't invent her style. The mastermind behind Marie Antoinette's image was Rose Bertin, the first French fashion designer. In her haute couture salon in Paris she employed thirty workers. She presented new fashions to the queen weekly and earned the moniker "Minister of Fashion". Designing also for many clients abroad, Rose Bertin established Paris as the first fashion capital in the world.
She was probably the first female fashion tastemaker.
[tweet_box]Marie Antoinette was the fashion icon of her time. But she didn't invent her style.[/tweet_box]
Who is a fashion tastemaker?
The word "tastemaker" signifies a person who determines or strongly influences current trends or styles, particularly in fashion and the arts. Who decides what will be fashionable is the most common question people have about the fashion industry. They imagine a coven of designers plotting world domination by way of cerulean sweaters. In fact, it's trend forecasters who operate on this level (kind of). Many trends come from fashion bloggers. And some trends develop organically, only to be adopted by the fashion industry (e.g. grunge).
Still, most fashion trends stem from tastemakers. Those are fashion insiders and celebrities. The former influence fashion as it's becoming fashion (through design, styling, consulting etc.) Celebrities pick up fashion as a finished product. Their influence is about mass appeal. Their fans want to look like them, so they buy whatever the celebrity wears. These "micro trends" sometimes grow into mainstream trends or a whole aesthetic (think Rihanna's collections for River Island).
Royal tastemakers after Marie Antoinette
France's Second Empire in the mid-nineteenth century was the period of Napoleon III and his wife, Empress Eugénie. She was famous for wearing extravagant crinolines. People disapproved of the Spanish-born Eugénie because they'd hoped that Napoleon would choose a French bride. To nurture their reputation, the imperial couple cultivated a refined court life where fashion played a vital role. Historian Therese Dolan has written about Eugénie's belief that the elegant impression of her "political wardrobe" would reflect onto France and stimulate economic growth. Domestic and foreign journals sang paeans to her outfits while middle-class women attempted to emulate Eugénie's style. Enormous crinolines by couturier Charles Frederick Worth were out of reach for practical and financial reasons, so women copied her hairstyles instead.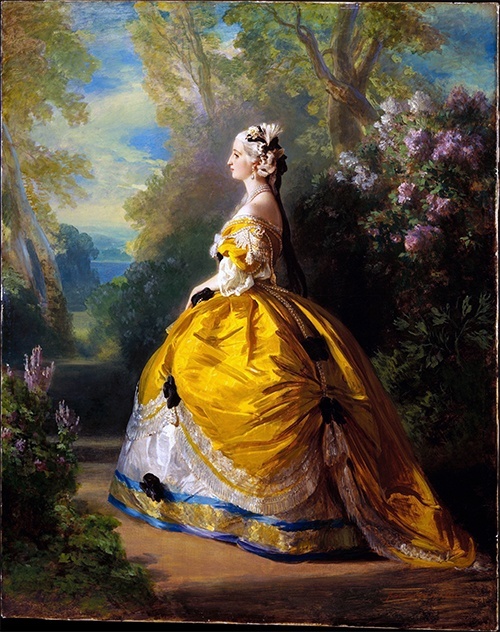 Also revered as style icons in Europe were: Princess Louise of Prussia, who sacrificed her health for fashion donning flimsy dresses in the bitter Prussian cold. Empress Sisi of Austria was among the first to abandon the crinoline in favour of a leaner silhouette. In the late nineteenth century, Princess Alexandra of Denmark introduced dog collar necklaces (she wore them to cover a neck scar from a childhood accident). Fashion tastemakers of the past all inhabited the court. Aristocracy alone had the means to treat clothes as a disposable commodity.
For the hoi polloi, clothes became a disposable commodity with the industrial revolution. The invention of the sewing machine made garment production faster and cheaper. For the first time in history, there was a surplus of clothing. The middle classes frequented lavish and seductive department stores that cropped up in Europe and America in the second half of the nineteenth century. As fashion became an industry, employment opportunities grew. In the past, most fashion tastemakers were style icons. Now women in technical professions gained visibility.
Between the seventeenth and nineteenth centuries, women constituted the majority of dressmakers in Europe, but they were not influential on a large scale. In her book Women of Fashion: Twentieth-Century Designers, fashion historian Valerie Steele writes that in Charles Frederick Worth's time "it was widely believed that men were, by nature, creators, while women were merely technicians who performed the necessary but mundane tasks associated with transforming the ideas of the male genius into actual clothes."
Twentieth century: Designers, editors, models
In early twentieth-century Paris, after Worth's demise, women designers reclaimed their space in fashion. The period between the world wars has been dubbed "the golden age of the couturière". Its most influential designers were Alix (later known as Madame Grès), Augustabernard, the Callot Sisters, Coco Chanel, Madame Chéruit, Sonia Delaunay, Nicole Groult, Madame Jenny, Jeanne Lanvin, Louiseboulanger, Jeanne Paquin, Lucile Paray, Madeleine de Rauch, Jane Régny, Nina Ricci, Elsa Schiaparelli and Madeleine Vionnet.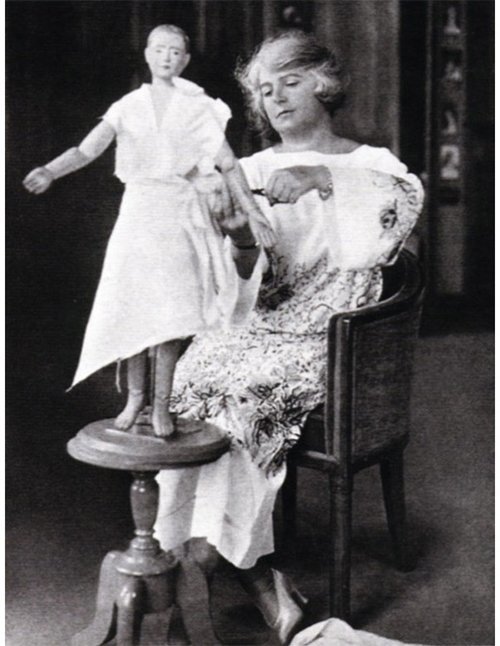 The Second World War ended the golden age of the couturière. Only Coco Chanel and Madame Grès reopened their houses after the war. They competed with a lineup of rising male couturiers: Cristóbal Balenciaga, Christian Dior, Marcel Rochas and Jacques Fath. The tables had turned.
After the couturières came women whose influence continues to flourish today: magazine editors Diana Vreeland, Anna Wintour, Franca Sozzani, designers Miuccia Prada, Vivienne Westwood, Jil Sander and Rei Kawakubo, stylists Grace Coddington, Anna Dello Russo and Carine Roitfeld, photographers Annie Leibovitz and Ellen von Unwerth, businesswomen Natalie Massenet and Angela Ahrendts, Nineties supermodels and all the women who make far-reaching decisions away from our eyes.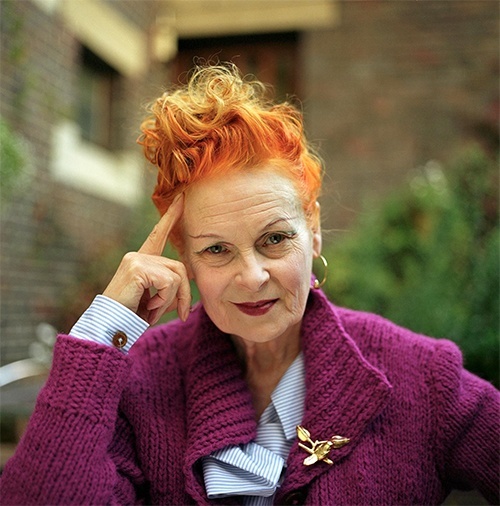 What has remained the same about fashion influence throughout history? Royals are still perceived as tastemakers, though their style is a faint echo of the opulence of their predecessors. In Britain, dresses worn by the Duchess of Cambridge are identified in two seconds and sell out countrywide the next day. The Queen tops "best dressed" lists while dresses worn by the late Princess Diana are shrouded in a veil of deep fascination.
Fashion is one of the rare places where women sit in the front row, metaphorically and literally. In this global, multi-billion dollar industry, they thrive in environments from creative to corporate. In the twenty-first century, the legacy of history's tastemakers lives on. Women's influence on our perception of fashion and beauty has never been so powerful.
[tweet_box]Fashion is one of the rare places where women sit in the front row, metaphorically and literally.[/tweet_box] [tweet_box]Women's influence on our perception of fashion and beauty has never been so powerful.[/tweet_box]