Last Updated on March 11, 2014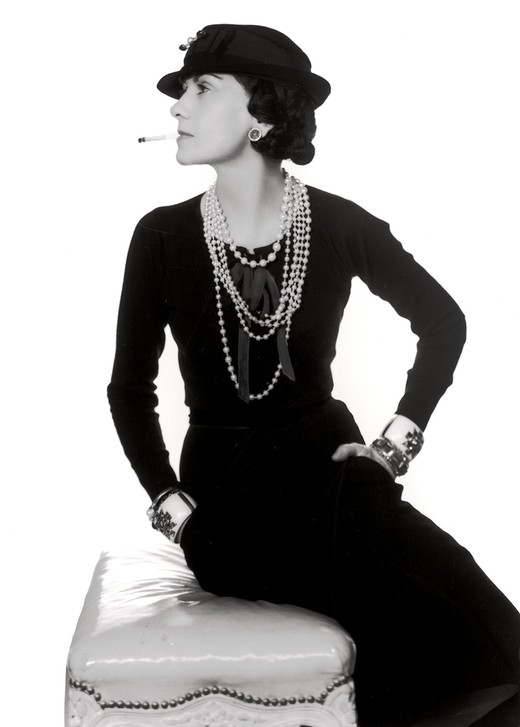 Coco Chanel by Man Ray
Coco Chanel, the most famous woman in fashion history, needs little introduction. Widely credited with revolutionising womenswear in the early twentieth century, she founded one of the world's top luxury brands. Fashion historians argue that she was not the only nor the first designer to apply modernist principles to dressmaking. Still, Chanel's influence on the fashions and people who came after her is indisputable.
Coco Chanel's story might have been told thousands of times, but few know that she started as a milliner. In 1907, she met Arthur Boy Capel, an English businessman who made a fortune in coal transportation. They became lovers and she went to live with him. Unhappy with her status of a kept woman, she persuaded Capel and her former lover Etienne Balsan to set her up in the hat business. She opened a shop on Rue Cambon in Paris, selling simple trimmed straw boaters. They were a far cry from gaudy headwear decorated with feathers and fruits that she sternly observed at the opera and horse races. "In the grandstands, people began talking about my amazing, unusual hats, so neat and austere, which were somehow a foretaste of the iron age that was to come, but which had not yet dawned."
The iron age that was to come was the First World War. In 1913, Chanel and Capel withdrew from Paris to Deauville, a seaside resort in Normandy, like many members of the French high society. The sartorial situation in Deauville was critical. The jet-set would rather be caught dead than in old clothes, but there were no dressmakers. Chanel seized the opportunity and opened a boutique selling ready-to-wear. She introduced simple sportswear, bathing suits and comfortable sweaters made from jersey. The fabric had previously been used for men's undergarments. "By inventing the jersey, I liberated the body, I discarded the waist, I created a new shape; in order to conform to it, all my customers, with the help of the war, became slim. Women came to me to buy their slim figures."

Chanel in Biarritz, wearing a jersey suit (1928)
Chanel's clothes were based on her own boyish style, inspired by high-end English sportswear worn by her lovers. She adopted the look during her relationship with Etienne Balsan to distinguish herself from the demimondaines who surrounded him. Her sportswear initially appeared a radical novelty - the previous epoch was one of corsetry and floor-sweeping skirts. With the war calling for a pared-down, practical look and rejecting extravagance, the style became fashionable. In 1915, she opened a second boutique in Biarritz, another resort town newly filled with wealthy refugees, and started selling haute couture.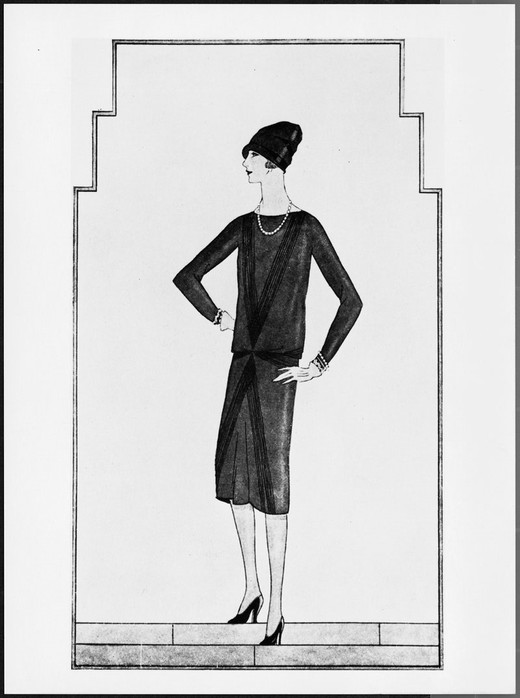 Illustration of the "little black dress" in American Vogue (1926)
Her disdain for obvious luxury aside, Chanel readily participated in the high life of travel and glamorous events - the natural habitats of her clients. As society became more progressive in the twenties, women gained more freedom to think for themselves. With her own lucrative business and independence, Chanel was an idol for many. Women wanted to be like her and thought they would achieve it by looking like her. She expanded her premises on Rue Cambon, continuing to set trends for the new age. In 1926, American Vogue published an illustration of her "little black dress". They compared it to the Ford car, predicting it would become a staple in every woman's wardrobe. She famously cut her hair short because it annoyed her. Equally short were her hemlines, laying the foundation for the garçonne look, the French equivalent of the flapper.

Chanel perfumes
In 1920, Chanel met Ernest Beaux, an acclaimed perfumer with a laboratory in Grasse, and commissioned a perfume. Chanel No. 5 (she chose the name after her lucky number) went on sale the following year. It became such a success that she lived off the royalties for the rest of her life. More than ninety years later, it remains the most popular perfume in the world; a bottle is sold every 30 seconds.
Apart from clothes, Chanel also designed accessories. Her attitude to precious jewellery was nonchalant. She favoured glass copies because "they were devoid of arrogance in an epoch of too easy luxe". She mixed cheap costume jewellery with real gems so the latter also gave an impression of being fake. The designer believed that jewellery should be worn as an adornment, not to flaunt wealth. Even her pearls were imitation. In 1932, she had a change of heart, staging an exhibition of diamond jewellery in her Paris apartment. Her explanation was that in times of Depression, diamonds were an investment.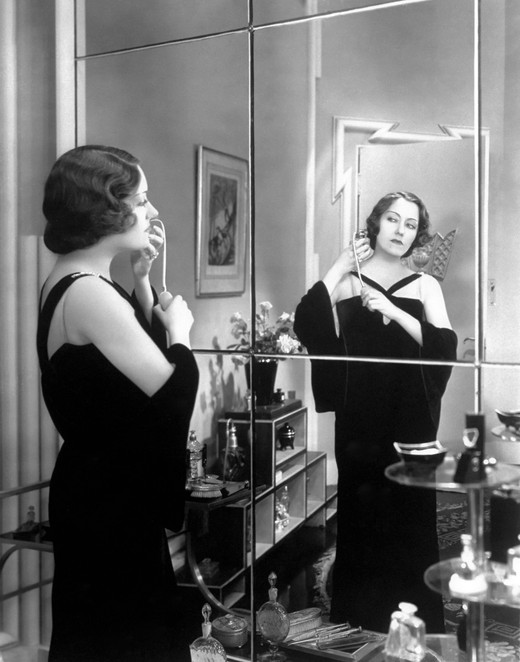 Actress Gloria Swanson wearing Chanel in Tonight or Never (1931)
The Chanel fame eventually spread across the pond. In 1931, the film magnate Samuel Goldwyn invited her to Hollywood on a $1 million contract. His costume designers copied Paris fashions, but by the time films hit theatres, the dresses in them had become outdated. He thought to employ a French designer to provide up-to-the minute designs. Despite the generous salary, Chanel oversaw the costume design in no more than three films: Palmy Days (1931), The Greeks Had a Word for Them (1932), and Tonight or Never (1931) with Gloria Swanson. American actresses did not maintain the cult-like respect towards the designer that she had grown accustomed to in France. Fabulously wealthy, Chanel left Hollywood for good.
She enjoyed a prosperous decade before the Second World War, when the house of Chanel closed down. While its 1954 relaunch is usually attributed to Chanel's persistence and iron will, the truth is that the sales of her perfumes plummeted during the war. Her business partner advised her to restore the brand's image by reopening the couture house. The press found many reasons to criticise the comeback collection. Fashion had changed completely with Dior's New Look in 1947 while Chanel reverted to her simple styles from the twenties. She received significant support from Bettina Ballard, the editor of French Vogue, who photographed three pages of her looks for the magazine. The next collection was more successful. It turned out that Chanel still was what women wanted to wear. Besides, many countries were under rationing restrictions, so women were unable to afford New Look that required several metres of fabric.

Classic Chanel 2.55 handbag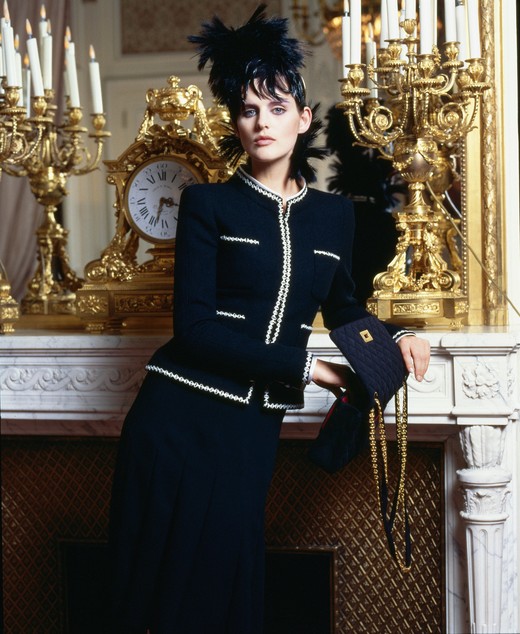 Model Stella Tennant wearing a Chanel suit
In the fifties, Chanel introduced most of the innovations that we associate with the brand today. Lightweight jersey cardigans from the twenties gave way to tweed and wool jackets lined in silk with a chain in the hem weighing down the fabric to ensure optimal fit. Paired with skirts in the same fabric, they formed the famous Chanel suit. Tired of holding purses in her hands and losing them, the designer attached a shoulder strap. The Chanel 2.55 handbag (named after February 1955, its release month) was born. Slingback pumps in beige leather with black toe caps also stem from that period. They were inspired by two-toned shoes that Chanel's lover, the Duke of Westminster, wore to play golf. "A woman with good shoes is never ugly. They are the last touch of elegance."
Always ahead of her time and bitterly honest, Chanel was a controversial personality. Nothing irritated her more than hearing people say that she had been lucky. "No one has worked harder than me," she said. Indeed, her death on January 10, 1971 was the first and last thing to stop her from showing up in the atelier. With a string of lesser known designers ineptly dabbling in Chanel's creative direction, the brand entered a slump. The glorious and elegant Chanel became associated with the rich and tasteless. Finally, Karl Lagerfeld took over the helm in 1983. Taking inspiration from Chanel's vast legacy, he synchronised the house's codes with the needs and wants of the modern consumer. Remembering what she stood for, it is perhaps ironic that Chanel's luxury goods are now perceived as fashion's most wanted status symbols. It is also, however, the best sign of her eternal reign on the sartorial Olympus.