Last Updated on January 15, 2016
1. Reflecting on Projekt Radar at a distance of an exam-ridden week, I'll remember it as a time capsule, so mellow I felt as if it all played out spontaneously one weekend at the crossroads of spring and summer, congregating everyone who belonged in Maribor Art Gallery's stately white rooms and outdoor café partly hidden in the shadow of trees. Slovenian event managers often attempt to emulate resplendent gatherings held in fashion capitals without taking into account the particularities of Slovenian fashion industry (it's not as clearly divided into Spring/Summer and Fall/Winter as Milan or Paris, not all designers plan collections a year in advance, etc.). This event purposefully overlooked trends, presenting Slovenian and foreign fashion in a timeless and contemporary manner. It was precisely not trying too hard, not wanting to be bigger than what it was and squeezing every drop of juice out of the location and exhibited artifacts that ultimately made Projekt Radar on par with events that inspire imitation.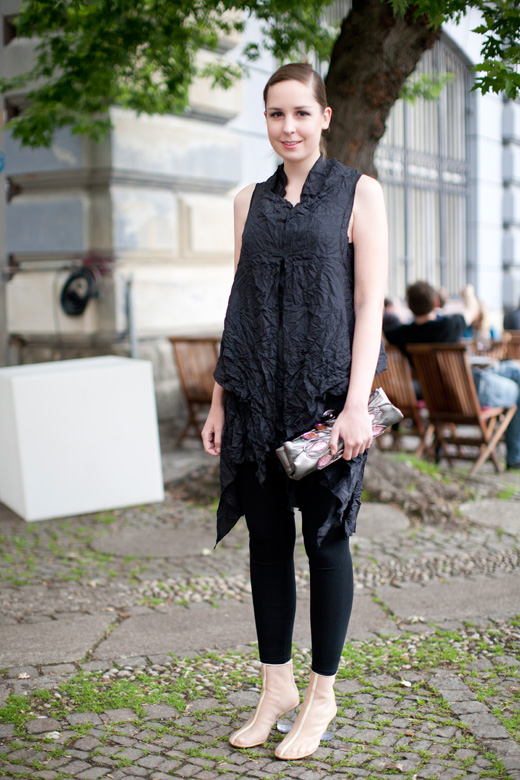 2. The above photo, in which I look unusually like myself, was taken by Ana of Fensišmensi at the opening of Projekt Radar. I wore Maison Martin Margiela mesh boots, Tadashi dress and Marjeta Grošelj bag. The boots salvaged me – or did I salvage them? – after a two-month fruitless search for a pair of leather or suede wedges that was aesthetically pleasing and had an ankle strap (the least demanding set of criteria I've had in my whole life … for anything). Their visual effect is humorous and clever, two highly valued qualities in my closet.
3. Due to early Sunday train departure I only attended two out of four fashion performances. They were a curious mix of runway show and static presentation that allowed for both seeing clothes in motion and paying attention to details as models walked through gallery rooms, standing still on white cubes in between. Regarding the collections, it seemed that the event's timeless approach lifted a burden from our collective shoulders in the sense that it did not impose the transitory newness characteristic of fashion weeks. Instead, novelty was achieved organically. A distinguished example of this was Zoran Garevski – I couldn't connect to his past two collections shown at Philips Fashion Week the way I first embraced his clothes in 2008 and 2009, resulting in a closet bursting with black below-the-knee dresses that I wear approximately 70% of the time in summer. The looks he presented in Maribor were a well-anticipated creative comeback, sublime bordering on dangerous; teal warrior dress baring entire legs, black mini-midi-long skirt, white gown reminiscent of Ancient Greek priestesses, black veil tunic.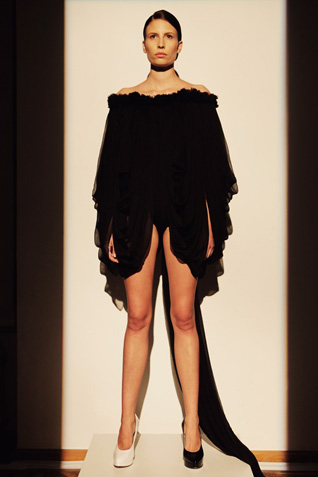 Zoran Garevski / Ana Ljubinković
The focal point of Maja Mehle's collection were cream-white blazers and coats with oversized flowing lapels. Models wore pastel flower garlands and bleached Converse that collided with the polished bohemian elegance of the garments. We fawned over Ana Ljubinković's pearl-embroidered dresses and turquoise deer pumps, low-calorie fashion candy.
4. One of my Projekt Radar highlights was meeting Kristin of The Clothes Whisperer, who is every bit as eloquent and intelligent as she conveys through her writing as well as super approachable and sweet. When I read Kristin's second book "Culture to Catwalk" last September after following her blog for months, I was in awe with the body of knowledge she had amassed. I made a mental note to meet her in the future, but I had no idea it would happen so soon (in Maribor of all places). The event weekend, albeit hectic in schedule, was rejuvenating because I spent time with people who, like me, appreciate fashion as art. No pretensions, no holier-than-thou attitudes. On Sunday morning, sitting on the stairs in front of the gallery with my sunglasses-clad friends tired from last night's partying, I realized I haven't felt this relaxed in a long time.