Last Updated on February 12, 2013
The next London Fashion Week, showing collections for Autumn/Winter 2013, begins on Friday. What do you need if you're attending fashion week as a journalist?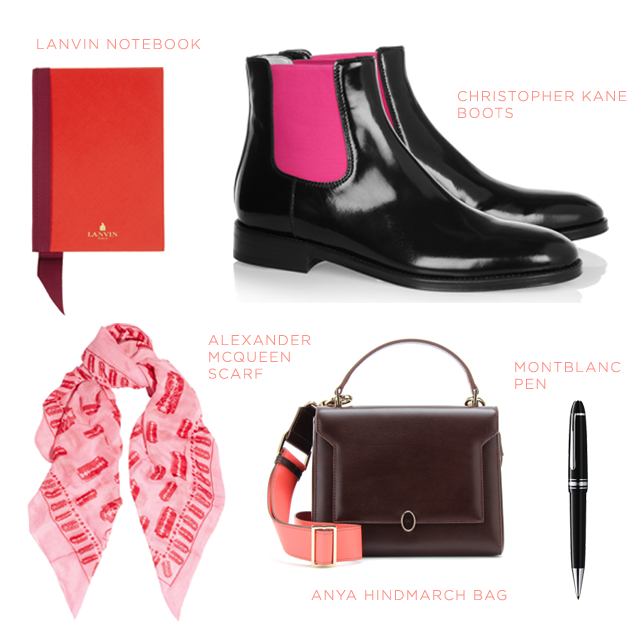 1. Bright, stylish notebook (Lanvin, £40) for jotting down first drafts of show reviews and overheard conversations about how wearing your jacket over the shoulders makes you look like a fashion editor. I prefer writing things down to using a voice recorder; hurrying to finish your article on time, you rarely have time to rewind the recording back and forth.
2. I'm a big advocate of flat shoes (Christopher Kane, £605) for fashion week. Major fashion weeks involve so much standing and walking that high heels crush your feet faster than you can say 'Mary Katrantzou' (and if you don't know how to say it, here's how). Six-inch pumps are viable when you're a top editor who has her own driver and doesn't have to queue to get into shows, but everyone else ends up doing a shoe switcheroo at some point in the day. There are few worse fashion faux pas than exposing your swollen feet in public.
3. Sleek ballpoint pen (Montblanc, £280). No smearing, please.
4. Mid-size shoulder bag (Anya Hindmarch, £1,195) will keep your arms free, convenient for taking notes. It's not huge, so there's less chance you'll overstuff it with things you won't need.
5. Since your fashion week mission is to write about shows, not pose for street style photographers bare-legged and shivering in sheer spring blouses, you might as well keep warm. If the current snowy rain and cold continue into fashion week, a scarf (Alexander McQueen, £135) is your best bet against winds, draughts, and possibly air condition (you never know).