The black book of retail is a concise selection of Italy's 200 finest multi-brand stores and boutiques. Each store is laid out on one page, with all the necessary information for shoppers – short description in Italian and English, photos, list of main brands, opening hours, contact details and a message from the owner. The stores are divided by region.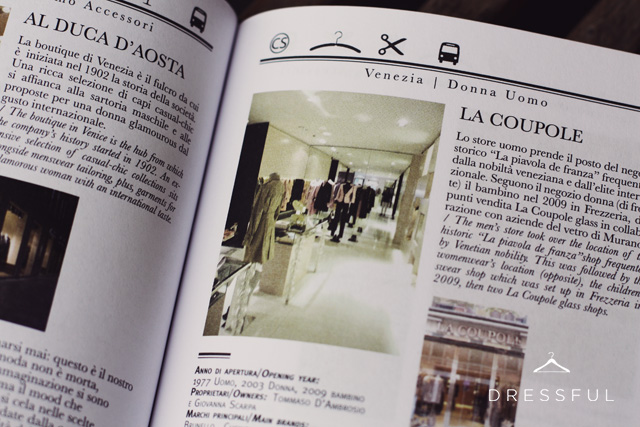 The bilingual guide was written for domestic and international customers who feel limited by single-brand stores or prefer to do all their fashion shopping in one place.
Six marketing, retail and design experts chose the stores by the following criteria: the stores must have been in business for at least three years, they must have at least 90 square meters of retail space, they must be multi-brand and carry quality brands. All 20 Italian regions are included in the guide, however for obvious reasons, Milan has the highest number of listed stores. Most stores have operated for decades, a solid statement to the local sartorial tradition.
The black book has a pleasant layout that makes it easy to pick up information. I'm a curious reader and shopper, so I appreciated the inclusion of photos and messages from store owners. Each boutique is a sphere of its own that becomes much more personal when you know the face and philosophy behind it.
Single-brand stores and multi-brand stores focusing on smaller brands are not included, but that's material for a whole new guide.
The black book of retail was sent to me by Biblioteca della moda.