Last Updated on March 11, 2012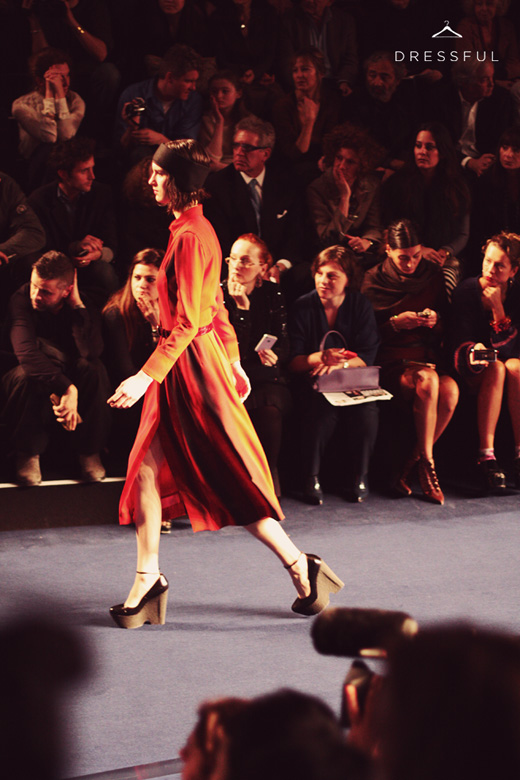 At Sonia Rykiel's Fall/Winter 2012/2013 show in Paris, I experienced the ugly side of the fashion industry for the first time.
I was supposed to attend the Maison Martin Margiela show in the 8th district before Rykiel, but I hadn't received the invitation and the PR people didn't find me on the list either. They told me to wait and once everyone has been let in, they would check again with someone else, but I was afraid that if I stayed, I'd miss Rykiel – for which I did have the invitation – so I decided not to waste time and head directly to the Tuileries by metro.
The show was running standardly late; in the meantime, a giant group of photographers gathered on the side of the venue near the entrance, snapping photos of celebrity attendees, front row, the usual fashion week distractions (do you remember when the press actually focused on, you know, clothes?). The surprise that left a bad taste in my mouth was that in the midst of this superficial paparazzi chaos, Sonia Rykiel's arrival went literally unnoticed. Emerging from backstage, two men supported her as she walked; once she sat down in front row, it was as if she wasn't Sonia Rykiel, one of Paris's most legendary designers, but a completely anonymous woman. Her entrance got approximately as much attention as mine. Nobody bat an eyelash. Nobody took her picture. Nobody interviewed her on camera. Flashes kept flashing and cameras clicking on the other side of the venue, undisturbed by the presence of the woman who had founded the house whose show we were there to see. Some people came to say hi to Rykiel after a few minutes, but you could see they were old friends who have known her forever.
Though Sonia Rykiel has quit designing (last March was when her daughter Nathalie took her bow alone for the first time after the show), this naive ignorance was very bad manners. In fashion, I've been lucky to have been surprised with mostly good things so far. This, however, is the other side that many fashion insiders are happy to keep secret. Why? Because it doesn't make everyone look saintly and appearances are everything.
+++
The Sonia Rykiel Fall/Winter 2012/2013 collection by Nathalie Rykiel and creative director April Crichton was a big step away from Rykiel's signature playful, bright and sexy Rive Gauche chic towards a mature look that seemed more "global" than "Paris" (even headbands looked serious). This change of vision has been apparent for longer than one season, but it also goes hand in hand with the Rykiel family having recently sold 80 per cent of the label to Hong Kong-based investment company Fung Brands.
It will be interesting to observe how this move will affect the upcoming collections. The new investors are planning Rykiel's expansion to the US and China, therefore it is likely they will encourage further globalization of the label so that new customers worldwide will be able to relate to it (and spend money on it), not only existing Rykiel enthusiasts. If the aesthetic of the label changes majorly, though, the loss of the label's essence will alienate precisely these enthusiasts who have sworn by Sonia Rykiel for years. Much is at stake here, but I do hope Rykiel's identity will be preserved despite the increasing need to sell more, more, more.