Last Updated on March 2, 2012
Barbara Bui Fall/Winter 2012/2013 was my first-ever show at Paris fashion week, despite this being my third season in Paris. I was supposed to attend Nina Ricci last season, but my invitation didn't arrive, which taught me I should never say I'm attending this or that show before I have a hard-copy invitation in my hands. Invitations not arriving (mostly due to sloppy couriers) are as natural as breathing in Paris and Milan – New York is more advanced, almost all fashion houses and PR agencies handle RSVPs electronically (you confirm by email or on Fashion GPS website). This season in Milan, out of three hard-copy invitations they had (apparently) sent me, I received the grand total of zero. When I checked in my Paris hotel yesterday afternoon, however, I discovered that my invitations to Barbara Bui and Sonia Rykiel had arrived before me.
I still have lots to write about Milan Fashion Week, but one thing I should say before I tell you anything about Paris and the Barbara Bui show is that the organization in Milan was a disaster. Waiting to get into shows basically looked like this: first, a humongous group of people amassed in front of the entrance. Then security called in guests with numbered seats. These people started aggressively shoving their way through the crowd (so much about fashion people being elegant). Photographers did the same, only they also carried sturdy camera bags without caring how many people they hit with them. Feeling like livestock on the way to the slaughterhouse instead of a runway show most of the time, I couldn't stop thinking why is it so damn difficult to form three queues (one for guests with numbered seats, the second for photographers and the third for standing room) and make everyone's life easier.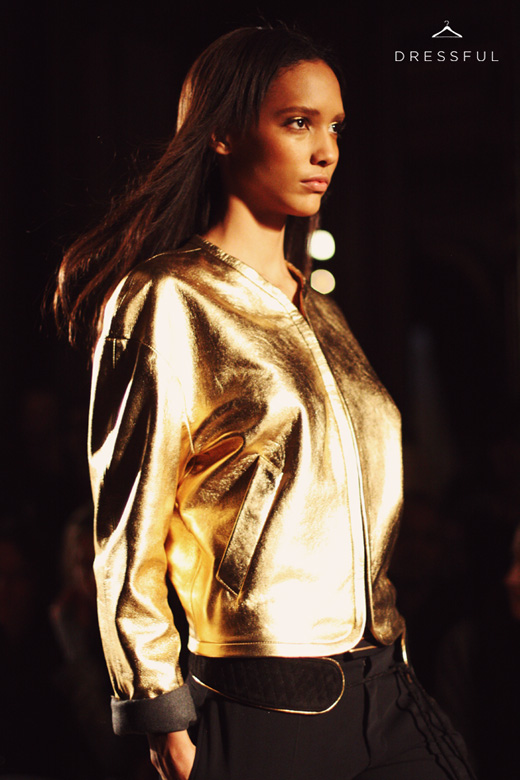 The Barbara Bui show at the Westin yesterday was different, and I can only hope it was not an exception to the Parisian rule. The fashion clique was more relaxed; only the models that had been casted for the show excused their way through the crowd – politely and with grace because after all, they're models.
The fact that so far Paris fashion week has manifested itself in a less neurotic light to me than New York and Milan doesn't mean Parisians take shows any less seriously. Waiting for Barbara Bui, a boy without invitation (and manners, obviously) tried to talk me into saying he was my assistant to security so that he could go in. Ten minutes later one of the security guys was showing me to my seat. When we couldn't find the seat number, we realized it was because someone else had occupied my place. I don't understand why anyone would do this, especially 20 minutes before the show when the venue still has to fill up and it's highly likely security will boot you out.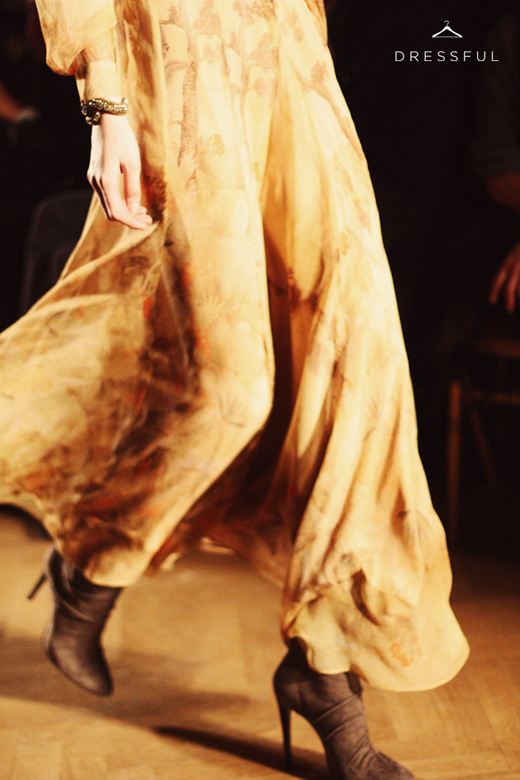 Barbara Bui's Fall/Winter 2012/2013 collection is an eclectic mix of refined and cutting-edge with Chinese influences. The first part of the show consisted of a dozen classy and wearable looks in white, black and olive green. I loved the two all-white suits and romantic blouses; designers usually incorporate white ensembles in Spring/Summer collections, but white is much more delicate in winter, recalling snowflakes, perhaps the most ephemeral substance in existence … Bui's signature metallic fabrics followed in the second part, creating an almost futuristic atmosphere; you'd think a metallic leopard print would be an aesthetic faux pas by default, but Bui's actually looks dashing and contemporary instead of tacky.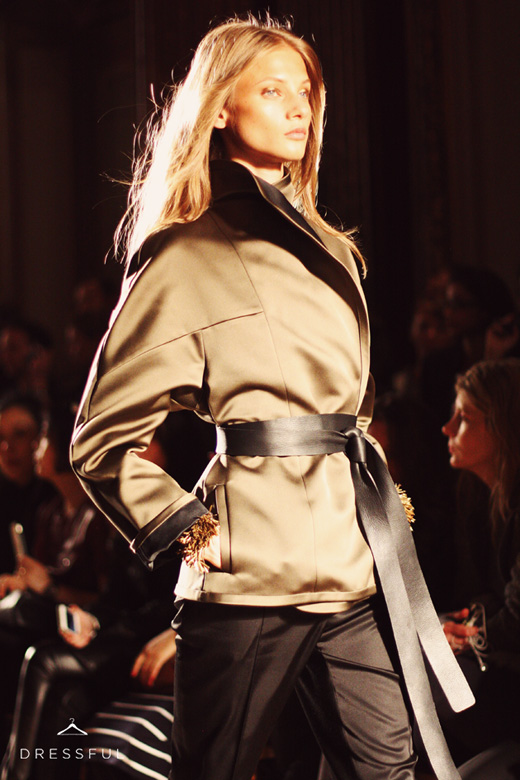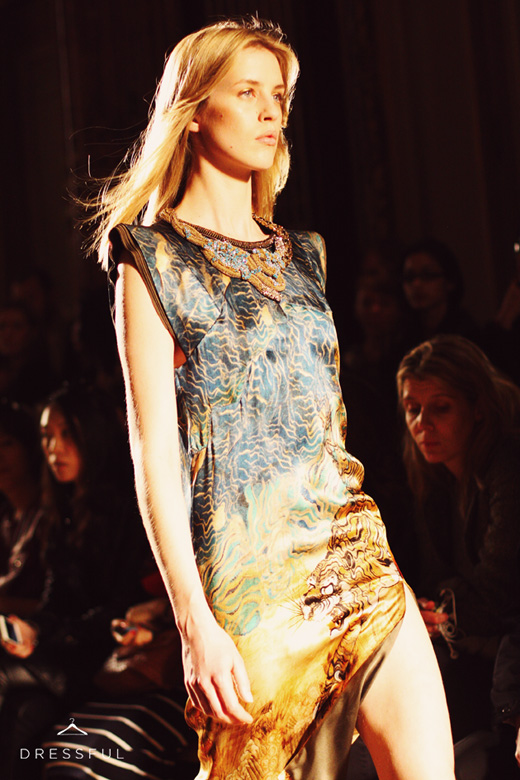 Though the pieces with Chinese traditional motifs and embroidery towards the end of the show stood out the most, I found that part of the collection the weakest. I felt that the Chinese inspiration was taken too literally (you see the same tiger and dragon imagery on wall tapestries in Chinese restaurants), especially compared to the rest of the collection that was sleek and poetic.
Leaving the Westin, I noticed that the street style photographers were predominantly occupied with models, not show attendees. I found that a refreshing change from raising a cult of personality around whoever deliberately dresses the kookiest (Mary Fellowes outlined this superficiality in her brilliant article on instant fashion week street style fame), however I do still think that the real stars of fashion week are the collections.