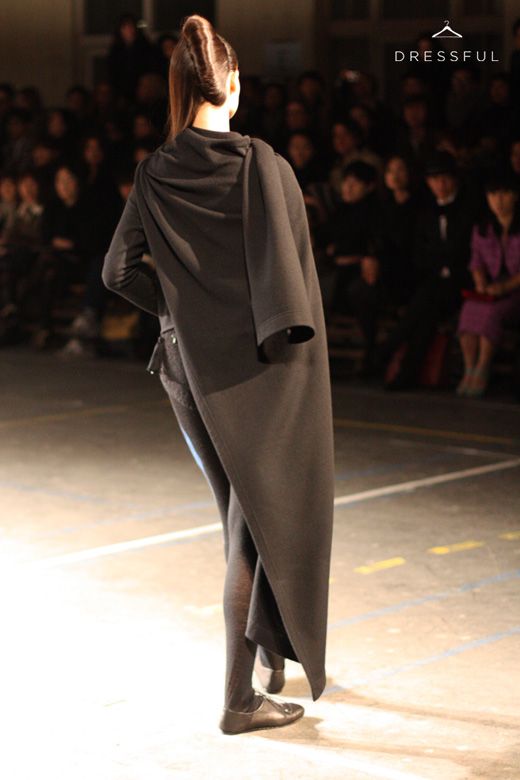 Yohji Yamamoto Fall/Winter 2012/2013 show.
March 2, 2012.
Lycée Carnot, Paris 17e.
Attending Yohji Yamamoto's show at Paris fashion week was an experience so out of this world that I took a few days off to process it and collect my thoughts before writing a review. To illustrate just how important it was for me – if you asked me at the beginning of the season, "If you could attend any show at any fashion week, which one would you choose?", I'd have answered Yamamoto without hesitation. While I refuse to have a favorite designer – I think it's not good manners to cultivate such subjectiveness when you work in fashion – Yohji Yamamoto is my most important designer. Discovering his work when I was 15 was the foundation for everything I've done in fashion since then. Without Yamamoto sparking my interest in what I call "fashion beyond the surface", I would have never started blogging. He showed me that women and garments can be beautiful in a much more mature and intelligent way than what is perpetually being pitched to us by the majority of fashion magazines, beauty ideals and clothing conventions.
Apart from extraordinary shapes, cuts and deconstruction, Yohji Yamamoto's garments possess such elegance that I remained not only intrigued, but in love.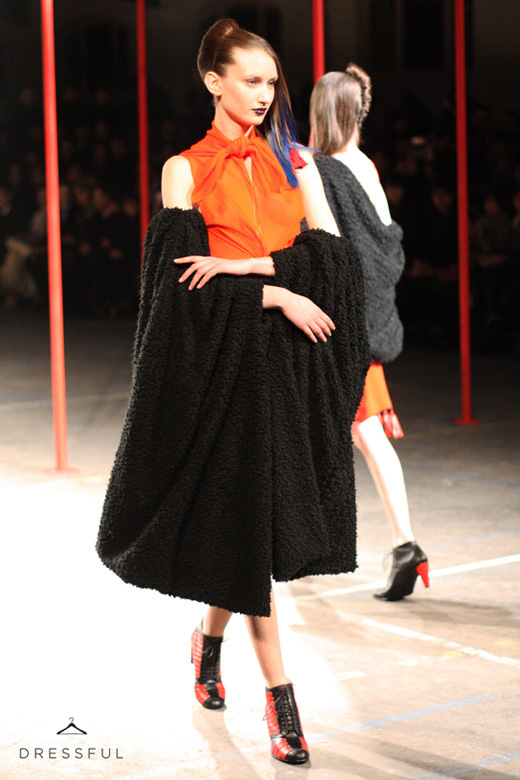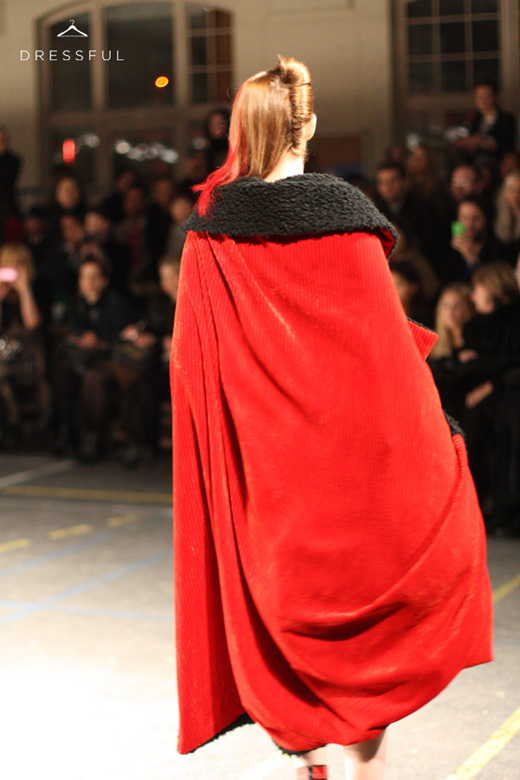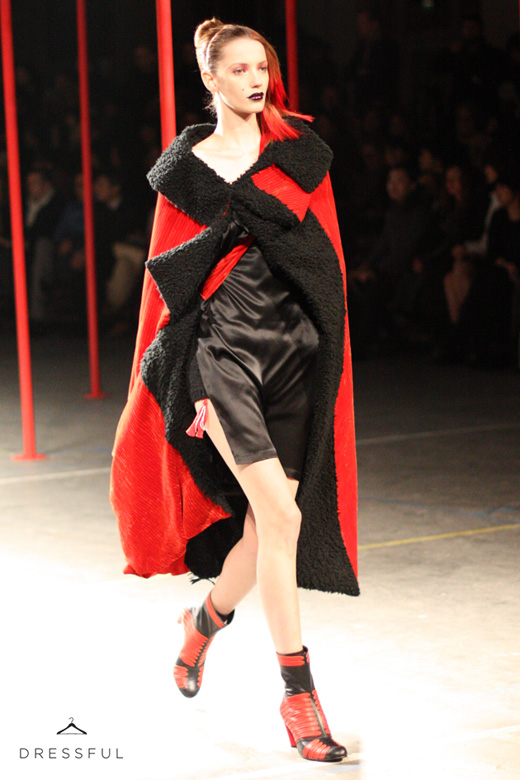 By your third season attending fashion weeks, you learn not to take unapproved show requests personally. Still, dining in a small brasserie overlooking the Arc de Triomphe on Thursday, I was suddenly consumed by a pulsating, anxious thought that Yohji Yamamoto's Fall/Winter 2012/2013 show was to take place the next day – not only in the same city, but also in the same district, only 20 minutes away from my hotel – and that I wasn't going to be there. It ached. It ached, though I know by now that shows are never larger than life; I couldn't go to Yamamoto last October either and I was able to shake it off. This uncanny, overwhelming feeling really was my sixth sense telling me it was time to make an exception and consider abolishing my only fashion week rule: not trying to get into shows without invitation.
Sneaking into shows past security is considered the most impolite thing you can do at fashion week, and I certainly wouldn't want anyone to remember me for that. Instead, I decided to ask Yamamoto's PR ladies if I could go in though I didn't have the invitation; if they said no, I would respect it and not be disappointed because I did try. I was encouraged by the maneuvers I saw at Barbara Bui earlier that day. They let in everyone who had asked after having seated guests with invitations, a refreshing change from the usual show uptightness and elitism. Somehow, I knew that because I feel so connected to Yamamoto and the brand is not like the others, they would probably understand me.
Though going against my invitation rule made me slightly uncomfortable at first, I realized that maybe the best way to show Yamamoto's PR team how much attending the show means to me might just be to go and tell them.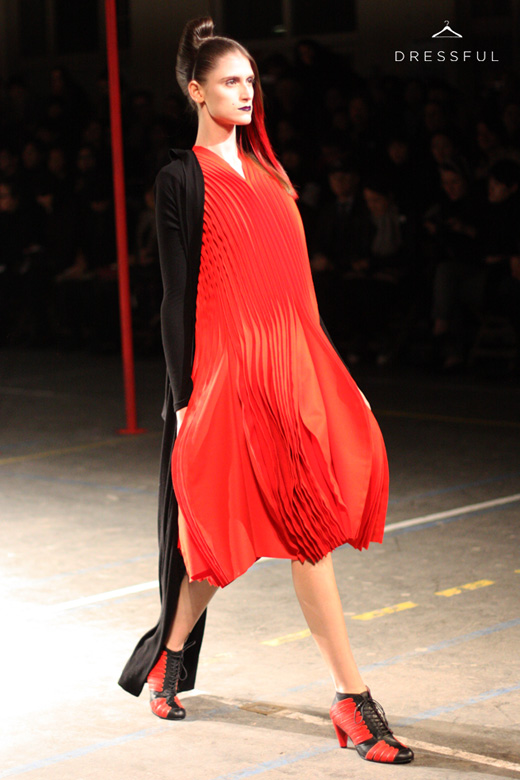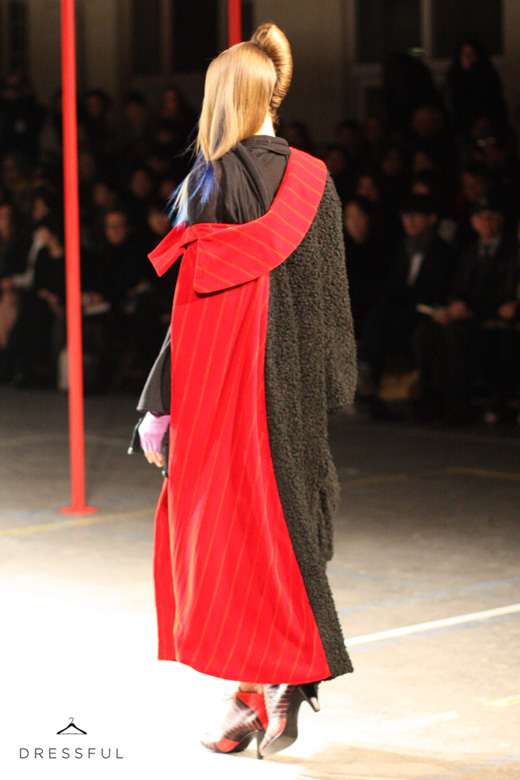 The show was scheduled for 7:30, which meant it wasn't going to start until eight. I decided to walk to to Lycée Carnot because it was near, but of course, I got lost along the way (with a map in hand). At one point, I wanted to go back because I was late, I thought I'd miss the show and I had no idea where I was, but luckily I knew better than that and kept on walking. When I finally found the street, I rushed to the entrance. There was no queue any more, only two PR ladies, security and a few photographers waiting for people to come out of the show.
The following was the most magical conversation I've ever had with anyone at fashion week, and I will remember it forever:
"I don't have the invitation, but I'd love to see the show. Can I please go to standing room?"
- "Because you asked very formally and you have a nice international accent, I say yes."
That was it. No fuss. She understood immediately.
As indicated by the lack of queue, the show was just about to start, so I ran in as fast as I could, shouting back "Thank you so much!".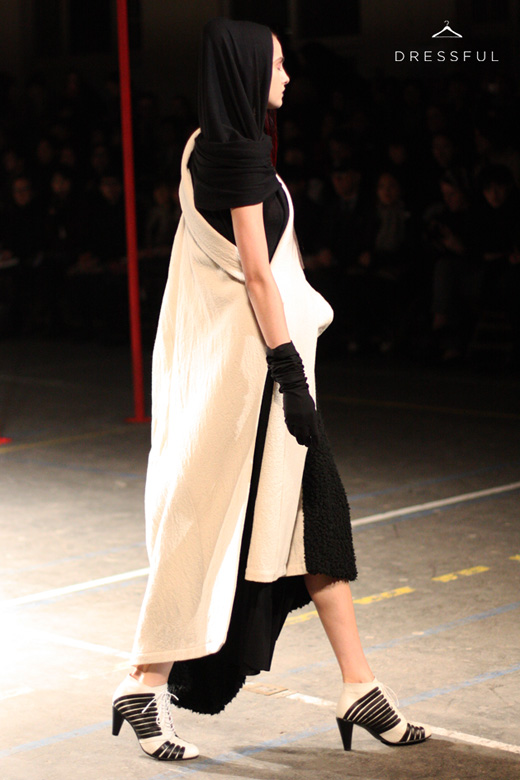 When I got inside, I found myself in a standing room space right by the second row. Essentially, I've never had a better view at a show before. I couldn't believe my luck. I was at the show I wanted to attend the most and I could see everything perfectly, even take photos! Though I was overwhelmed because I had made it, I relaxed completely when the show started. While shows are usually pure adrenaline – rush, heat, no space to breathe, music pumped up to the max – this one felt like total zen. Just calm sounds and beautiful garments. So Yohji.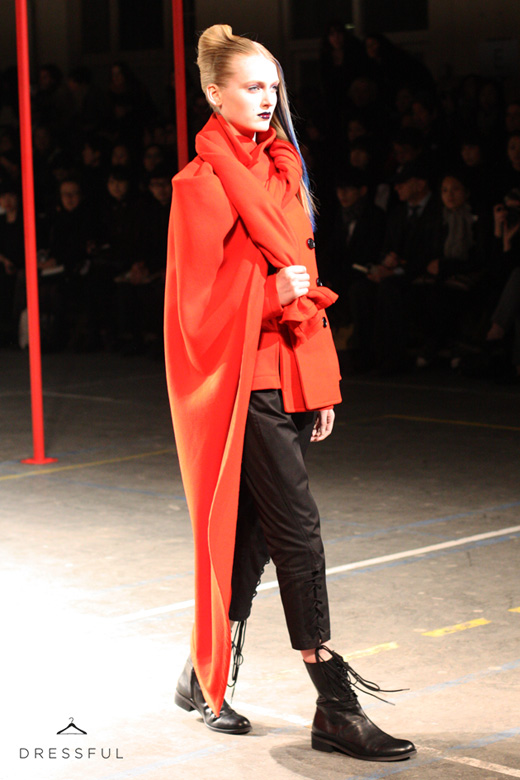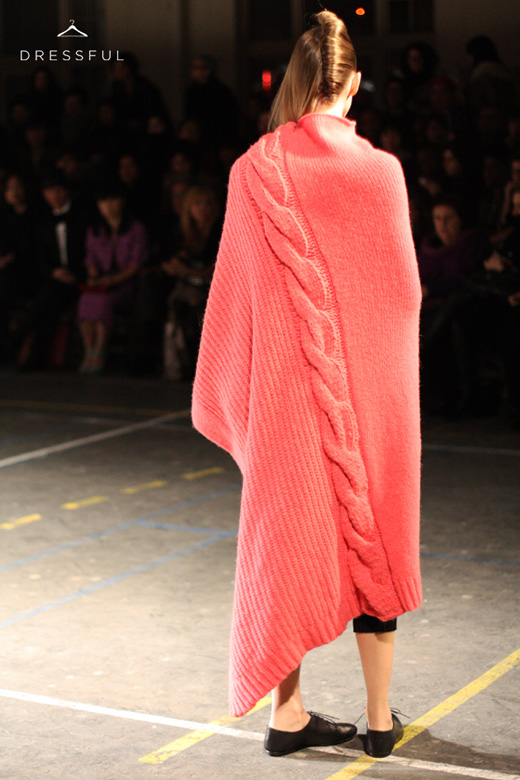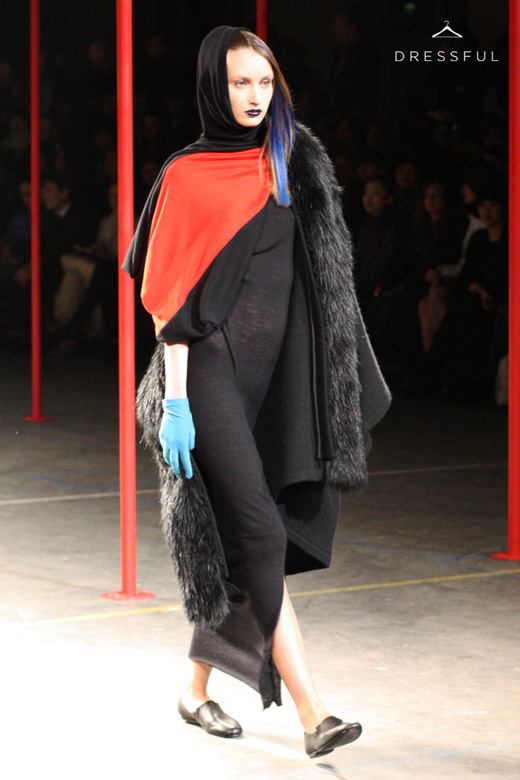 I saw the collection as an exploration of the different meanings of red, most notably love and danger/aggression, the two polar opposites (though are they really?). In some looks, red felt warm, inviting, gentle and poetic; the peak of this was the soft, voluminous, almost-pink coat. In other looks, red was high voltage. This was not the only play of contrasts. It's signature for Yamamoto's garments not to reveal too much of the body, however skin was exposed here and not where you'd expect it (some people deemed this "Yamamoto's sexy collection"). There was a long white turtleneck sweater rendering the body silhouette invisible, but this sweater had an open back. The electric blue and red streaks in models' hair looked like an extension of the garment from afar, especially when the garment was in the same color, a brilliant visual effect.
It was indescribable to see how these complexly structured garments moved as the models walked, as well as how the outfits looked from the back and from the side. Photos where you can only see the front of the look don't do Yamamoto's collection any justice. I strongly believe that seeing clothes in motion is the only way to comprehend the beauty and technical perfection of their construction.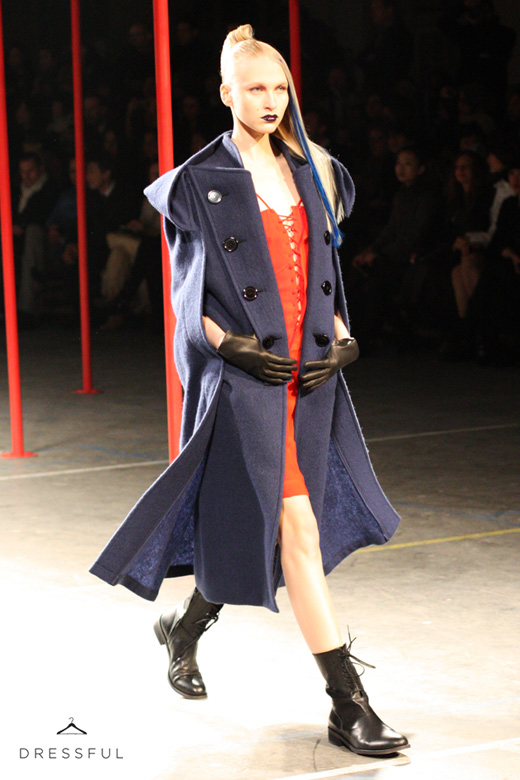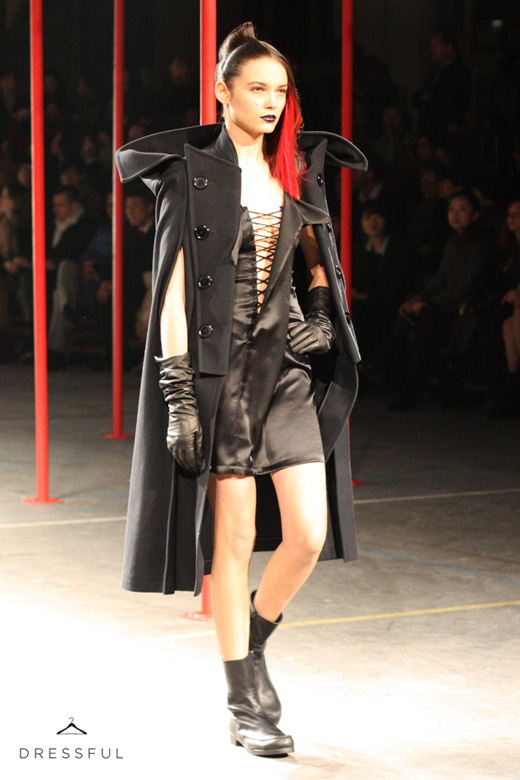 Though I said that shows are never larger than life, I was a little perplexed that the world didn't stop after this one, that people stood up from their seats just like that and left, rushing wherever they were supposed to show up next while I temporarily got stuck in a Yamamoto time capsule. So many times at fashion weeks, the only thing I can do after attending a show or presentation that really spoke to me is wander aimlessly around the city in attempt to process it before I can go back to my hotel and translate what I experienced into words.
Though I returned from Paris to my quotidian worries in Ljubljana in the meantime, this inexplicable and romantic post-show dizziness is lasting longer than usual. I don't mind it. It's like being in love. To think that a single show has the power to send me to such beautiful and mysterious places ... Who said fashion was frivolous again?