Last Updated on January 30, 2013
They announced this morning that Carine Roitfeld has resigned from Vogue Paris after 10 years. Some people are hysterical, as if she's died and will never work in fashion again, others are excited because they expect the new Editor-in-Chief to kick Vogue Paris' proverbial lack of diversity (same photographers, same models, same brands ...) out of the door.
I was pretty shocked by the news myself. After all, Carine Roitfeld was probably the most iconic Vogue editrix after Anna Wintour. She was Vogue Paris and I'm not being overly dramatic if I say her resigning means the end of an era.
The new Editor-in-Chief will be announced in a couple of weeks (rumor has it it'll be Virginie Mouzat, current Fashion Director of Le Figaro). To properly mourn Carine's big exit, here's one of my favorite Vogue Paris editorials shot during her reign. I think it's the quintessential Carine.
Vogue Paris September 2003
Le Grand Jeu
Photographer: Mario Testino
Fashion Editor: Carine Roitfeld
Model: Carolyn Murphy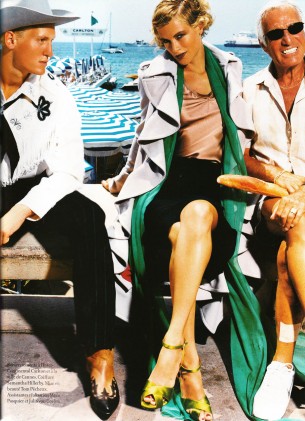 Photos from The Fashion Spot.