Last Updated on November 1, 2010
Four years ago Yohji Yamamoto designed a 48-piece collection of bags and luggage for Mandarina Duck. Judging from the photos, my favorite piece was a bag-dress in the most beautiful shade of deep red, an homage to the wearable bags trend that originated in mid-1990s Belgium.
First news said that only a few stores worldwide were going to carry the collection; there are no prominent ones in my vicinity, so I cultivated little hope of ever seeing the bag-dress in life. Imagine my surprise when I unexpectedly came across it in Barcelona a couple of months later! Needless to say, it was one of those occasions when fashion makes your heart beat faster, although as the story unfolds you'll see that this is a major understatement.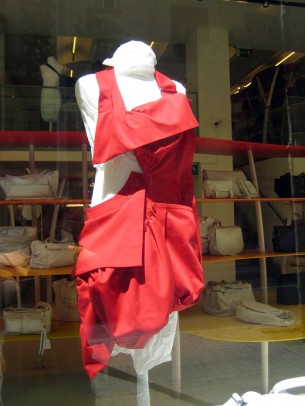 In April 2007 my high school class took a trip to Barcelona. The day when I encountered the dress-bag was unbearably hot for spring and the city was brimming with fervor because of Sant Jordi. Everything around me was infinitely more interesting than our guide's tedious speech about Gaudí's architecture. I looked across the street to see if there was any place where I could grab a cold drink, but what I saw first and immediately fixed my eyes to was a Mandarina Duck store with the red bag-dress in the window.
I was dying to see the dress up close and became anxious at the thought that I might not get a chance to do it because as soon as the guide would have finished talking, we'd move forward and continue sightseeing in another part of Barcelona. We left, but only a few minutes later the stars aligned in my favor (never mind it was daytime) and our guides gave us an hour off. Rejoice!
My friends sat down for lunch in the nearest restaurant. Although I was craving food just as much as they did, I told them that I'd return soon and went back up the street. By then, my ecstatic experience was already becoming a bit surreal; the sun was much too strong, I was rushing although I was in no state to do so because of dehydration, and the streets were packed with people, which made them even more difficult to navigate. In one moment my heart started hurting so bad that I thought I'd collapse on the spot. I felt terrible, but I paid as much attention to it as to our guide's lecture on Gaudí. I had to get back to Mandarina Duck as soon as possible!
When I reached the store, I could finally examine the dress in all its glory and I stood in front of the window like a stalker for several minutes. I didn't go in, of course, the "place of distress" had to stay mythical. The dress was destined to stay mythical to me as well due to its retail price of €910. Even now, after 4 years, it doesn't bother me that I don't own it although I'm as in love with it as ever. This way it will always stay a dream.