Last Updated on December 15, 2021
For all fashion book lovers among my readers: please help me complete my research and fill out a quick survey (3 questions) about fashion book prices here. I appreciate your help.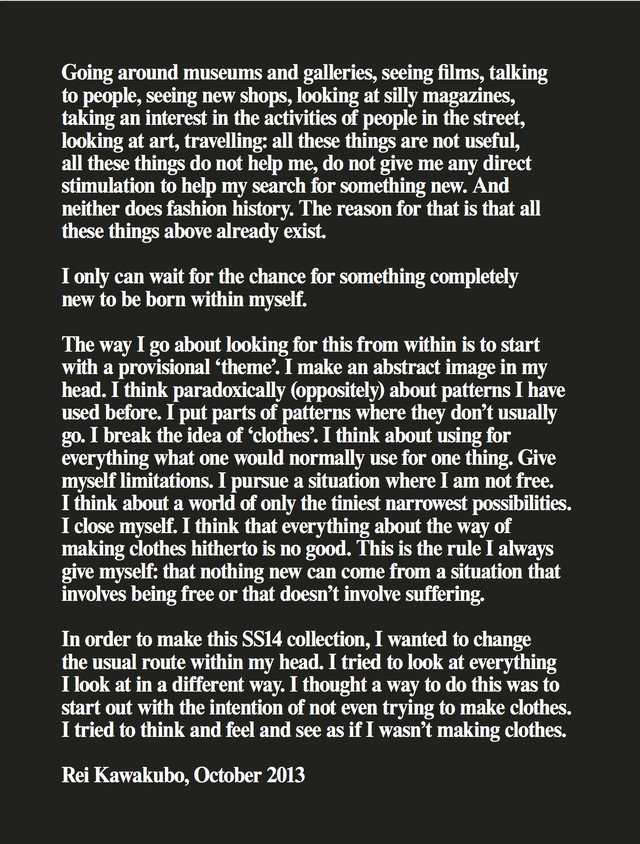 This month, the above manifesto by Rei Kawakubo of Comme des Garçons has been reposted hundreds of times on every website that vaguely has to do with fashion. It first appeared on The Business of Fashion via System, a new London-based publication aimed at fashion magazine readers who actually read. Their inaugural issue featured the famous interview with designer Nicolas Ghesquière that prompted a defamation lawsuit from Balenciaga.
The manifesto accompanies an interview with Rei Kawakubo by the curator and art historian Hans-Ulrich Obrist, one of the most interesting pieces of fashion journalism recently. While it won't provoke any lawsuits, the interview certainly provokes the mind. It is frustrating to read and must have been even more frustrating to do — for both parties.
The interviewer would have benefited from more preparation; after all, Kawakubo has been known since the early eighties as an extremely idiosyncratic designer who makes a habit of rejecting almost everything. His questions such as what inspired her to start Comme des Garçons or does she sketch would have sat well with any other designer, but with Kawakubo, the largest portion of the interview consists of her repeating that there are no connections between these things and her work.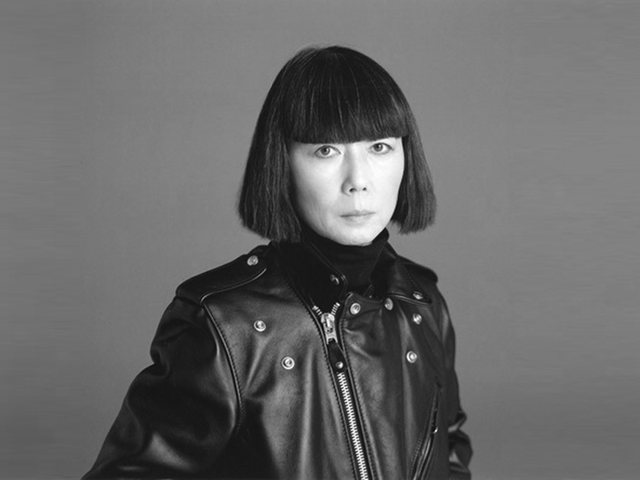 Rei Kawakubo (source)
Comme des Garçons, it seems, exists in an isolated bubble floating in space among the Perseids and pre-1981 Yohji Yamamoto. This point of view is refreshing because so much of cheap fashion talk is centered around glorifying external inspiration. It isn't completely useless, but if you rely on fleeting moments of inspiration and visits from the "muses", you never get anything done — especially not 6+ collections per year.
Due to language difficulties, Kawakubo talked to Obrist through her husband, Comme des Garçons' CEO Adrian Joffe, so every answer is in the third person, commencing with "She says". This made the already sparse answers sound even more detached and is hardly surprising: Kawakubo has always preferred to stay behind the seams, directing the spotlight on her brand.
The conversation ended with, "She expects that none of this was very useful to you."
If she finds talking to journalists meaningless, why does Kawakubo give interviews at all? It might be her awareness of publicity — even a brand of Comme des Garçons' calibre would slip into obscurity if no one talked about it. By extending her sense of provocation from the catwalk to the media, she induces more questions rather than supplies explanations. No other designer is more elusive and simultaneously straighforward.