Last Updated on February 26, 2014
You wouldn't think of Athens as a hotbed of creativity watching anti-austerity protests on the news, but under the surface, young people are taking the best of the Old Greece to establish a culturally vibrant New Greece. Is art a way out of adversity?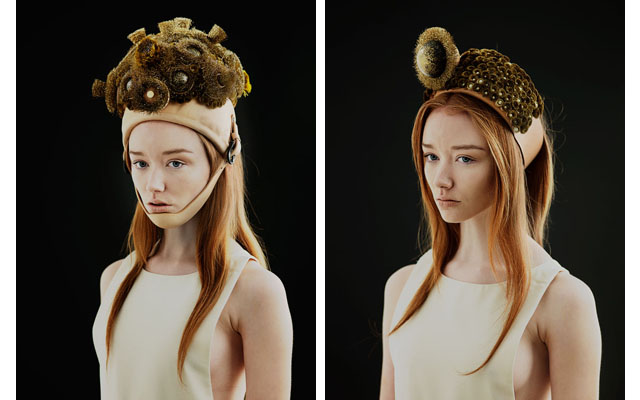 Headpieces by Melissanthi Spei
Athens-born fashion artist Melissanthi Spei believes the crisis among young people in Europe can be improved by learning to appreciate our cultural heritage. Accordingly, she turned to a longstanding Greek tradition to find the inspiration for her latest accessories collection, which she presented during the last London Fashion Week in an exhibition showcasing the work of London College of Fashion's best design graduates.
The Carnival, a boisterous event taking place nationwide in February, stems from ancient Greek pagan rituals dedicated to Dionysus, the god of wine and ecstasy, whose spring rebirth signified the beginning of a new cycle of life. During the three weeks leading up to Lent, Greeks participate in loud street celebrations to chase away the winter, singing folk songs riddled with vulgar jokes. '[Greece] is a very conservative culture, but if you listen to the song lyrics, they're not conservative at all,' says Spei. To hide from evil spirits (and neighbours), people dress up in masks and costumes made from trinkets from the back of the drawer: old garments, coins, cheap jewellery, and flowers.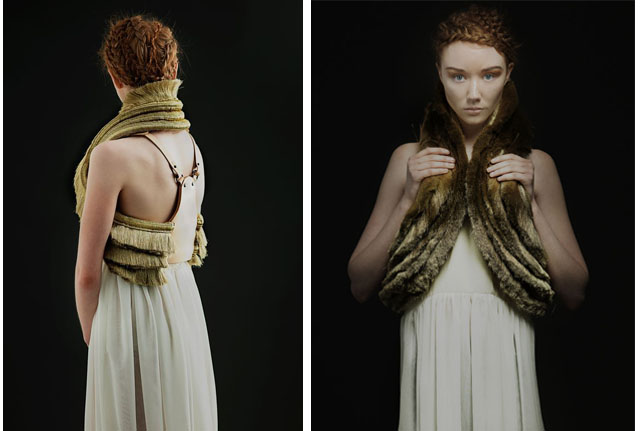 Following a similar approach, Melissanthi Spei incorporates unconventional materials from everyday life into fashion artefacts to give them a new meaning. In her reinterpretation of traditional Greek garments hand-embroidered with golden silk thread, a waistcoat is covered in hard-bristled brushes typically used to remove rust. She decorated a leather harness with gold lurex trimmings used in Greek Orthodox priests' vestments and created headpieces inspired by a dance ritual of the Genitsaroi and Mpoules tribe in the town of Naoussa in Northern Greece. Only men can take part in the performance, recalling Ancient Greek theatre where women weren't allowed on stage, so men also played female roles. 'There's a bride, but if you look closer, she has a beard.' In Spei's rendition of the bride's flower headpiece, blossoms become circular shapes made of pendant drill cups.
Greece may have an abundance of cultural heritage, but Spei, fresh out of secondary school and dreaming to pursue a fine arts career, found the local fashion and art scene underwhelming. She set off to continue her studies in the UK in 2007, months before shocking reports from the austerity-hit cradle of democracy monopolised TV channels and newspapers. 'There was nothing [in Greece] except some private arts institutions, so it was just easier to come to the UK.' Spei's artisanal journey took her from a year-long foundation course in Wales to Edinburgh's Heriot-Watt University, where she studied womenswear design. Finally, she landed in London to do the MA Fashion Artefact course at London College of Fashion. 'It's good to go to different places instead of sticking to a big city, so you see the difference within the UK as well. I think London is a different country, really.'
Spei welcomed the change from Scotland to London with open arms because 'there's no market if you're in a small place'. Still, a Bachelor's degree in womenswear successfully prepared her for a less protective, more competitive environment. 'It's important to know how to sell your work and keep a balance between the creative and the commercial side. You have to see what's happening around you and face reality.' Spei appreciates that she's been able to learn how the fashion industry works on a global scale in the UK by exposure to contemporary artists, edgy fashion, and independent magazines. 'If I had stayed in Greece, I wouldn't be the same person.'
Evidently, Greece has proved to be crucial for Spei's later artistic development. Encouraged by her anthropologist father, she grew up visiting the Museum of Greek Folk Art in Athens and observing 'crazy' Carnival festivities. Her accessories are reminiscent of Classical Greek art in their simplicity and harmony. 'In my work, everything has to do with symmetry. It's about putting things in proportion and balance.' She credits it to her talent for maths, which her parents had wanted her to pursue due to meagre government funding for arts and culture in Greece. By that point, Spei was already 'obsessed with art', taking in the Impressionists and discovering a fascination with the female body. 'The curves of the female body make it fluid, while the male body is square.' She found the movement of the men impersonating women in the Carnival rituals inelegant, so when she set to modernise the Greek tradition in her artefact collection, Spei broke a taboo by putting masks on women. 'Some people got really confused.'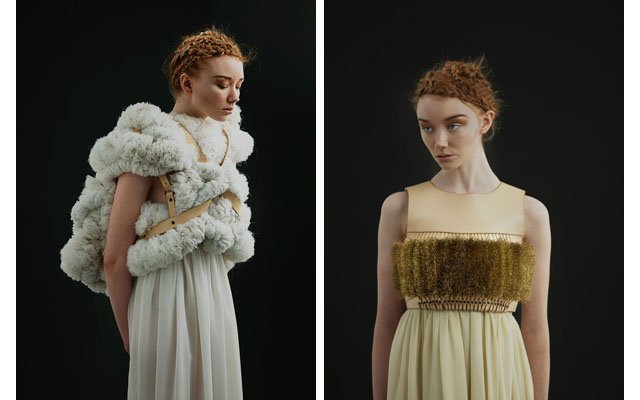 Confused and disappointed are two most commonly used words to describe young people in Greece. 'I see how young people react [to the crisis] in Eastern Europe,' says Spei. 'They copy stereotypes from the West. I could see it in myself as well. I was listening to foreign music and I wasn't proud of anything to do with Greece.' Believing the way out of crisis starts with young people learning to appreciate their roots, Spei's aim is to inject tradition with fresh ideas and make it relevant to young people. Who can redefine the image of contemporary Greece better than its youth? Citing the rising number of Greek bloggers, independent websites such as Yatzer (a platform for fine and applied arts), and young designers like Sophia Kokosalaki and Mary Katrantzou, Spei describes the current state of fashion affairs in Athens with optimism: 'Young people see things differently, they're more open-minded.' With more creative and determined individuals like Melissanthi Spei on board, Europe will soon discover there's more to Greece than riots and ruins.