Last Updated on July 19, 2022
Balmain's exaggerated shoulders are one of the most clever trends of the past few seasons. No matter how fervently you might argue that what Decarnin is doing for Balmain is pure B$, you cannot accuse his pointy shoulders of being just an empty fad. Their magic lies in their social, economic and cultural context.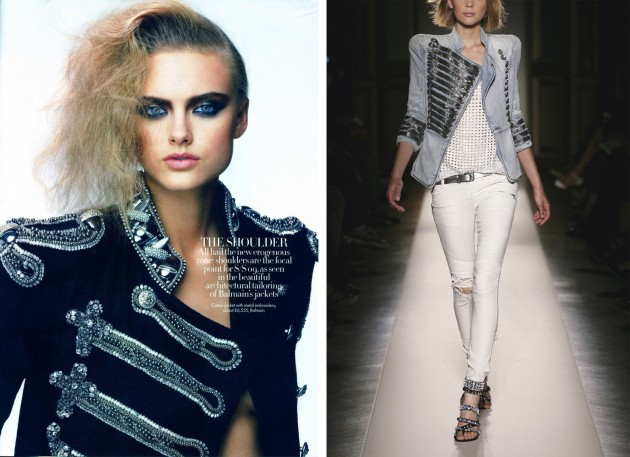 Christophe Decarnin, who took over at Balmain in 2005, first showed his marching band / military jackets for Spring/Summer 2009. Actually, it might not have been the first time: some sources claim he'd already done such pieces before Balmain. Strong shoulders weren't a novelty for Balmain either; they're one of the few elements of the house's legacy that Decarnin is still translating into his work.
When someone says "big shoulders", the first thing you probably think of is the 1980s. This passage from the book 20th Century Fashion overviews the fashion industry situation of that era and explains the reasons behind the strong shoulders revival*:
With the 80s came a shift towards far more expensive, ostentatious fashions, which reflected a more money-obsessed, image-conscious era. It became chic to signal one's wealth by wearing high-cost designer clothes and accessories. [...]

Finance was big news and the media glorified the lifestyles and huge salaries of young stockbrokers of both sexes. Style guru Peter York invented the word that would be used throughout the decade to describe this competitive breed - Yuppie (young, urban professional). The demand for designer menswear increased and top designers, including Thierry Mugler (1980) and Kenzo (1983), began to add menswear to their collections, a development that was paralleled by the expansion of the specialized male fashion press.

For women, who entered the workforce in greater number than ever during the 80s, the big-shouldered power suit became a potent symbol and acted both as a protective shield and as a statement of authority.
* The 80s were not the first time padded shoulders became popular. After Elsa Schiaparelli had started using them in the 1930s, they left their mark in practically every decade, especially the years following the Second World War. The 80s revival was actually a return to the post-WWII era.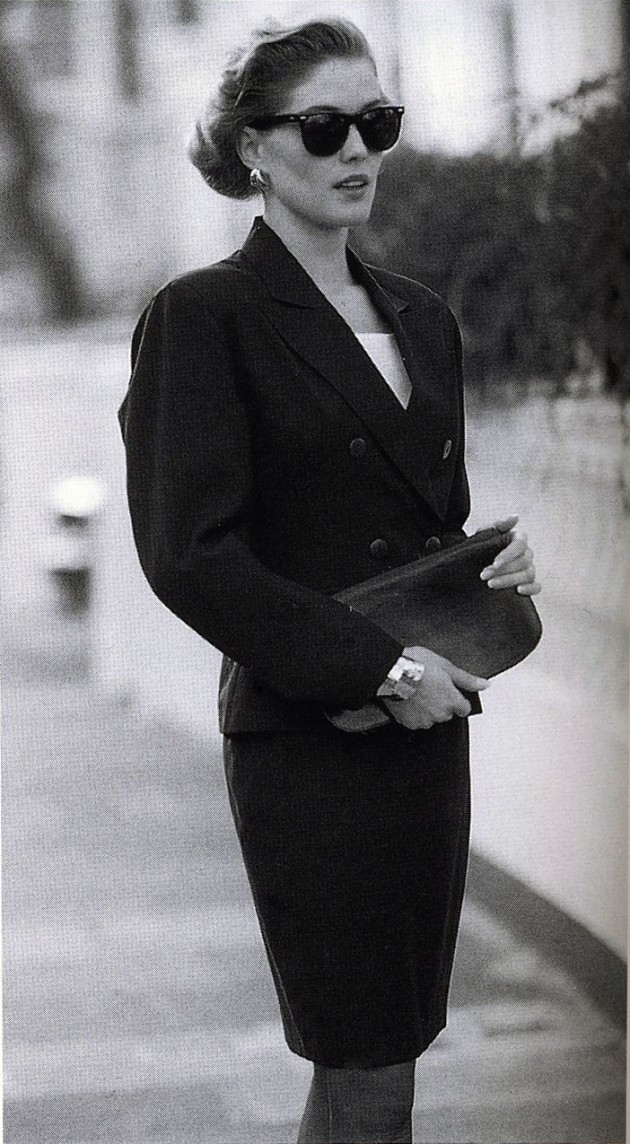 The point of Balmain's exaggerated shoulders is that in the era of ailing Western economies and other world problems, they're mentally transporting us back to the 1980s, the time when we had more money and certainly much more optimism. Balmain jackets are supposed to be the same self-confidence boost for the contemporary woman as broad shoulders were for the 80s woman working in high finance.
Or are they? If we play the associations game again, the first adjective I think of when someone says "Balmain shoulders" is disproportionate. A caricature. Some even deem them unwearable unless you're Emmanuelle Alt. Yes, we could go for "new interpretation of old trend", but what if not?
What if Decarnin doesn't want to make you feel positive? What if his clothes are a critique of the current state of affairs in the sense that we're all doomed and not even strong shoulders (used metaphorically) can save us? They were supposed to save us, but along the way they became distorted like everything else.
Balmain's Spring/Summer 2011 collection speaks in this theory's favor. There are clothes that make you think someone had thrown them in a dumpster where they were later found by Decarnin's assistants and he included them in the collection out of spite. Is Decarnin poking fun at the rich, his customers, the very people who support his existence?
There's also this now already very infamous olive green cotton t-shirt with holes that retailed for $1,625, which sparked many a controversy and disgust. Balmain is one of the most expensive ready-to-wear lines right now; Decarnin says it's because of the work that goes into the clothes, but I dare say the amount of time spent cutting holes into those t-shirts wasn't worth $1,625.
If the shoulders aren't a parody, the t-shirt definitely was. I like to think it was Decarnin's experiment to see how many people would buy it and whenever a sales manager (or whoever is responsible for such things) called in to report they'd sold one, he chuckled to himself.
All speculations aside, we're left with the vibe of the clothes. To me, Decarnin for Balmain's vibe has never been a particularly happy-go-lucky one. Indeed, his vision is "the quintessentialy French trendsetting party girl" and such girls are supposed to be sexy and cool, not happy. Yet we cannot ignore the fact that Decarnin's collections are incredibly repetitive. He's pulling the same tricks season after season - not so excellent when it comes to fashion, the ever-changing chameleon thirsty for new concepts. If you have to, copy yourself 5 years later, not immediately.
Christophe Decarnin might be the only person in the world who can make this happen: even though his collections rarely bring something new, they remain interesting because they open up so many possibilities for interpretation.
P.S. Don't forget to enter my awesome Vivienne Westwood necklace giveaway!