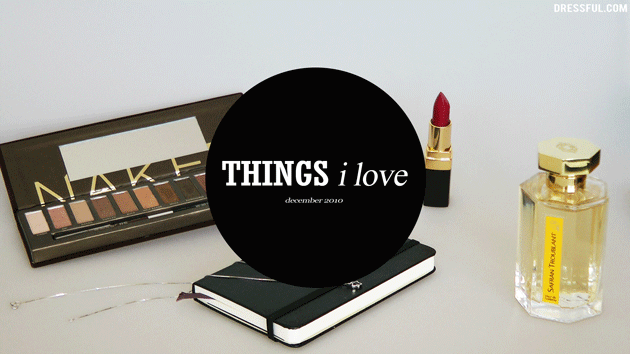 1. Urban Decay Naked palette. I haven't been using any other eyeshadows since I got this palette. Although it's mostly neutrals, it's miles away from boring and super versatile. My favorite combination right now is Sin + Sidecar (yeah, the glittery one. I like glitter!) + Virgin for highlighting.
2. Safran Troublant by L'Artisan Parfumeurs. A most challenging perfume.
3. Moleskine, this time a storyboard notebook. I'm so terrible at drawing that I'd probably die of shame if I had to show the content of this notebook to someone. Good thing I enjoy drawing storyboards despite my artistic inertia. (:
4. Bright lipstick. Whenever I'm buying lipstick, I walk into the store thinking I want to get a pretty pale pink or neutral orange shade. The only time I actually did end up buying a neutral lipstick was last August in Salzburg and even that was only because the MAC salesgirl had suggested it. Bright > all!
5. Jewelry for those who don't wear jewelry. I understand that jewelry is supposed to enhance your outfits and make them more personal, but I often have trouble wearing it if it's not really discreet  - it gets in the way. My tried and true pieces can be counted on the fingers of one hand. Staring into jewelry shop windows still remains one of my most enjoyable pastimes though ...