Last Updated on December 15, 2021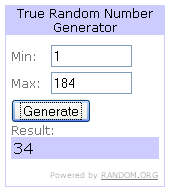 We have the winner of Dressful's first giveaway! True Random Number Generator chose comment no. 34 by Katarina Mandarina. Katarina, congratulations and I hope you'll love the book. :)
I read all the comments you guys and girls left for this giveaway and it made me very happy to see that so many of you were interested in the book. I'd never hosted a giveaway before, so I had no idea what kind of response I was going to get. I can now say that your participation far exceeded my expectations. Thank you!
Your next chance to win something magnificent on Dressful will be in November. I have to keep the prize secret for obvious reasons until the giveaway is announced, but I can tell you that it'll keep you warm in winter. My plan is to host a giveaway every other month, so if you like them, keep checking back!
Lastly, reading your comments I noticed that a lot of you said you have been my readers for quite a while (following me here from my old blog), but we haven't been in touch before at all. I'd love to hear from you more often! Leave comments, drop me a message on Facebook or Twitter or email me. Interacting with you is very important to me, so don't be shy to say hi. :)
To everyone who participated in the giveaway, thank you again for your time and interest. It means the world!