Last Updated on December 15, 2021
Fashion artist Dagmar Kestner and I met in an indie record shop slash café on Brick Lane, legendary rock songs puncturing our conversation. We talked about her artisanal graduate collection, returning to your roots through design, and her European restlessness.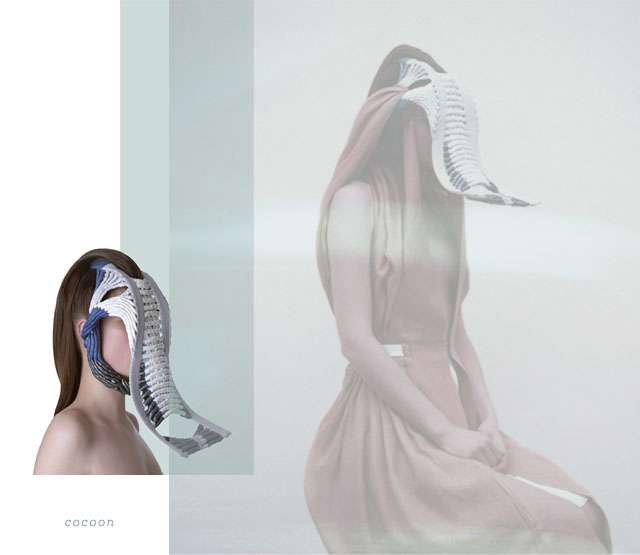 Dagmar Kestner has recently graduated from London College of Fashion's renowned MA Fashion Artefact course, a synthesis of fashion, art, and craftsmanship. 'In our course, you can see we were all influencing each other, but because we approach things very differently, the outcome varies very much.' As a result, several common themes popped up in this year's collections. 'There were a lot of tendencies towards architecture and also something very organic and anatomical.'
Dagmar was born in Romania, but grew up in Stuttgart, Germany, where she completed a BA in fashion design and textiles. Before coming to London, she had lived for two years in Copenhagen, Denmark, collaborating with artists and assisting on projects.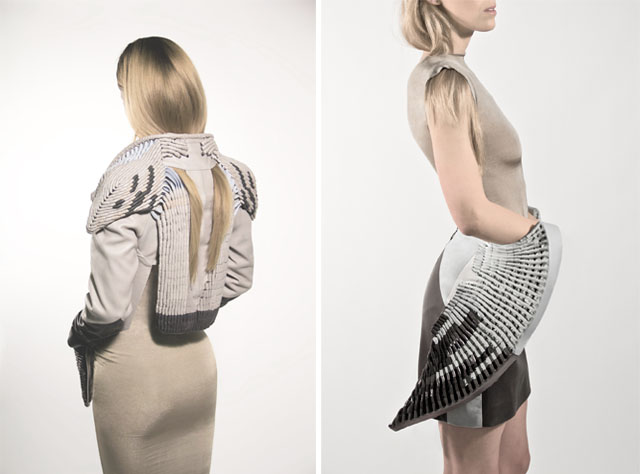 Dagmar's graduate collection consists of eight leather artefacts made using the macrame knotting technique. Years ago, she used a similar technique called scoubidou, popular among children in European countries such as France and Germany, to make a sausage toy for her ex-boyfriend's dog. Knotting stuck with her: she later made a collection of macrame leather jewellery and finally embarked on a much more ambitious MA project. 'I got carried away by what simple modifications and repetition can do.'
In the process of developing her graduate collection, Dagmar returned to her roots researching Romanian folkloric garments. 'Already in Copenhagen I sometimes felt rootless, had a hard time figuring out the sensation of belonging. It was a longing for belonging. It was a way of getting in touch with where I originally come from.' One of the garments she looked at is a blouse called ie, tight around the neck and wrists and heavily embroidered. The pattern of ie is simple and square-shaped. 'They didn't do tailoring, they were thinking how to connect areas to shape the garment.'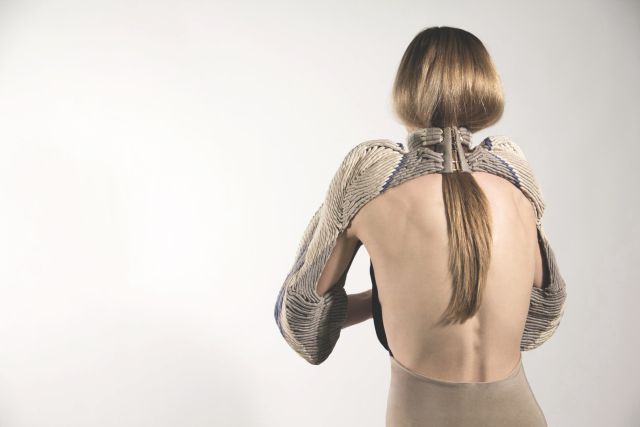 The first thing you notice about the artefacts is how closely they intertwine with the body. A passage for hair, a rest for the arms, all in line with the 'longing for belonging' concept. 'Everything is in its place. I'm not a big fan of accessories, jewellery, decorating. I like this simple play.'
The pieces are surprisingly lightweight, but the process of making them was not. Each artefact took from 14 to 45 hours to make. 'Sometimes I did things completely wrong. I feel lucky my background has allowed me to evolve freely.' Would she prefer the pieces worn or displayed in museums? 'As they are now, whatever's fun is good to do. There's not a rule to it. Some pieces are a bit unpractical, but some you could wear. They work in both ways.'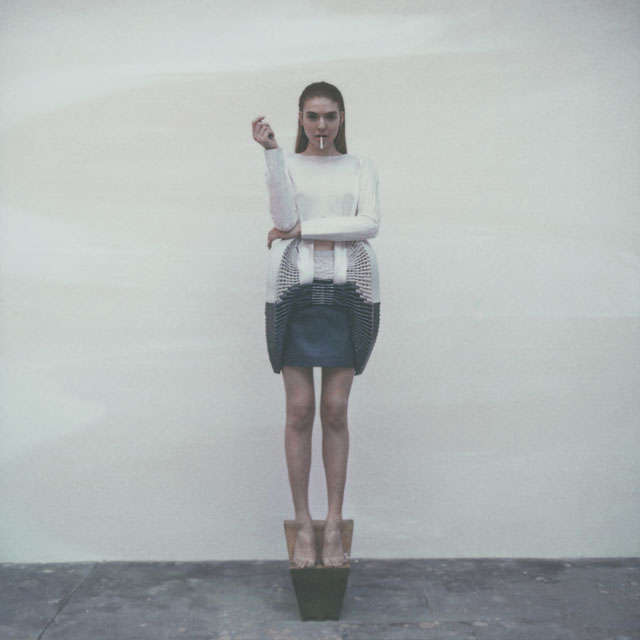 Though it doesn't reflect in her work, Dagmar's life has been characterised by restlessness. She spent most of her life in Germany, which she often found suffocating. 'It's very safe, but you feel trapped at the same time. My dreams were much more vivid in Stuttgart because I was dreaming about a way out.' Copenhagen, she says, you have to leave on a regular basis to appreciate what it has to offer, yet it's clearly won her affection – she's currently moving back there after a year and a half in London, the city of impossible traffic and distances. 'When I felt Stuttgart was suffocating me, I thought I was made for a big city like London, now I'm in London and I thought wow, I have a really hard time taking this. Maybe I am a country chicken.'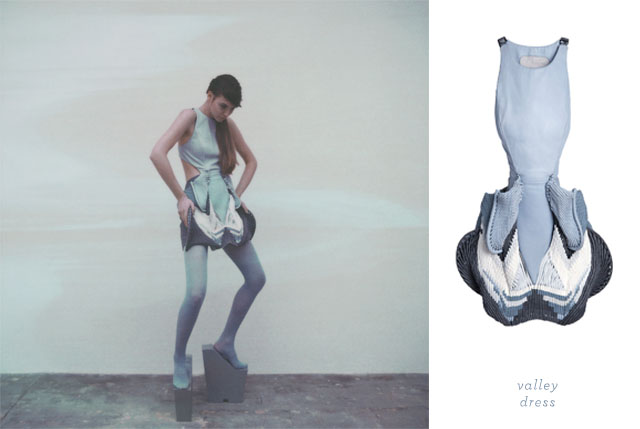 Dagmar's long-term plans include promoting her collection in competitions and the media, travel to the United States and Asia, and working in Paris. 'In the long run, there are certain things and destinations I'd like to experience, I don't want to get caught up in my life and not go there.'
Interviewing MA Fashion Artefact students, I cannot avoid the age-old question. How is fashion art? 'That depends on the fashion. Not all fashion is art. You also want fashion to function somehow.'