Last Updated on January 30, 2013
Yesterday I and hundreds of other people visited the newly opened Hollywood Costume exhibition in the Victoria and Albert Museum. As per the press release, the exhibition brings together over 100 of the most iconic movie costumes from classical and contemporary Hollywood.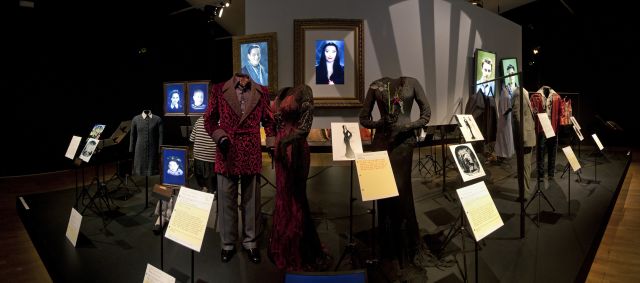 "The Addams Family" costumes
The exhibition space is divided into three dimly lit galleries with famous film scores playing in the background. Walking through feels like watching a film in the cinema, except this time the main characters are clothes.
I liked the innovative use of cinemagraphs to display characters' faces behind or above the costumes. These moving pictures give you a chance to recall the character in your mind, making the costume in front of you seem more alive.
There's one more thing you should know: the exhibition is as complete and comprehensive as it gets. I couldn't think of one memorable Hollywood costume that isn't there.
Better yet, it reminded me of some I had forgotten.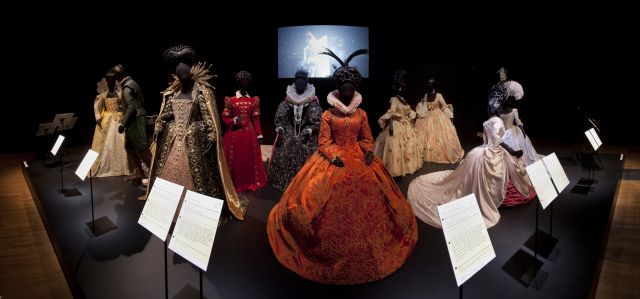 Highlight:
The section with costumes of women in royal courts. Opulence, ruff collars, massive ornate headgear and crinolines – these characters had clearly luxuriated in many fashion showers.
Top tip:
If you don't fancy looking at clothes over people's shoulders, wait another week to see the exhibition. The place was bursting at the seams (pun intended). You have to be constantly moving in the queue, which leaves you with approximately two seconds viewing time per dress. The queue? Of course there's a queue inside the exhibition, this is Britain.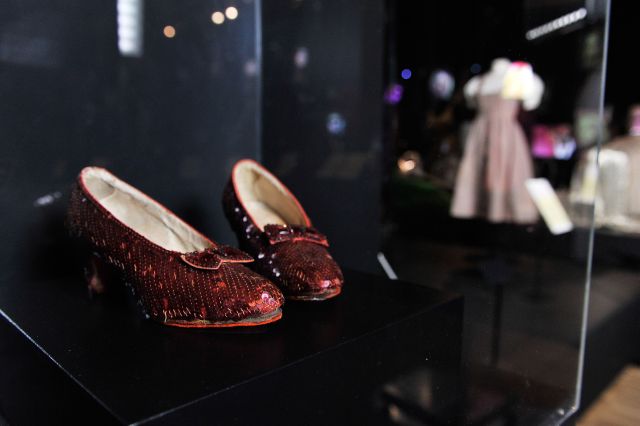 Dorothy shoes (All photos from the V&A)
Don't miss …
Ruby sequin slippers from The Wizard of Oz. Since Dorothy appears on the poster for Hollywood Costume, you'd think her shoes would be the focal point of the exhibition akin to the Louvre's Mona Lisa. Au contraire, find them in the last gallery near the exit.
The exhibition is on until 27 January 2013.
Victoria and Albert Museum, Cromwell Road, London SW7 2RL