Last Updated on December 15, 2021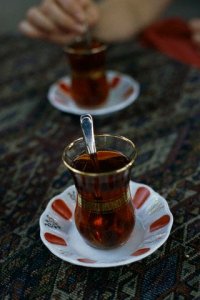 When I was in Istanbul many years ago visiting a carpet factory, the setting looked exactly like Chanel's Pre-Fall 2011 show. We were sipping apple tea and listened to the owner describing the process of weaving handmade carpets. They were everywhere, even hung on walls, something I'd never seen before. The room wasn't small, but it still had that intimate atmosphere you usually associate with slight lack of space. This is one of my most vivid travel memories and seeing photos from the Chanel show instantly transported me back in time.
As suggested by the show's title (Paris & Byzantium), the clothes are very classic Chanel with Byzantine influences. I'm happy to say this clever mixture has me far more excited than the Chanel Spring/Summer 2011 collection. It's appropriately regal and bold and looks very wearable. I'm particularly fond of gold touches, they truly complement each outfit. Most of the shoes are something else, as always, but this collection is the first one that made me think why should everything always be beautiful? I feel that this time the shoes are actually more quirky than ugly.
The most fantastic thing about this collection is that a lot of the pieces wouldn't look out of place in the time of the Byzantine Empire, but they're just as well-suited for today. The message of great art resonates in every time and space.
Photos from vogueparislive. See more photos from the show on Daylife.