Last Updated on July 19, 2022
Paris fashion week was the one I was looking forward to the most this year for two reasons: luxurious line-up (old French houses, the greatest authorities in fashion) and a very subjective feeling that collections shown in Milan, London and New York as a whole lacked a spark. They weren't bad, but will we remember them in 5 years?
To my disappointment, Paris generally continued in the same vein (except Yohji Yamamoto, Yves Saint Laurent, Lanvin and Kenzo, all of which I really liked). Collections that could (should) have been better, shows running late and lack of live streams (I understand that Paris has a different status than other fashion weeks, but please, this is 2010) caused my excitement to gradually tone down. In the back of my mind, however, I was still keeping my hopes high for Chanel. Karl ought to make up for the Fall/Winter 2010/2011 Yeti fiasco somehow, doesn't he?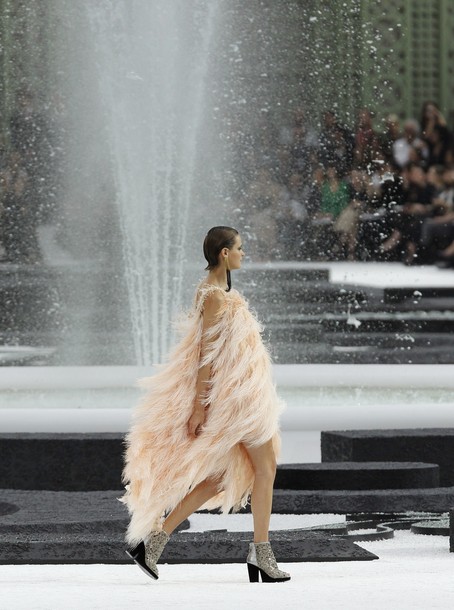 Chanel's Spring/Summer 2011 show was held at the Grand Palais in Paris. The set was out of this world, a French garden set around three fountains. It was so large that each of the 90 models' exits - accompanied by live orchestra music - lasted for approximately 5 minutes. It was all so perfectly thought out that when I focused on the collection itself, my initial thought was that Lagerfeld must have put much more time and energy into the show than clothes.
PLUS: Classic Chanel - tweed jackets and pearls - far from revolutionary, but these are the iconic pieces that Chanel customers will always want (besides, you have to pay Coco her dues!). I thought they looked lovely, not at all outdated, and so did the dresses, especially this blue one. The Chanel dream was very much present in these designs.
MINUS: Hot pants and shoes are the pieces I cannot connect with Chanel at all. The former look like an attempt to modernize Chanel's image, but they're just not elegant, which is possibly the first thing this brand is supposed to be. The same goes for shoes (even the models looked clumsy in them - way to discourage not-model-perfect women from buying), but then again, one of the biggest Spring/Summer 2011 trends seems to be strange orthopedic footwear and there's nothing we can do about it except not buy it.
Will we remember this collection in 5 years? I feel that the extravagantly beautiful show made even the best outfits look insignificant. Unless Lagerfeld presents Chanel's next collection at the Taj Mahal, we might only keep in mind the French garden and great casting.