Last Updated on January 30, 2013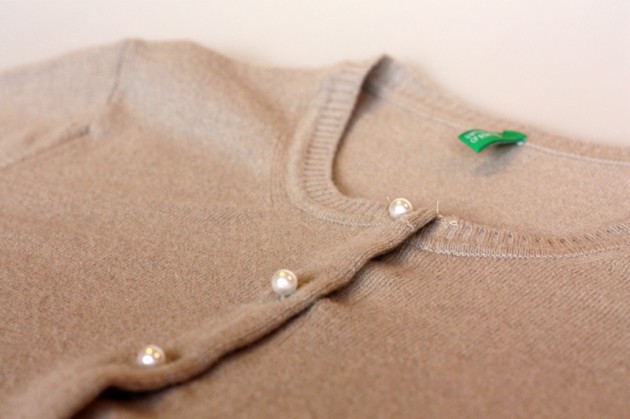 A few years ago I owned a black Benetton wool cardigan that closed with a line of pearl-like buttons. Always feeling cold, I wore it so often that after a couple of seasons it began showing signs of incessant wear. A small hole in one of the sleeves put an end to our romance, but I couldn't throw it away out of predilection, choosing instead to retire it in my closet. Every time I would delve into its depths and find the cardigan stashed among the items that met similar fate, I'd lovingly reminisce about the good times we shared together. Indeed, I never did come across another cardigan that compared to its warmth and elegance.
When I walked into the Benetton store in Trieste last week, I discovered an array of the very same cardigans right at the entrance. It was a total surprise because I never knew Benetton repeated their clothes. As I usually have immense trouble finding cardigans that fit well (they're usually loose in a variety of unflattering ways), as well as for obvious nostalgic reasons, I bought the cardigan in beige. Black wasn't an option because I already wore it years ago and also because too many black clothes are overkill for me, no matter how much I love the color.
My beloved cardigan and I are now reunited. Thank you, Benetton, for resurrecting it at exactly the right time!

Have you ever worn a piece of clothing so much that it ended up in really bad condition?
Was it hard for you to say goodbye to it? Did you find a replacement?